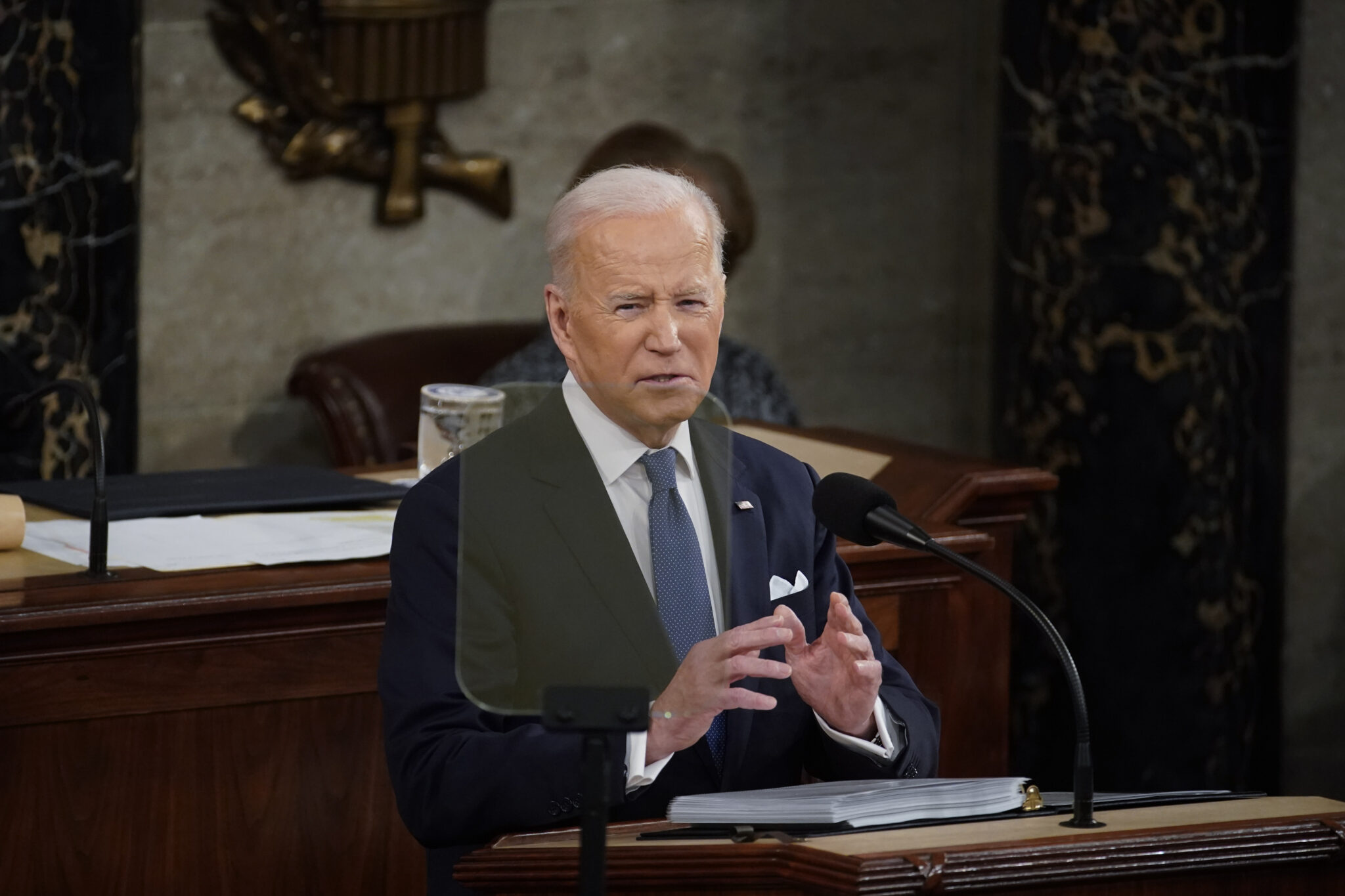 President Biden delivers his State of the Union address on March 1, 2021 (Al Drago, Pool via AP Images)
Biden con­tin­ues his pledge for Medicare drug price ne­go­ti­a­tions in State of the Union speech
Pres­i­dent Joe Biden is not back­ing down on ad­vo­cat­ing for Medicare to ne­go­ti­ate drug prices. In his first State of the Union on Tues­day evening, which in ad­di­tion took Rus­sia to task over its in­va­sion of Ukraine, Biden re­vealed that cut­ting phar­ma­ceu­ti­cal prices is chief among the pri­or­i­ties of his do­mes­tic agen­da.
Biden and con­gres­sion­al De­moc­rats craft­ed wide-rang­ing drug pric­ing pro­vi­sions, in­clud­ing al­low­ing Medicare to ne­go­ti­ate for the first time, in the Build Back Bet­ter Act. But that bill and its parts now ap­pear dead, large­ly thanks to Sen. Joe Manchin (D-WV), who balked at some of the non-drug-re­lat­ed pro­vi­sions.
Still, Biden came out swing­ing for drug price ne­go­ti­a­tions Tues­day evening in the Capi­tol, pledg­ing his sup­port for cap­ping the cost of in­sulin for those with in­sur­ance at $35 a month as part of a last-ditch ef­fort to get some­thing passed, adding, "Drug com­pa­nies will still do very well. And while we're at it let Medicare ne­go­ti­ate low­er prices for pre­scrip­tion drugs, like the VA al­ready does."
Sev­enth grad­er Joshua Davis of Mid­loth­i­an, VA, and his moth­er sat in First La­dy Jill Biden's box for the speech, and Biden, who was pre­vi­ous­ly in­tro­duced by Joshua at a re­cent in­sulin-re­lat­ed event, ex­plained his sto­ry.
"He and his Dad both have type 1 di­a­betes, which means they need in­sulin every day. In­sulin costs about $10 a vial to make. But drug com­pa­nies charge fam­i­lies like Joshua and his dad up to 30 times more. I spoke with Joshua's mom. Imag­ine what it's like to look at your child who needs in­sulin and have no idea how you're go­ing to pay for it," Biden said.
In­sulin prices have been in the crosshairs of Con­gress for years now, with House E&C com­mit­tee chair Frank Pal­lone (D-NJ) and sub­com­mit­tee chair Di­ana DeGette (D-CO) most re­cent­ly ex­plain­ing in let­ters to the largest three in­sulin man­u­fac­tur­ers that the price in the US is more than 10 times that of 33 oth­er coun­tries.
Sanofi's own pric­ing re­port this year, re­leased Wednes­day, ex­plains how even pa­tients' out-of-pock­et spend­ing on its in­sulin Lan­tus rose 82% be­tween 2012 and 2020.
But Sanofi and the oth­er in­sulin man­u­fac­tur­ers of­ten point to the fact that the rise in in­sulin prices and out-of-pock­et costs is due to the phar­ma mid­dle­men, the PBMs, which cre­ate this ever-widen­ing gap be­tween the list and net prices.
PhRMA CEO Stephen Ubl re­leased a rare state­ment fol­low­ing the SO­TU last night, con­tin­u­ing the in­dus­try group's ar­gu­ment against al­low­ing Medicare to ne­go­ti­ate on drug prices, say­ing:
We urge Pres­i­dent Biden and Con­gress to work on a holis­tic so­lu­tion that fix­es what's bro­ken in our health care sys­tem. Al­low­ing the gov­ern­ment to set the price of med­i­cines isn't the an­swer. We know that sto­ry will end with less ac­cess to med­i­cines and less fu­ture in­no­va­tion, and we know there's a bet­ter way. Let's work to­geth­er on so­lu­tions that low­er costs for pa­tients, ad­dress abu­sive prac­tices with­in the in­sur­ance sys­tem and pro­tect the de­vel­op­ment of new cures and treat­ments.
In ad­di­tion to the drug pric­ing pro­vi­sions, Biden al­so an­nounced a new ini­tia­tive around Covid-19 ther­a­peu­tics.
Known as the "Test to Treat" ini­tia­tive, Biden said it will help peo­ple "get test­ed at a phar­ma­cy, and if they're pos­i­tive, re­ceive an­tivi­ral pills on the spot at no cost."
In clar­i­fy­ing com­ments, the White House said the ini­tia­tive is meant to "min­i­mize the time be­tween a pos­i­tive test re­sult and re­ceiv­ing an ef­fec­tive Covid-19 treat­ment, in­clud­ing an­tivi­ral pills and mon­o­clon­al an­ti­bod­ies … The Ad­min­is­tra­tion will be launch­ing these one-stop shops this month, with hun­dreds of sites open­ing na­tion­wide in­clud­ing at phar­ma­cy clin­ics at places like CVS, Wal­greens, and Kroger. The Ad­min­is­tra­tion will con­tin­ue to grow the pro­gram over time."
Biden al­so dis­cussed get­ting clos­er to re­turn­ing to "nor­mal" af­ter Covid, and said that start­ing next week, Amer­i­cans can or­der an­oth­er round of Covid self-tests, even if they've al­ready or­dered some.