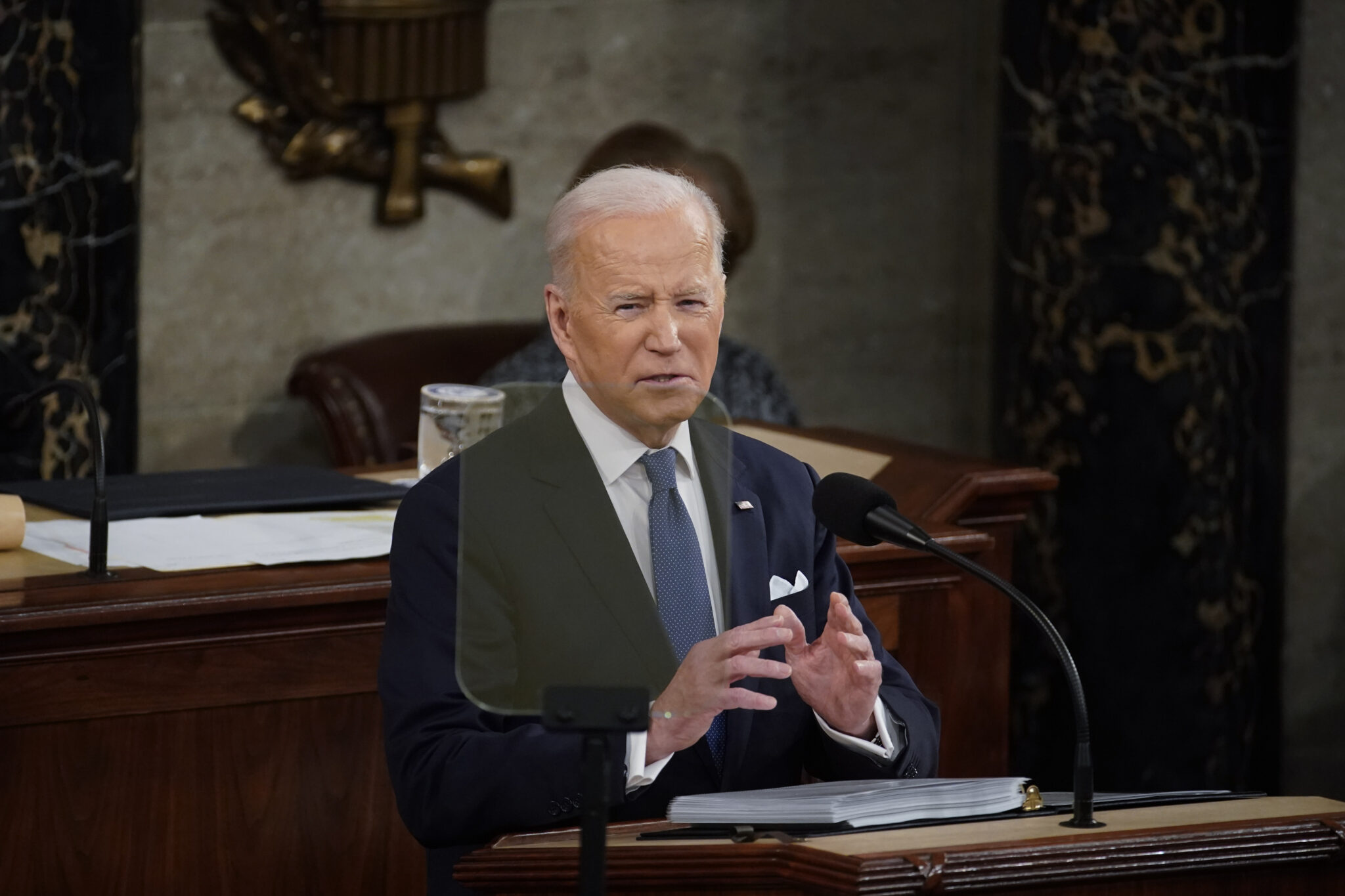 President Biden at last year's State of the Union address, March 1, 2022 (Al Drago/Pool via AP Images)
Biden to tout phar­ma's de­feat in State of the Union, call for $35 in­sulin for all
Pres­i­dent Joe Biden will take to his sec­ond State of the Union this evening with plans for op­ti­mism, and a call for uni­ver­sal, $35 per month in­sulin, along with high­lights of one of his biggest self-de­scribed suc­cess­es so far — the de­feat of phar­ma com­pa­nies with the in­sti­tu­tion of Medicare ne­go­ti­a­tions for drug prices.
"Pres­i­dent Biden took on Big Phar­ma — and won," a White House fact sheet said ahead of the speech this evening.
More than 60 mil­lion Medicare re­cip­i­ents will ben­e­fit from the ne­go­ti­a­tions, the Biden team claims, al­though it doesn't men­tion what the ne­go­ti­a­tions might do for launch prices, and it's still un­clear the ex­tent to which the law will be uti­lized, par­tic­u­lar­ly as com­pa­nies work around it.
But in the win col­umn for Medicare re­cip­i­ents is the cap on an­nu­al out-of-pock­et phar­ma­cy costs at $2,000 un­der Part D, and drug com­pa­nies will pay re­bates to CMS if they try to hike their prices faster than the rate of in­fla­tion, al­though the me­chan­ics of how those re­bates will be paid has yet to be ironed out.
Since Jan. 1, se­niors un­der Medicare al­so be­gan see­ing a $35 month­ly cap on in­sulin out-of-pock­et ex­pens­es.
And Biden is ex­pect­ed to call on Con­gress to ex­tend that cap to all who re­ly on the life-sav­ing in­sulin. Sen­ate Re­pub­li­cans last sum­mer re­buffed a sim­i­lar bill that would've al­lowed for a $35 cap.
The White House team al­so stressed that there are more adult vac­cines avail­able for free for those on Medicare, in­clud­ing the shin­gles vac­cine, which pre­vi­ous­ly cost as much as $200 out of pock­et.
Biden is al­so ex­pect­ed to tout his re-worked can­cer moon­shot. Sit­ting in First La­dy Jill Biden's box this evening will be Mau­rice and Kandice Bar­ron of New York City. The cou­ple's three-year old daugh­ter is a sur­vivor of a rare form of pe­di­atric can­cer.
Ahead of tonight's speech, White House can­cer moon­shot co­or­di­na­tor Danielle Car­ni­val told the press in a call that wider ac­com­plish­ments could be on the hori­zon:
[I]t's time for an­oth­er bi­par­ti­san ef­fort to come to­geth­er and re­al­ize a 21st cen­tu­ry can­cer sys­tem with clin­i­cal tri­al net­works that reach every com­mu­ni­ty, mod­ern da­ta sys­tem so we can share knowl­edge and make progress faster. And in 2016, as I said ear­li­er, Con­gress came to­geth­er to pass the 21st Cen­tu­ry Cures Act, which pro­vid­ed ad­di­tion­al fund­ing for the fight against can­cer. We can lock in that strong bi­par­ti­san sup­port go­ing for­ward.