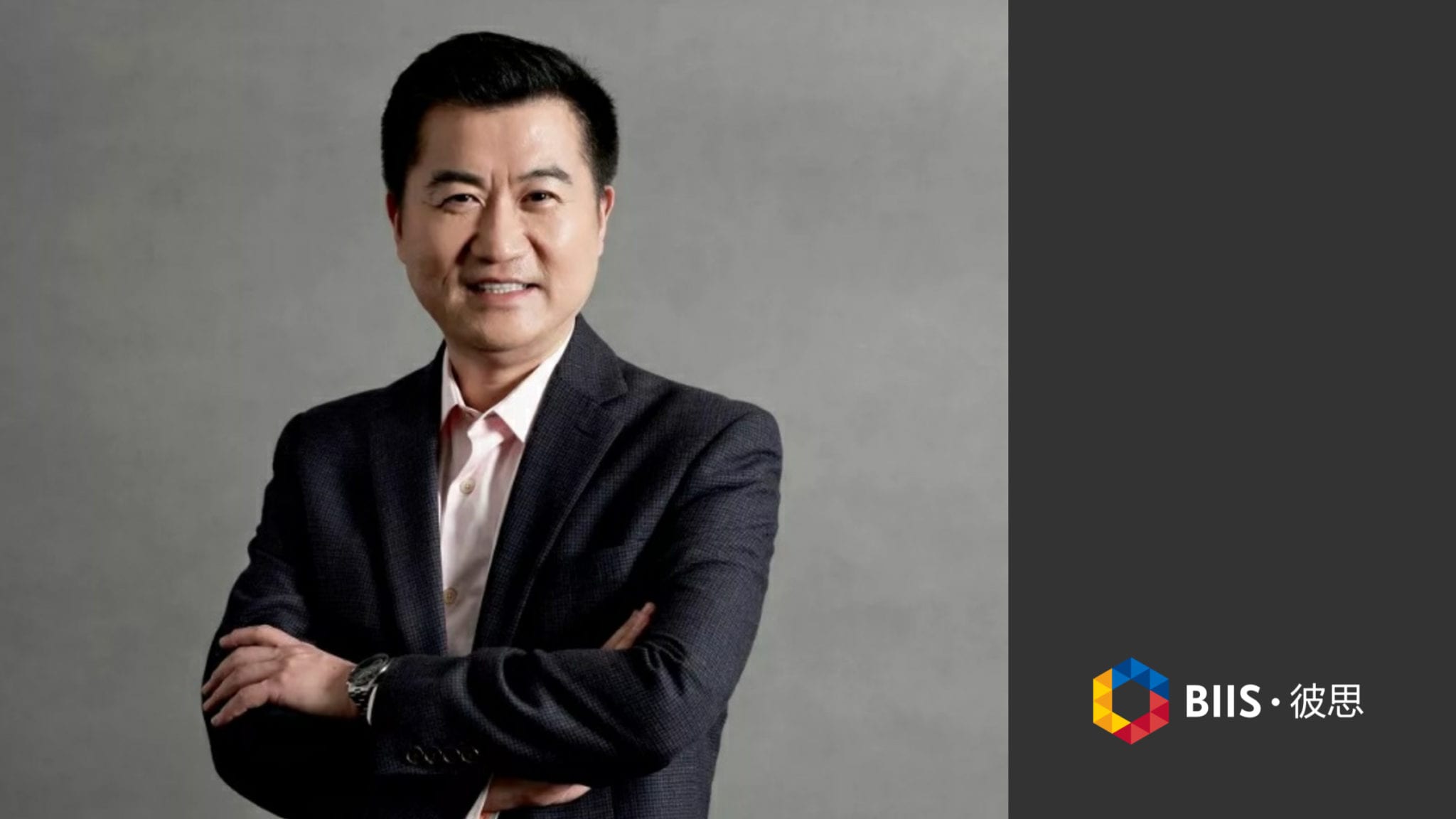 #BI­IS18 In­ter­view: Or­biMed Asi­a's Jonathan Wang on his up­bring­ing, de­cid­ing against a con­sult­ing ca­reer, blunt ad­vice for Chi­nese en­tre­pre­neurs, and more
Next week we kick off the first an­nu­al US-Chi­na Bio­phar­ma In­no­va­tion and In­vest­ment Sum­mit in Shang­hai, fea­tur­ing some of the lead­ing transpa­cif­ic news­mak­ers in bio­phar­ma who are blaz­ing new paths for­ward in glob­al drug de­vel­op­ment. The game has changed in Chi­na and to­day we're bring­ing you an in­ter­view with one of the main play­ers, Jonathan Wang, the found­ing part­ner of Or­biMed Asia and #BI­IS18 fea­tured speak­er.
Wang opens up about his child­hood, mov­ing to NYC on $200 of bor­rowed cash, learn­ing un­der the leg­endary Er­ic Kan­del, de­cid­ing be­tween a ca­reer at McK­in­sey ver­sus one in ven­ture cap­i­tal, the sea change in Chi­nese drug de­vel­op­ment, and much more. It's a very per­son­al in­ter­view and I en­cour­age you to read it through.
Af­ter Wang ob­tained his PhD in neu­ro­science from Co­lum­bia in 1995, he went on to pur­sue an MBA at Stan­ford. Wang has been with Or­biMed since 2007 with its Asia arm man­ag­ing around $1.1 bil­lion in PE/VC funds, with in­vest­ments in com­pa­nies like Zai Lab, the in­no­v­a­tive Chi­na-based de­vel­op­er helmed by #BI­IS18 chair­per­son Saman­tha Du.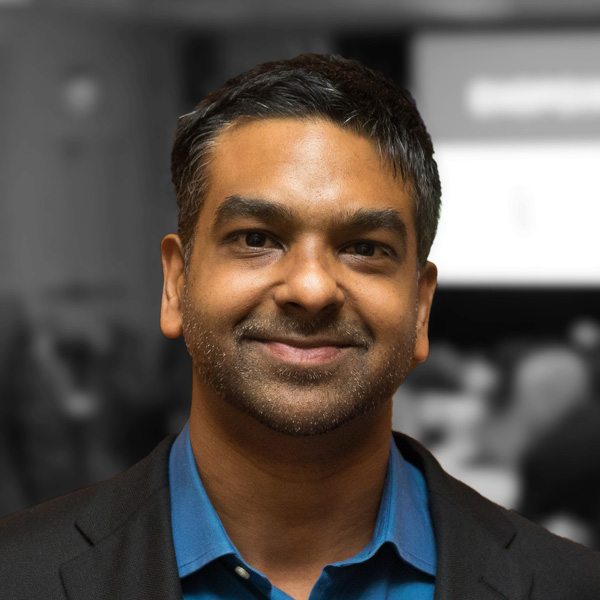 Ed­i­tors at our part­ner Pharm­Cube con­duct­ed this in­ter­view in Man­darin, and End­points pro­vid­ed the trans­la­tion and edit­ing. If you'll be in Shang­hai next week, there's still time to reg­is­ter for #BI­IS18, where Jonathan Wang and many more lu­mi­nar­ies will be pre­sent­ing.
— Ar­salan Arif, CEO End­points News
---
Knock, and the door will be open to you: The path from child­hood to be­com­ing a top VC
Pharm­Cube: What was your child­hood like?
Jonathan Wang: I was born in the 60s to a bio­med­ical fam­i­ly. My late grand­fa­ther was a Chi­nese medic. I have stud­ied bi­ol­o­gy since I was 16, and my broth­er and his wife are both doc­tors.
When I was a kid, I felt par­tic­u­lar­ly lucky be­cause I heard from the ra­dio that our gen­er­a­tion was "born un­der the red flag, grow­ing in hon­ey." It was on­ly af­ter (Deng Xi­aop­ing's) eco­nom­ic re­form that I re­al­ized it was a lie — Chi­na was so poor then even sug­ar had to be ra­tioned, while peo­ple in de­vel­oped coun­tries were al­ready con­sum­ing sug­ar-free drinks to con­trol their weight.
In sec­ondary school, I chose to study sci­ence be­cause I heard the say­ing "A mas­ter of math, physics and chem­istry can go any­where with­out fear." It wasn't un­til I grew up that I re­al­ized this was al­so a lie — peo­ple who on­ly know math, physics and chem­istry tend to stay at the bot­tom of com­pa­nies as they can on­ly earn salaries with their tech knowl­edge; but to be­come a leader and a man­ag­er, one needs to know the mar­ket and be good at in­ter­act­ing with peo­ple.
I en­tered uni­ver­si­ty two years ear­ly and, hear­ing from the ra­dio that "the 21st cen­tu­ry is bi­ol­o­gy's cen­tu­ry," I chose to ma­jor in bi­ol­o­gy. But when we reached the 21st cen­tu­ry, I re­al­ized half of that is a lie — the first half of the 21st cen­tu­ry is the cen­tu­ry of in­ter­net, mo­bile phones and AI; bi­ol­o­gy might have to wait un­til the sec­ond half.
Look­ing back, a ma­te­ri­al­ly de­prived child­hood was an in­cred­i­ble gift of life, be­cause it es­tab­lished my firm be­lief that I must strike it out on my own, and al­lowed me to ap­pre­ci­ate how good life is to­day. Among those born in the '60s, there is a large group of "un­for­tu­nate yet for­tu­nate" peo­ple like me. They grew not be­cause they were born rich, but be­cause they were born poor; they found the truth not be­cause they were not fed "lies," but pre­cise­ly be­cause they grew up in "lies."
To­day I be­lieve no mat­ter where and when a per­son is born, s/he is lucky. Life is an in­cred­i­bly pre­cious ex­pe­ri­ence. A hum­ble back­ground is the best place to be­gin; start­ing from rock bot­tom — though it may mean be­ing anony­mous and fac­ing nu­mer­ous dif­fi­cul­ties — means no mat­ter how you go, you're go­ing up.
---
PC: Can you talk about your ex­pe­ri­ence study­ing at Co­lum­bia Uni­ver­si­ty?
JW: When I grad­u­at­ed from uni­ver­si­ty, I want­ed to be­come the world's best sci­en­tist. I thought the most mys­te­ri­ous and chal­leng­ing area in bi­ol­o­gy is study­ing how the brain works and what con­scious­ness is. So I went for a neu­ro­science PhD in the lab of Co­lum­bia's Er­ic Kan­del. Er­ic was award­ed the No­bel prize in 2000 and is one of the pi­o­neers in this field. But I learned far more than sci­ence from him.
I came to New York with $200 I bor­rowed from my un­cle. I picked up an aban­doned iron­ing board on the street as my desk and learned Eng­lish on a pix­e­lat­ed tele­vi­sion, with cock­roach­es roam­ing all around my kitchen. But the fun­ny thing is I didn't feel poor at all; on week­ends I even drank beer and ate wa­ter­mel­on with friends, hav­ing a whole night of fun with less than $10.
Pro­fes­sors at Co­lum­bia talked fast in lec­tures. Ini­tial­ly I un­der­stood al­most none of it, so I bit the bul­let and took out most of my sav­ings ($30 or so) to buy my first elec­tron­ic de­vice in the US — a small recorder. I at­tend­ed lec­tures in the morn­ing and lis­tened to the record­ings re­peat­ed­ly in the af­ter­noons and evenings, com­pil­ing them in­to notes. I had no prob­lems in lec­tures af­ter just one se­mes­ter. In ret­ro­spect, through­out my in­vest­ing ca­reer, the mon­ey I spent on that recorder had the high­est ROI.
My su­per­vi­sor Er­ic sur­prised me. I thought he would have crazy hair and stay up all night for ex­per­i­ments; turned out he had the best groomed hair in the lab, and nev­er did any ex­per­i­ments. He used his mouth, not his hands, as he was in charge of in­struct­ing and man­ag­ing 40-odd post-docs and three doc­tor­ate stu­dents, and then "sell" the re­search re­sults (pub­lish on first-class jour­nals, and ob­tain re­search fund­ing). In Er­ic I saw the im­por­tance of a leader.
Er­ic was more than a top sci­en­tist; he al­so built two com­pa­nies, one of which was sold and the oth­er went pub­lic. Back then, sci­en­tists cre­at­ing com­pa­nies was a new idea to me. Lit­tle did I know, among my con­tem­po­raries at Co­lum­bia were a few en­tre­pre­neurs who would make splash­es in Chi­nese bio­phar­ma to­day, in­clud­ing WuXi AppTec founder Ge Li, Ge­newiz founder Steve Sun, Mab­space founder Xuem­ing Qian, Peg­Bio founder Min Xu and EOC founder Xi­aom­ing Zou. I lat­er in­vest­ed in Ge­newiz, and be­came long­time friends with all of them.
The oth­er thing about Er­ic that sur­prised me was his car. To com­mend his promi­nent achieve­ments, Co­lum­bia re­served a ded­i­cat­ed park­ing space for him on the ex­pen­sive streets of Man­hat­tan with a cop­per plaque carved with his name. But on that space Er­ic parked a worn Hon­da at least 10 years old, like hous­ing a beg­gar in a beau­ti­ful palace. Er­ic could've bought a new car with the mon­ey he earned on a day, why was he still dri­ving this old scruffy Hon­da? Mon­ey seemed to be most peo­ple's mo­ti­va­tion, but Er­ic, rich as he was, wasn't in it for the mon­ey. What's mon­ey for then? What was he work­ing so hard for? What was he liv­ing for? He showed me that the wis­er a per­son is, the more s/he can be free of ma­te­r­i­al ties. The rich­ness of life is not de­fined by mon­ey, but by one's in­ner world.
Jonathan Wang with Er­ic Kan­del on the day of his dis­ser­ta­tion de­fense. (1996)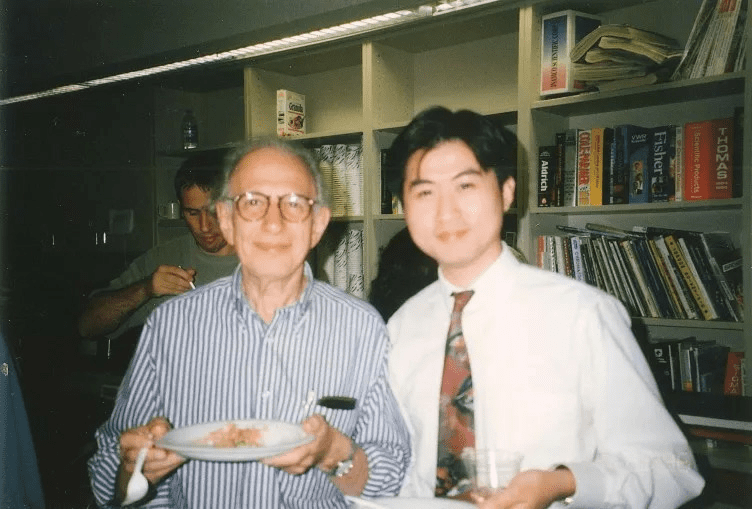 Click on the im­age to see the full-sized ver­sion
---
I was lucky enough to be award­ed a schol­ar­ship from the Howard Hugh­es Med­ical In­sti­tute ($18,000 per year), which freed me from wait­ing ta­bles and work­ing food de­liv­ery as many for­eign stu­dents had to do. I felt se­cure enough fi­nan­cial­ly to watch a play on Broad­way.
Though the re­search went smooth­ly and I even­tu­al­ly pub­lished in Cell, I felt in­creas­ing­ly dispir­it­ed. My sub­ject was the func­tion of the CaMKII pro­tein in learn­ing and mem­o­ry. Study­ing its mech­a­nism was like dig­ging a very deep well, the deep­er I drilled, the fur­ther it was from re­al life. I start­ed to re­al­ize that pro­found ba­sic sci­ence re­search might not suit me well.
In­stead I dreamed to be like Er­ic, turn­ing sci­ence in­to prod­ucts, to lessen pa­tients' ill­ness and pain, so I be­gan to spend lots of time on read­ing busi­ness news and books. Busi­ness bat­tle roy­als ex­cit­ed me like ac­tion film block­busters; mean­while my dream as a sci­en­tist fad­ed.
Yet the ra­tio­nal part of me kept say­ing that I should fo­cus on sci­en­tif­ic re­search, since this was the most sta­ble path — giv­en my en­vi­able back­ground in a No­bel lab, go­ing from doc­tor­ate to post-doc, as­sis­tant pro­fes­sor and pro­fes­sor was a sure path to suc­cess. It was as if I was liv­ing in a com­fort­able mar­riage that nonethe­less had no love; my heart and brain fought vo­cif­er­ous­ly. In such bat­tles, the brain usu­al­ly wins. A brain con­trolled by habits, lazi­ness and fear of the un­known can al­ways per­suade a ra­tio­nal per­son to give up their deep yearn­ing and trade their whole life's hap­pi­ness for tem­po­rary se­cu­ri­ty. If the brain al­ways wins, the world would lose all their en­tre­pre­neurs and rev­o­lu­tion­ar­ies.
For­tu­nate­ly, my heart won. I de­cid­ed to go in­to busi­ness af­ter get­ting my doc­tor­ate de­gree. For a Chi­nese for­eign stu­dent with noth­ing, one of the most ef­fec­tive ways of switch­ing from sci­ence to busi­ness is to at­tend busi­ness school, so I de­cid­ed to get my MBA from Stan­ford. At that time I had a very vague in­ter­est in busi­ness and had no idea what terms like VC and PE — things that I'd even­tu­al­ly do — mean. I was like a moth that flies to a light seen from afar.
My ex­pe­ri­ence gave birth to my be­lief that one doesn't have to know the des­ti­na­tion, but one must avoid dark­ness.
---
PC: Can you talk about your ex­pe­ri­ence at Stan­ford Busi­ness School?
JW: Stan­ford was very kind to me. They ex­empt­ed one year of my tu­ition and I paid the rest on loan. The school had an of­fice sup­port­ing low in­come stu­dents where they stored lots of sec­ond-hand bowls, plates and cook­ing ware that we could freely take. When I asked them when I had to re­turn them, they gave me a weird look: These things are old give­aways to start with, who would want them af­ter you've been through with them? I was sat­is­fied, pil­ing the stuff up in my arms like I was car­ry­ing gold.
Stan­ford's cam­pus bor­ders Sand­hill Road, the "cap­i­tal" of the glob­al VC king­dom, so be­com­ing a VC was the dream of most of my class­mates. It took me a while to find out what VCs re­al­ly do, and I fan­ta­sized about try­ing it out, but that's sim­ply a fan­ta­sy — not on­ly did I have ze­ro VC ex­pe­ri­ence, even my Eng­lish was "Chi­nese style."
At a chance meet­ing with famed VC firm Del­phi Ven­tures, I ran in­to their youngest part­ner De­bra Yu — whose pic­ture I had seen on­line. I stopped her on the cor­ri­dor, stut­ter­ing through a self-in­tro­duc­tion. She im­me­di­ate­ly fig­ured that I was look­ing for a job. "We do not have a job," she said di­rect­ly.
I blushed, but still pushed my­self to hand her a card with my con­tact in­for­ma­tion. I said I was a PhD and would be more than hap­py to vol­un­teer my time if they have any cas­es that are too "sci­en­tif­ic." "We do not have such cas­es," she quick­ly end­ed our con­ver­sa­tion.
But a few weeks lat­er, she ac­tu­al­ly called me and gave me the first case I ever read in my life. I un­der­stood none of it but didn't dare telling her, so I pulled an all-nighter in the week­end and man­aged to put to­geth­er a re­port. Ei­ther the re­port ac­tu­al­ly helped, or she was too kind to put out my en­thu­si­asm, but to my sur­prise she gave me more cas­es.
I had four job of­fers up­on grad­u­a­tion. One of them from McK­in­sey, which was par­tic­u­lar­ly dif­fi­cult to ob­tain af­ter sev­er­al rounds of in­ter­views. An an­nu­al in­come of $143,000 was tempt­ing for some­one with stu­dent loans and neg­a­tive as­sets. And that's when life threw me an­oth­er prob­lem.
Deb­bie, ever so kind, left a mes­sage for me to say that even though her firm didn't have an open po­si­tion, she gave me a re­fer­ral at Walden, a VC that was hir­ing. At that time Walden was the lead­ing VC in Asia. I got the of­fer, and re­al­ized the to­tal com­pen­sa­tion was 37% less than McK­in­sey.
My brain and heart be­gan an­oth­er round of fierce fights.
"Go to McK­in­sey," the brain gave a clear or­der. "Com­pen­sa­tion aside, once you have McK­in­sey on your re­sume, your fu­ture ca­reer is se­cure."
But my heart was mum­bling: "McK­in­sey sim­ply gives sug­ges­tions to com­pa­nies. You hand over the Pow­er­Point, take the con­sult­ing fees and you leave; the con­se­quences of those sug­ges­tions have noth­ing to do with you. What's the point? Be­sides, you're a young per­son with no busi­ness ex­pe­ri­ence. Who are you kid­ding in­struct­ing com­pa­ny ex­ecs with gray­ing hair? As a VC you get to build com­pa­nies with en­tre­pre­neurs, turn­ing sci­ence in­to prod­ucts like Er­ic did. That's cool."
"$143,000 in cash! On­ly an id­iot would pass that up," the ra­tio­nal part of my brain said.
The dilem­ma was so ag­o­niz­ing I couldn't sleep. En­tan­gled in my thoughts, I made a spread­sheet to an­a­lyze the pros and cons of each path, but no mat­ter how I looked at it, McK­in­sey had the up­per hand — on­ly a lu­natic would throw away 37% of in­come. But my brain could not over­pow­er my heart, and it even­tu­al­ly lost. I did what on­ly lu­natics would do: I went to Walden to be a VC.
In ret­ro­spect, I be­lieve my de­ci­sion was right. I was not suit­ed for McK­in­sey — I wouldn't be hap­py there, nor could I sus­tain any pas­sion. But did I lose out on mon­ey? As it turned out, no. What I missed out on when I first start­ed work­ing, I gained back lat­er in life be­cause of my sus­tained pas­sion. That's to say in life, there's no "wast­ed" jour­neys. Knock, and the door will be opened to you.
I be­came good friends with Deb­bie, who brought me in­to the VC world. She is now the man­ag­ing di­rec­tor at Chi­nese Re­nais­sance and we of­ten work to­geth­er.
I now look back on my de­ci­sion with grat­i­tude: Fol­low your heart's de­sire, don't fight with it.
---
Changes in Chi­nese bio­phar­ma in­vest­ing: Mix of op­ti­mism and wor­ries
PC: Hav­ing in­vest­ed in the bio­phar­ma field for 20 years, you must have wit­nessed many changes?
JW: I en­tered the in­vest­ing in­dus­try in 1998. At that time Chi­na's phar­ma­ceu­ti­cal mar­ket was on­ly 2% of the world. Very few multi­na­tion­al phar­ma­ceu­ti­cal com­pa­nies even con­sid­ered Chi­na. And do­mes­ti­cal­ly the sit­u­a­tion was bleak: There was a lack of tal­ent, void of in­no­v­a­tive abil­i­ties, lit­tle IP pro­tec­tion, and a mar­ket full of low qual­i­ty copy­cat drugs.
Af­ter 2000, the glob­al en­vi­ron­ment was tur­bu­lent too. The first gene se­quenc­ing project didn't bring any rapid ad­vances in drug sci­ence or pro­duc­tiv­i­ty; rather, the cost of drug R&D shot up. The bio­phar­ma stock mar­ket popped with the dot­com bub­ble.
But with­in the next 20 years, Chi­na's phar­ma­ceu­ti­cal mar­ket lift­ed off the ground — ris­ing all the way from 10-plus to just sec­ond to the US. Multi­na­tion­al phar­ma­ceu­ti­cal com­pa­nies fought to ex­pand their in­put in Chi­na. At the same time, the di­as­po­ra who have been liv­ing in for­eign coun­tries be­gan to join a big mi­gra­tion back to the moth­er­land. That very much ac­cel­er­at­ed the rise of Chi­na's bio­phar­ma field.
In 2001, I co-found­ed Bay­He­lix — an or­ga­ni­za­tion for Chi­nese lead­ers in med­ical health — with Steve Yang. When we first start­ed out, al­most all our mem­bers lived over­seas. Now, the ma­jor­i­ty of them re­side in Chi­na, in­clud­ing Steve and I — we've been back for many years. Among Bay­He­lix mem­bers were the founder or ex­ec­u­tives of suc­cess­ful en­ter­pris­es like WuXi AppTec, Zai Lab, and BeiGene.
Front row from left: Jonathan Wang, Steve Yang. Back row from left: Guo­liang Yu, Vic­tor Shi. (2004)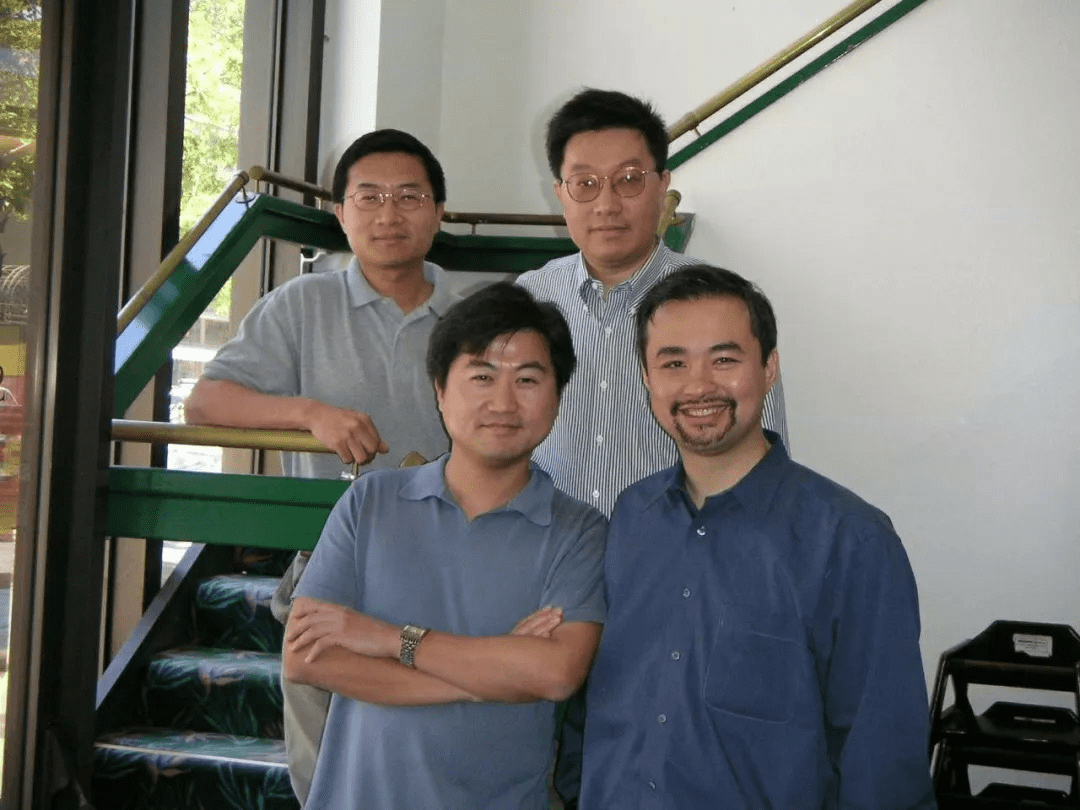 Click on the im­age to see the full-sized ver­sion
I have a lot of faith for the fu­ture. The grow­ing econ­o­my, pop­u­la­tion ag­ing, ur­ban­iza­tion, im­prove­ment in the med­ical in­sur­ance sys­tem, up­grad­ed and next-gen prod­ucts — these mar­ket dri­ving fac­tors are all com­ing strong. The Na­tion­al Med­ical Prod­ucts Ad­min­is­tra­tion has ex­e­cut­ed ef­fec­tive re­forms that pushed do­mes­tic in­no­va­tion ca­pa­bil­i­ties to strength­en quick­ly; the gov­ern­ment is pro­vid­ing ro­bust sup­port to the in­dus­try on all lev­els, and it's a great at­mos­phere for en­tre­pre­neur­ship; com­pa­nies like Zai Lab and BeiGene have reaped suc­cess­ful IPOs over­seas, demon­strat­ing ex­it strate­gies for in­no­v­a­tive com­pa­nies. Over­seas tal­ents are re­turn­ing and do­mes­tic tal­ents are ma­tur­ing.
---
PC: As bright as the fu­ture looks, do you have any wor­ries?
JW: Lots of wor­ries. I'll talk about a few that are im­por­tant in the near-term.
First of all I'm wor­ried whether the in­ten­si­ty of drug reg­u­la­to­ry re­forms can be sus­tained. The Na­tion­al Med­ical Prod­ucts As­so­ci­a­tion has im­ple­ment­ed dras­tic re­forms these two years, lead­ing to in­dus­try-wide pros­per­i­ty, but it's just be­gin­ning. It's bound to run in­to re­sis­tance from vest­ed in­ter­est in many dif­fer­ent forms. This takes per­sis­tent ef­fort to com­plete. Com­pe­tent re­form­ers must with­stand all sorts of pres­sure and temp­ta­tions — some­times even per­son­al risks — for the good of the coun­try and the peo­ple. They should be pro­tect­ed and en­cour­aged.
Sec­ond­ly I'm wor­ried about the po­ten­tial bar­ri­ers in tech­nol­o­gy, cap­i­tal and tal­ent (move­ment) caused by the US-Chi­na trade war. Dis­ease (and sav­ing pa­tients) is bor­der­less. Coun­tries work­ing with each oth­er to save peo­ple from death and ail­ments is some­thing ir­re­proach­able in eco­nom­ic, moral and eth­i­cal terms. I hope the trade war won't cause ad­verse im­pacts on the bio­phar­ma in­dus­try, lead­ing to suf­fer­ings for pa­tients around the world.
The third is a some­what para­dox­i­cal wor­ry: I wor­ry that the mar­ket forms a bub­ble, and that the bub­ble bursts too quick­ly, form­ing an "an­ti-bub­ble." Un­til two months ago, I was on­ly con­cerned about the bub­ble. The health­care in­dus­try has been so hot these years that in­vestors are stoked, but among them are peo­ple who don't know the in­dus­try and are on­ly here to reap the wind­fall. Those peo­ple tend to win cas­es on com­pet­i­tive val­u­a­tions, which leads to bub­bles; but once the wind­fall dies down, they van­ish. That might cause what I call the "an­ti-bub­ble," a bust that has gone on too long.
In the past two months, the bub­ble has gone down a bit., with many in wait-and-see mode. The bub­ble could be lift­ed again, or it could burst. Such ir­ra­tional boom and bust is not good for the in­dus­try.
Or­biMed is the largest bio­med­ical-fo­cused in­vest­ment firm. We cur­rent­ly man­age around $14 bil­lion in as­sets, with a port­fo­lio of around 500 com­pa­nies world­wide. Or­biMed Asia man­ages three funds fo­cused on pri­vate bio­med­ical in­vest­ments in Asia to­tal­ing $1.1 bil­lion. We've al­ready in­vest­ed in 50 com­pa­nies, in­clud­ing Zai Lab, Amoy Di­ag­nos­tics, AK Med­ical, Crown Bio­science, EOC Phar­ma, For­te­BIO, An­ge­lalign and Ge­newiz. Oth­er than that, Or­biMed's sec­ondary mar­ket fund has close to $1 bil­lion of in­vest­ments in Asia.
---
PC: With so many wor­ries, you must be los­ing a lot of sleep?
JW: I sleep very well, thank you. None of these wor­ries I talked about are up to any in­di­vid­ual or com­pa­ny, so they are re­al­ly out of my hands. I could on­ly do my best in my own work.
Bub­ble or not, Or­biMed Asia will in­sist on our ground­ed, strict in­vest­ment strat­e­gy. We have three PE/VC funds with $1.1 bil­lion be­tween them. The third fund — with $550 mil­lion — launched last Sep­tem­ber and has al­ready booked $200-plus mil­lion in in­vest­ment.
In fact, Or­biMed Asia is rel­a­tive­ly com­fort­able this year. In the past year or so, we have had 10 com­pa­nies ex­it by ei­ther go­ing pub­lic or get­ting bought (in­clud­ing Zal Lab, Anoy Di­ag­nos­tics and AK Med­ical), with two more in the fi­nal stages of ex­it­ing. Adding them all up gives us a to­tal val­ue es­ti­mate of $500 mil­lion — sol­id cash re­turns to our LPs. That's some stel­lar re­sults thanks to the hard work of the Or­biMed Asia team over the years.
---
PC: Hong Kong's stock ex­change re­cent­ly added an IPO chan­nel for in­no­v­a­tive bio­phar­ma com­pa­nies, and you're a mem­ber on their ad­vi­so­ry pan­el. What do you think of this new chan­nel?
JW: These thoughts are my per­son­al views, un­re­lat­ed to my po­si­tion on the pan­el.
The new IPO chan­nel at HKEX is def­i­nite­ly bet­ter than no chan­nel. We can think about it this way: It's like we used to have to trav­el to the New York mar­ket to buy and sell fruits. While Hong Kong had a mar­ket, it used to on­ly trade veg­eta­bles and not fruits. Now that Hong Kong has a new fruit sec­tion, it's ob­vi­ous­ly ben­e­fi­cial for both sides of the trade and the whole fruit in­dus­try.
I have full con­fi­dence in this new chan­nel. Chi­na is the sec­ond biggest phar­ma­ceu­ti­cal mar­ket in the world, and there are a num­ber of strong con­tenders lin­ing up to go pub­lic via the new chan­nel at HKEX. Chi­na's bio­phar­ma in­no­va­tion is just bud­ding. The big wave of top glob­al tal­ent re­turn­ing to Chi­na is set to fa­cil­i­tate the birth of great com­pa­nies and rich pipelines. Many do­mes­tic en­tre­pre­neurs are hes­i­tant to go all the way to New York to sell their stock in Eng­lish. Hong Kong has the chance to be­come the Nas­daq of the east.
Many peo­ple are wor­ried about cer­tain com­pa­nies' dis­ap­point­ing per­for­mance post-IPO. That's quite un­nec­es­sary. Post-IPO per­for­mance is tied to a num­ber of fac­tors in­clud­ing IPO pric­ing, com­pa­ny re­sults and mar­ket con­di­tions. Volatil­i­ty in in­di­vid­ual stocks is not rep­re­sen­ta­tive of the whole stock mar­ket.
Plunges in cer­tain stocks made many in­vestors more ra­tio­nal and somber, which is good for the in­dus­try. Com­pared to two months ago, I am now more con­fi­dent of the new IPO chan­nel at the HKEX. The Or­biMed Asia team is in­vest­ing more ac­tive­ly.
The new biotech sec­tion of the HKEX is like a new­born. It's im­pos­si­ble to guar­an­tee that it nev­er gets sick and is al­ways bliss­ful. No stock mar­ket would see all its stocks go up and nev­er come down. Even ma­ture mar­kets like the Nas­daq are not im­mune to volatil­i­ty. In fact it went through quite a down pe­ri­od two years ago, and it wasn't un­til re­cent­ly that it climbed back to the lev­el we saw three years ago.
The biotech chap­ter is just be­gin­ning — akin to the first 30 sec­onds of a movie. It's too ear­ly to make any con­clu­sions. None of the great­est movies we know start with a hap­py scene — it's com­mon to see the pro­tag­o­nist fall 50 floors from a 100-storeyed sky­scraper. I be­lieve bril­liant plots are yet to come.
---
Fu­ture of en­tre­pre­neur­ship in Chi­na: Be dif­fer­ent, or die!
PC: What ad­vice do you have for en­tre­pre­neurs?
JW: First of all, I sug­gest that peo­ple on­ly do it when they are so pas­sion­ate about start­ing a busi­ness that they can hard­ly sleep. En­tre­pre­neur­ship is on­ly for a se­lect few; most suc­cess­ful and hon­or­able peo­ple don't start busi­ness­es. So don't ride on the en­tre­pre­neur­ial trend.
Many start busi­ness­es not out of pas­sion, but for ex­ter­nal rea­sons: It's fash­ion­able to start a busi­ness now, it's a good time to raise mon­ey, XYZ earned a lot of mon­ey in 18 months, et cetera. This is very dan­ger­ous. The prob­a­bil­i­ty of suc­cess for a ven­ture is nine to one. As Steve Jobs has said: "On­ly lu­natics would start their own busi­ness­es. Ra­tio­nal peo­ple would give up be­cause of the slim chances." If you don't have an in­her­ent, sus­tained pas­sion, once you run in­to ob­sta­cles you wouldn't per­sist. The com­pa­ny would be­come, in ef­fect, an off-plan prop­er­ty that goes de­funct.
Sec­ond­ly, I sug­gest that en­tre­pre­neurs mea­sure time in five-year in­cre­ments. It would be a mir­a­cle for a per­son to build a great com­pa­ny from scratch in five years. It's rare to have a great com­pa­ny even in 20 years. But Chi­nese cul­ture is ob­sessed with "short, flat, fast." So many en­tre­pre­neurs are des­per­ate to build a great com­pa­ny in 18 months — and the "dumb mon­ey" on the mar­ket are cheer­ing their rest­less­ness on.
Fur­ther­more, I sug­gest that founders pay more at­ten­tion to build­ing a team. An en­tre­pre­neur's in­stinct tends to be get up and go. That's nec­es­sary to start, but it's not a long-term strat­e­gy. No­body can build a great com­pa­ny by him or her­self. If Liu Bei (who found­ed Shu King­dom in the Three King­doms pe­ri­od) had not found his team but had wield­ed his sword alone to bat­tle, there would prob­a­bly be no Shu. In the process of build­ing a busi­ness, the en­tre­pre­neur must quick­ly piv­ot from be­ing a work­er to a leader and man­ag­er. Many en­tre­pre­neurs don't re­al­ize that.
Last­ly, I want to leave these words for en­tre­pre­neurs: Be dif­fer­ent, or die! On the first day of start­ing your busi­ness you should con­sid­er dif­fer­en­ti­a­tion, build your unique mar­ket po­si­tion and avoid fierce com­pe­ti­tion. Chi­nese com­pa­nies like to com­pete with sim­i­lar en­ti­ties — just look at the tens of PD-1/PD-L1 and CAR-T as­sets. In this re­gard Chi­na should learn from Switzer­land. When the Swiss sells you a fruit knife they brand it as "Swiss army knife." Even if you don't cut fruit with it, there's the glo­ry as­so­ci­at­ed with car­ry­ing it. Most Chi­nese com­pa­nies on­ly know to com­pete by slash­ing prices. Their fruit knives get cheap­er and sharp­er than ever, but they ul­ti­mate­ly fall in­to the "low-qual­i­ty, low-price" trope. Not on­ly do they end up with poor prices — no­body takes pride in it.
---
To reg­is­ter for #BI­IS18, click here now.