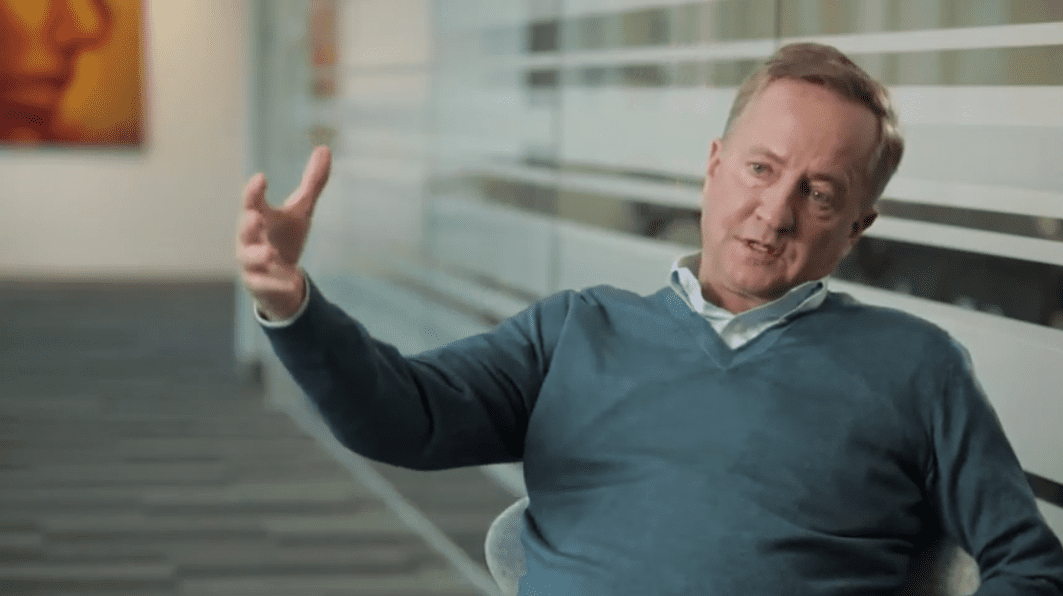 Jean-Jacques Bienaimé. BioMarin via YouTube
Bil­lions on the line: Bio­Marin bus­tles past en­thused ri­val, plan­ning to launch world's first he­mo­phil­ia A gene ther­a­py
Bio­Marin isn't go­ing to let a ri­val's suc­cess over the week­end get in the way of mak­ing a bee-line to the FDA with an im­per­fect, but pre­sentable, gene ther­a­py for he­mo­phil­ia A.
On Mon­day the biotech $BM­RN re­port­ed that its talks with the FDA and the EMA con­vinced ex­ecs to make a leap for an ac­cel­er­at­ed ap­proval with da­ta on just a hand­ful of pa­tients. And they're hand­ing over Phase I/II and in­ter­im Phase III re­sults in Q4 to make their case.
That de­ci­sion was made de­spite a con­sid­er­able back­lash against the lat­est snap­shot of the da­ta, with wors­en­ing ef­fi­ca­cy over time and a low­er ini­tial re­sponse in their piv­otal tri­al — but ex­cel­lent bleed rates, so far. Bio­Marin says that with a break­through drug des­ig­na­tion in the USA and Eu­rope's prime sta­tus, they have good rea­son to be­lieve they are on track to field the world's first gene ther­a­py.
In­vestors ap­pear some­what skep­ti­cal though, with Bio­Marin shares down 2.4% in Mon­day af­ter­noon trad­ing.
Here's the bet they're mak­ing, out­lined in their lat­est state­ment:
Fac­tor VI­II lev­els sus­tained over a three-year pe­ri­od were suf­fi­cient to achieve strik­ing he­mo­sta­t­ic ef­fi­ca­cy. Fac­tor VI­II ex­pres­sion has en­tered a plateau phase where the rate of de­cline has sub­stan­tial­ly slowed, which could be in­dica­tive of durable, long-term ex­pres­sion.
Leerink's Joseph Schwartz of­fers a bull­ish as­sess­ment of Bio­Marin's gam­ble:
Based on BM­RN's Ph.3 da­ta, the com­pa­ny met their pre-spec­i­fied cri­te­ria for ac­cel­er­at­ed ap­proval – 8 pts achiev­ing mean fac­tor VI­II/FVI­II lev­els above 40 IU/dL. With on­ly 17 pts (out of 20 pts) eval­u­at­ed so far, it is pos­si­ble that the re­main­ing 3 could pro­vide more con­fi­dence in Val­rox al­though it is not re­quired for ac­cel­er­at­ed ap­proval since BM­RN has al­ready met the bar. The com­pa­ny is fo­cused on get­ting Val­rox to mar­ket as soon as pos­si­ble by sub­mit­ting their fil­ing in 4Q19 based on their Ph.3 in­ter­im analy­sis and aims to com­plete GEN­Er8-1 (6E13 vg/kg) en­roll­ment in ear­ly fall 2019. As­sum­ing BM­RN could in­crease and op­ti­mize ef­fi­ca­cy — re­call, chro­mogenic mea­sures were high­er in Ph.1/2 at weeks 23-26 than Ph.3 (68 IU/dL mean/57 IU/dL me­di­an in Ph.1/2 vs 36 IU/dL mean/33 IU/dL me­di­an Ph.3) — we be­lieve that po­ten­tial stud­ies BM­RN may con­duct lat­er could fur­ther boost sales and in­crease Val­rox's at­trac­tive­ness among he­mo­phil­ia A pts, es­pe­cial­ly as com­pet­ing pro­grams (i.e., SG­MO/PFE) ap­pear to be de­liv­er­ing com­pet­i­tive ef­fi­ca­cy.
Spark Ther­a­peu­tics $ONCE is wide­ly viewed as the run­ner up for now, while Roche strug­gles to com­plete its $4.3 bil­lion buy­out as soon as pos­si­ble. But Sang­amo/Pfiz­er gar­nered some care­ful sec­ond looks a few days ago as they post­ed bet­ter ef­fi­ca­cy and a fast re­sponse among 4 evalu­able pa­tients. That team al­so out­lined plans to make a leap for­ward on an ac­cel­er­at­ed path­way as they sought to catch up with the two fron­trun­ners.
Any stum­ble at this point could prove a set­back, but if they stay on track Sang­amo and Pfiz­er may set up a sit­u­a­tion where pa­tients can choose an im­per­fect gene ther­a­py or wait for a bet­ter one. And Bio­Marin has out­lined plans to charge in the range of $2 mil­lion to $3 mil­lion per treat­ment — with the ca­pa­bil­i­ty of earn­ing $10 bil­lion to $15 bil­lion a year — adding stick­er shock for pay­ers to the list of chal­lenges.