Bio­gen, Ei­sai fight back against ac­cu­sa­tions their big BAN2401 study was skewed -- but this fight is­n't over yet
Af­ter get­ting slapped hard by crit­ics for the way it han­dled their re­cent tri­al sum­ma­ry for their Alzheimer's drug BAN2401, Ei­sai and their part­ners at Bio­gen $BI­IB turned up at an Alzheimer's con­fer­ence in Barcelona to present their de­fense of the da­ta af­ter crunch­ing the num­bers again. But it's not play­ing their way, with Bio­gen's stock slid­ing as key an­a­lysts re­fused to for­give or for­get.
The two com­pa­nies man­aged to lose a lot of cred­i­bil­i­ty when an­a­lysts found out that at the re­quest of reg­u­la­tors — deeply con­cerned about the threat of ARIA-E — in­ves­ti­ga­tors pulled high-risk APOE4 car­ri­ers out of the high­est treat­ment arm in their study, cre­at­ing an im­bal­ance be­tween the drug group and place­bo that may have skewed the re­sults in the drug's fa­vor.
To­day, the re­searchers are back af­ter ex­tract­ing the spe­cif­ic APOE4 re­sults in a close­ly-watched sub­group analy­sis, con­clud­ing:
At the high­est treat­ment dose, APOE4 car­ri­ers treat­ed with BAN2401 saw 63% less de­cline in dis­ease pro­gres­sion, while non-car­ri­ers saw 7% less de­cline, as mea­sured by AD­COMS ver­sus place­bo at 18 months. These re­sults sug­gest that the treat­ment ef­fect for the 10 mg/kg bi-week­ly dose is re­lat­ed to treat­ment with BAN2401 and not due to an im­bal­ance in sub­ject al­lo­ca­tion by APOE4 sta­tus. (Em­pha­sis added.) In ad­di­tion, the pooled 10 mg/kg bi-week­ly and 10 mg/kg month­ly dos­es re­sult in less de­cline on AD­COMS ver­sus place­bo at 18 months (over­all; 21%, APOE4 car­ri­ers; 25%, APOE4 non-car­ri­ers; 6%).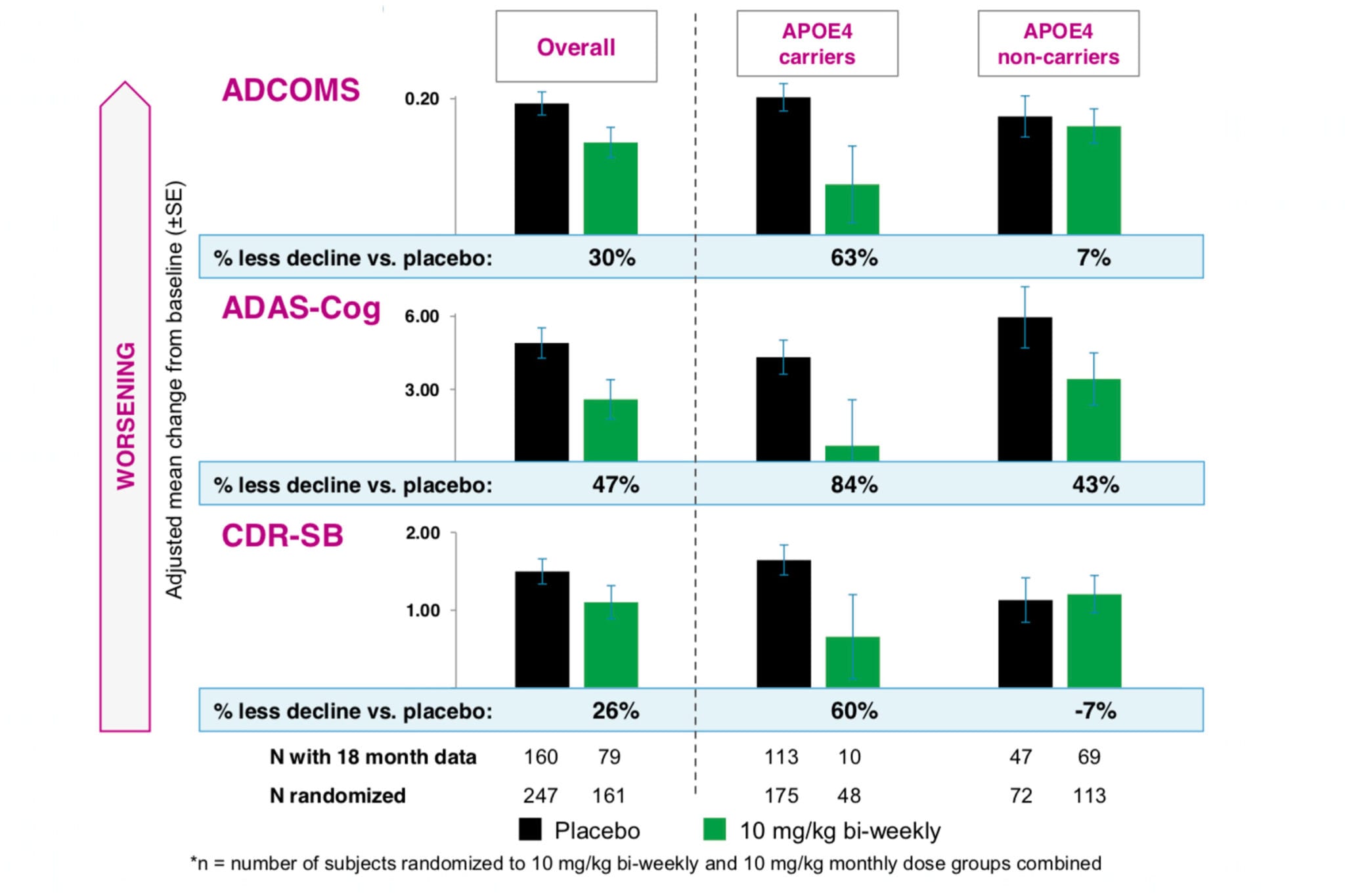 Clin­i­cal Ef­fects in APOE4 Car­ri­ers and Non-car­ri­ers at 18 Months (Page 20, Ei­sai slides)
---
Bio­gen's shares dropped 2.6% on the lat­est da­ta. Why?
Both com­pa­nies clear­ly came out of the APOE4 con­tro­ver­sy with lost cred­i­bil­i­ty. Get­ting it back won't be easy. And that was ev­i­dent in some re­marks from promi­nent an­a­lysts.
Baird's Bri­an Sko­r­ney:
While the pre­sen­ters claim that this analy­sis re­solves out­stand­ing ques­tions around the mis­matched al­lo­ca­tion of APOE4+ pa­tients be­tween place­bo and treat­ment groups, we con­tin­ue to think that is­sues with tri­al de­sign and the fact of the im­bal­ance make the da­ta im­pos­si­ble to in­ter­pret, hence we find it dif­fi­cult to draw any con­clu­sions, much less the pos­i­tive ones Bio­gen and Ei­sai are in­fer­ring.
Count Ge­of­frey Porges, a skep­tic, as deeply dis­ap­point­ed by what was on dis­play to­day.
In our view this da­ta is con­fus­ing, sug­gest­ing on­ly lim­it­ed val­ue for BAN2401 in the car­ri­er pop­u­la­tion, while the small num­ber of pa­tients re­main­ing on drug at the 18-month time point and lack of clear dose re­spons­es di­min­ish the re­li­a­bil­i­ty of this dataset.

We are sur­prised by the lack of con­sis­tent ef­fect by ApoE4 sub­type, par­tic­u­lar­ly fol­low­ing ad­u­canum­ab da­ta ear­li­er this morn­ing show­ing rel­a­tive­ly con­sis­tent ef­fect in both car­ri­er and non-car­ri­er pop­u­la­tions. Ad­di­tion­al­ly we are dis­ap­point­ed that the ef­fect of low­er BAN2401 dose co­horts was not in­clud­ed in this analy­sis.
And…
Ei­sai showed that the low­er pro­por­tion of ApoE4+ sub­jects in the ac­tive drug arm com­pared to place­bo ac­tu­al­ly di­lut­ed BAN2401's ef­fect since near­ly all of the ef­fi­ca­cy was dri­ven by the ben­e­fit in the ApoE4+ sub­pop­u­la­tion. How­ev­er, the num­ber of sub­jects re­main­ing in the analy­sis at 18 months was small (n=77 to­tal) and there were just 10 ApoE4+ sub­jects in­clud­ed in this analy­sis.
Ex­pect plen­ty of ad­di­tion­al feed­back on this one. All sub­group analy­sis is sub­ject to ques­tion. Some ob­servers have al­ready not­ed that you can't pull out these com­par­isons on enough pa­tients to of­fer a clear pic­ture on out­comes rel­a­tive to APOE4. The com­pa­nies al­so came up with a new end­point to as­sess, which isn't al­ways en­dorsed. And the high dose was clear­ly linked to a much high­er rate of ARIA-E, with 10% and 14% of the pa­tients in the two high­est dos­es suf­fer­ing from brain swelling, which won't help its chances.
Bio­gen has a tremen­dous amount at stake here. There's been a grow­ing cho­rus of crit­ics who say the da­ta are in­creas­ing­ly clear that symp­to­matic pa­tients can't sig­nif­i­cant­ly ben­e­fit from any drug tar­get­ing amy­loid be­ta. And that makes their big play on ad­u­canum­ab in­creas­ing­ly risky.
Ei­sai & $BI­IB Alzheimer's pre­sen­ta­tion at #CTAD18 on­go­ing now. "This is a tri­al's night­mare," Cleve­land Clin­ic's Jeff Cum­mings says of mid-tri­al re­quire­ment of ex­clu­sion of APOE4 car­ri­ers from high-dose group

— Meg Tir­rell (@megtir­rell) Oc­to­ber 25, 2018