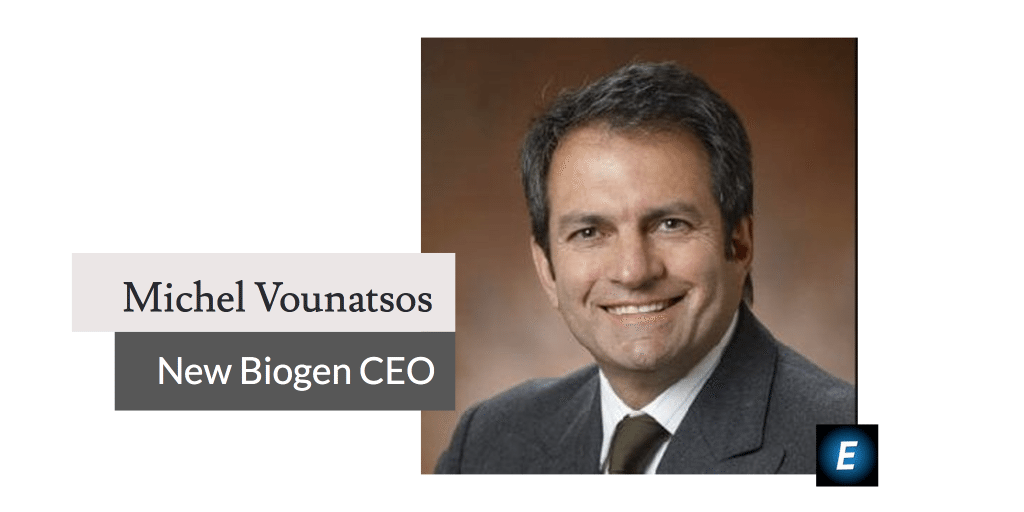 Sur­prise! Bio­gen goes with com­mer­cial chief Vounatsos in re­plac­ing CEO Scan­gos
Bio­gen is pro­mot­ing chief com­mer­cial of­fi­cer Michel Vounatsos as its new CEO, re­plac­ing out­go­ing CEO George Scan­gos and fo­cus­ing di­rect­ly on its late-stage pipeline and new deals for fu­ture growth.
The Mer­ck vet ar­rived at Bio­gen last March to over­see the com­pa­ny's glob­al com­mer­cial strat­e­gy. The French na­tive stayed at Mer­ck for 20 years, ris­ing to pres­i­dent of the com­pa­ny's pri­ma­ry care busi­ness line.
Bio­gen's shares are down about 1% in af­ter-mar­ket trad­ing.
The se­lec­tion may sur­prise some ob­servers who were think­ing that Bio­gen would bring in an out­sider to re­place Scan­gos, who head­ed Ex­elix­is while it was fo­cused en­tire­ly on R&D when he was re­cruit­ed to head Bio­gen. Over the next 5 years, Scan­gos would ride the suc­cess of the com­pa­ny's new flag­ship prod­uct, Tec­fidera, to new highs. But Tec­fidera's in­evitable wane, at a time when its port­fo­lio of ex­per­i­men­tal meds re­mains high­ly spec­u­la­tive, erased the rosy hue of Scan­gos' turn­around rep.
Vounatsos won't make as much as Scan­gos did last year, but he won't be hurt­ing ei­ther. His base pay is pegged at $1.1 mil­lion, ac­cord­ing to an SEC fil­ing. And he'll be able to shoot for a 2017 bonus worth at least 125% of his salary, plus a pack­age of stock worth $10 mil­lion as a longterm in­cen­tive. Scan­gos earned $2.7 mil­lion in in­come and bonus last year plus a stock award of $13 mil­lion in 2015.
As a com­mer­cial spe­cial­ist, Vounatsos' pro­mo­tion marks a new era for a com­pa­ny — pro­vid­ed it doesn't get bought out — that will de­pend on its pipeline and the deals an­a­lysts are clam­or­ing for, for its fu­ture growth. For now, the new CEO says he's fo­cused on the pipeline and im­plied that he has plans to beef up work on neu­ro­sciences, which is its spe­cial­ty.
But every­one had their own take on this an­nounce­ment.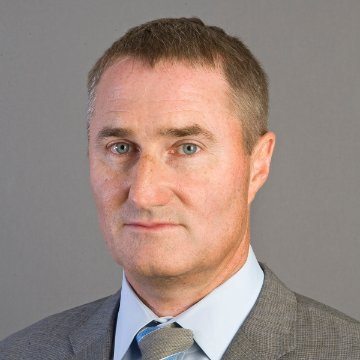 Ge­of­frey Porges, Leerink
"Bio­gen's stock is like­ly to sell off mod­est­ly over the next few days on this an­nounce­ment, giv­en the per­cep­tion that ac­qui­si­tion of the com­pa­ny is less like­ly," re­sponds Leerink's Ge­of­frey Porges. "We don't com­plete­ly dis­agree with this in­fer­ence, al­though we be­lieve that the mag­ni­tude of the change in as­sumed prob­a­bil­i­ty of a trans­ac­tion is on­ly mod­est. An $80bn+ trans­ac­tion is al­ways a low prob­a­bil­i­ty, and re­mains so in our view; nev­er­the­less the op­por­tu­ni­ty in Bio­gen for an ac­quir­er re­mains re­al, and with the scarci­ty of as­sets in the in­dus­try, it re­mains a sig­nif­i­cant source of op­tion val­ue for Bio­gen share­hold­ers. On the oth­er hand, in­vestors are un­like­ly to view Vounatsos' ap­point­ment, with his strict­ly com­mer­cial back­ground, as a great source of near term up­side or im­proved strate­gic, tac­ti­cal or fi­nan­cial de­ci­sion mak­ing."
"Our near-term pri­or­i­ties are clear," Vounatsos said in a state­ment. "We in­tend to gain ap­proval for SPIN­RAZA to pro­vide the first treat­ment for spinal mus­cu­lar at­ro­phy; con­tin­ue to grow our glob­al MS fran­chise; ful­ly en­roll our phase 3 tri­als for ad­u­canum­ab as we ad­vance our lead can­di­date in Alzheimer's dis­ease; rein­vig­o­rate our pipeline in the ar­eas of neu­rol­o­gy and neu­ro-re­pair; and in­vest in our em­ploy­ees as we work to­geth­er to de­fine our fu­ture."