Bio­gen push­es for broad CMS cov­er­age of Alzheimer's drug — while Eli Lil­ly looks to es­cape an NCD
The nine-month quest for CMS to fig­ure out how (or how not) to cov­er Bio­gen's new Alzheimer's drug Aduhelm, and po­ten­tial­ly more amy­loid-tar­get­ed mon­o­clon­al an­ti­bod­ies, kicked off in earnest on Tues­day with an open pub­lic hear­ing of com­ments from var­i­ous stake­hold­ers stress­ing the pros and cons of cov­er­ing this new, pricey drug with un­known clin­i­cal ben­e­fits.
Bio­gen and its af­fil­i­ates stressed the need for a quick and pos­i­tive Na­tion­al Cov­er­age De­ter­mi­na­tion from CMS as oth­er physi­cians and a speak­er from ICER called on CMS to not cov­er the drug or to lim­it cov­er­age in cer­tain ways as Bio­gen's clin­i­cal tri­als didn't show strong signs of clin­i­cal ben­e­fit, the $56,000 an­nu­al price tag doesn't match those ben­e­fits, and as the tri­als didn't ad­dress a di­verse group of pop­u­la­tions, like African Amer­i­cans or Lat­inx, who are fre­quent­ly af­fect­ed by Alzheimer's.
While an all-out re­jec­tion in cov­er­age from CMS seems un­like­ly giv­en the his­to­ry of the cen­ters' pri­or NCDs on CAR-T ther­a­pies and oth­er treat­ments and de­vices, Bio­gen opened Tues­day's call with the first two com­ments from ex­ec­u­tives re­it­er­at­ing the ne­ces­si­ty for wide­spread and ear­ly cov­er­age.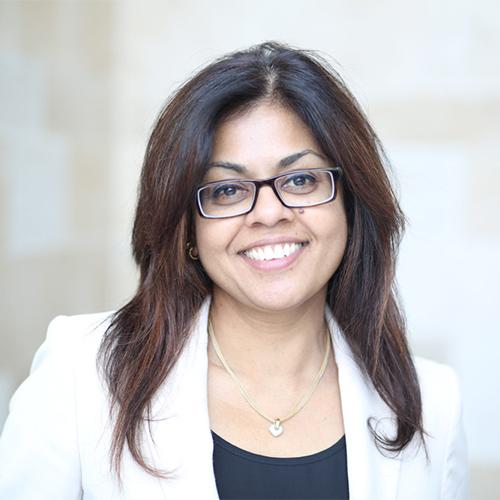 Ma­ha Rad­hakr­ish­nan
"Ther­a­py should not be lim­it­ed to aca­d­e­m­ic cen­ters as many un­der­served and un­der-rep­re­sent­ed pa­tients don't have ac­cess to these cen­ters," Ma­ha Rad­hakr­ish­nan, CMO at Bio­gen, said.
An ear­li­er Bio­gen ex­ec called on the agency to en­cour­age MACs to cov­er Aduhelm at the lo­cal lev­el while the NCD process is on­go­ing, echo­ing com­ments from an anony­mous Bio­gen em­ploy­ee who told End­points News last week that he de­clined to use his re­la­tion­ship with a large aca­d­e­m­ic med­ical cen­ter to en­cour­age lo­cal Medicare pol­i­cy­mak­ers to cov­er Aduhelm as he didn't think it was eth­i­cal.
But it was in the writ­ten com­ments (see be­low) where a strong force of aca­d­e­mics and oth­er Alzheimer's re­searchers called on Medicare to do what FDA didn't do, and re­ject cov­er­age for Aduhelm
Not all amy­loid drugs?
But it was an Eli Lil­ly doc­tor who called on CMS to not make any rash de­ci­sion that pre­ma­ture­ly short­changes the en­tire class of amy­loid-tar­get­ed drugs.
Lil­ly said late last month it's fil­ing its amy­loid-tar­get­ed do­nanemab with the FDA lat­er this year based on Phase II da­ta now that the FDA con­sid­ers amy­loid clear­ance rea­son­ably like­ly to lead to cog­ni­tive ben­e­fit.
Brandy Matthews
Brandy Matthews, a neu­rol­o­gist and se­nior med­ical ad­vis­er to Lil­ly, not­ed the com­pa­ny's "con­cern" at the out­set of its pub­lic com­ment that a class-based NCD "might be pre­ma­ture at this point" be­cause dif­fer­ent mon­o­clon­al an­ti­bod­ies are at dif­fer­ent stages of de­vel­op­ment and ev­i­dence might be­come avail­able dur­ing or af­ter the NCD.
Each Alzheimer's drug should be eval­u­at­ed on its own amy­loid plaque re­duc­tion, safe­ty pro­file and clin­i­cal ben­e­fit, Matthews said. CMS cov­er­age poli­cies to eval­u­ate ther­a­peu­tics should oc­cur for each one, she said while urg­ing CMS for flex­i­bil­i­ty that does not lim­it ac­cess to fu­ture ther­a­pies.
"Lim­i­ta­tions on the first ap­proved ther­a­py should not au­to­mat­i­cal­ly ap­ply to fu­ture ther­a­pies," she said.
As Bio­gen-fund­ed aca­d­e­mics sig­naled how to use Aduhelm on Tues­day, Matthews called on CMS to use the en­roll­ment cri­te­ria for each clin­i­cal tri­al as the start­ing point for cov­er­age.
Flood of neg­a­tive writ­ten com­ments
Out­side of Tues­day's call, a pile-up of writ­ten com­ments on the na­tion­al cov­er­age analy­ses shows just how many think FDA was wrong to ap­prove Aduhelm and that CMS should not pro­vide cov­er­age.
Roger Al­bin, a pro­fes­sor of neu­rol­o­gy at the Uni­ver­si­ty of Michi­gan, wrote, "The da­ta sup­port­ing util­i­ty of ad­u­canum­ab for Alzheimer Dis­ease isn't even weak. The FDA should nev­er have ap­proved this agent. CMS should de­cline to pro­vide cov­er­age for ad­u­canum­ab treat­ment."
James Lah, di­rec­tor of the Cog­ni­tive Neu­rol­o­gy Pro­gram at Emory Uni­ver­si­ty School of Med­i­cine, added, "The FDA made sev­er­al mis­takes in re­view­ing ad­u­canum­ab, but per­haps fore­most was their fail­ure to re­quest the ad­vi­so­ry pan­el con­sid­er the op­tion of Ac­cel­er­at­ed Ap­proval. Had they done so, I sus­pect there would have been fruit­ful dis­cus­sion to in­form the many de­ci­sions now left to us as providers and pay­ors to an­swer."
"The fact that this drug was FDA ap­proved is a trav­es­ty; please do not make it worse. The mon­ey that would cov­er this drug could go to much bet­ter use for those pa­tients and care­givers," wrote An­drea Bial, pro­gram di­rec­tor at the Loy­ola-Hines Geri­atric Med­i­cine Fel­low­ship Pro­gram.
Bri­enne Min­er, as­so­ciate pro­fes­sor of geri­atrics at Yale Uni­ver­si­ty, wrote, "I am deeply trou­bled by the pres­sure to use an un­proven and po­ten­tial­ly dan­ger­ous treat­ment in our pa­tients, many of whom are des­per­ate to try any­thing that might give them hope. I don't see how they can re­al­ly make an in­formed de­ci­sion here."
Saman­tha Hold­en, an as­sis­tant pro­fes­sor in the De­part­ment of Neu­rol­o­gy at the Uni­ver­si­ty of Col­orado, al­so not­ed, "As a cog­ni­tive neu­rol­o­gist and de­men­tia spe­cial­ist, I have long wait­ed for an ef­fec­tive dis­ease-mod­i­fy­ing ther­a­py for my pa­tients. I have not been con­vinced that ad­u­canum­ab is that drug. I am ex­treme­ly con­cerned re­gard­ing the pre­sent­ed da­ta, con­flict­ing re­sults be­tween EN­GAGE and EMERGE, the costs, and po­ten­tial to in­crease in­equities in neu­ro­log­i­cal care in this coun­try."
Michael Car­ome, di­rec­tor of the non­prof­it Pub­lic Cit­i­zen's Health Re­search Group, al­so called on CMS to ex­clude cov­er­age for Aduhelm, ar­gu­ing that the drug "can­not pos­si­bly be deemed rea­son­able and nec­es­sary" as "based on the cur­rent­ly avail­able sci­en­tif­ic ev­i­dence, re­duc­tion of amy­loid-be­ta plaques in the brain it­self is not a clin­i­cal­ly mean­ing­ful out­come."
Mov­ing for­ward, the ini­tial writ­ten pub­lic com­ment pe­ri­od ends on Au­gust 11, and then CMS will re­view those com­ments over 6 months in de­vel­op­ing a pro­posed NCD and mem­o­ran­dum. No lat­er than Jan. 12, 2022, the pro­posed NCD will be avail­able, and the pub­lic will have one more 30-day com­ment pe­ri­od. A fi­nal NCD will be com­plet­ed no lat­er than April 12, 2022, CMS said Tues­day.
Medicare pay­ment rates and codes are gen­er­at­ed out­side the NCD process.