Bio­haven touts a pair of PhI­II wins for mi­graine pill, but shares ric­o­chet off of weak da­ta
Bio­haven has re­leased a set of pos­i­tive Phase III da­ta for their fast-act­ing mi­graine drug, which close­ly par­al­lel a ri­val at Al­ler­gan and trail well be­hind Eli Lil­ly's las­mid­i­tan. And the biotech will now join the scram­ble un­der­way for an ap­proval in a field that's about to be se­vere­ly dis­rupt­ed.
In­vestors didn't like the num­bers ear­ly Mon­day morn­ing, send­ing shares $BHVN down 40%. That clear­ly wasn't the way Bio­haven was bet­ting. The biotech paid Bris­tol-My­ers Squibb $50 mil­lion just a cou­ple of weeks ago to re­struc­ture their li­cens­ing deal, cut­ting the roy­al­ty stream to the sin­gle dig­its. But in the hours up to the close, the stock — backed by some heavy­weight mar­ket play­ers — went on a roller coast­er ride in the red, end­ing the day down 7%.
Al­ler­gan — which will have an­oth­er Phase III tri­al to re­port on — saw its shares rise a bit, while Lil­ly stock jumped close to 2%.
The co-pri­ma­ry end­points for Bio­haven's oral rimegepant (BHV-3000) was pain free­dom and free­dom from most both­er­some symp­tom 2 hours af­ter tak­ing the pill in two piv­otal stud­ies.
Their pain free­dom rate was 19.2% and 19.6% for the drug, ver­sus 14.2% and 12% for the place­bo arm. Free­dom from MBS was 37.6% and 36.6% ver­sus 25.2% and 27.7% in the sug­ar pill group.
That ev­i­dent­ly may have been sta­tis­ti­cal­ly sig­nif­i­cant, but it wasn't a big enough spread to con­vince skep­tics won­der­ing about the drug's clin­i­cal sig­nif­i­cance in a com­pet­i­tive field.
Com­pare rimegepant to Al­ler­gan's oral CGRP ubro­gepant, where the first Phase III re­port­ed out free­dom for pain at 2 hours for 19.2% and 21.2% for two dif­fer­ent dos­es and 11.8% in the place­bo arm; 38.6% and 37.7% on MBS and 27.8% in the place­bo arm.
Eli Lil­ly's las­mid­i­tan — which works by hit­ting 5-HT1F re­cep­tors — did even bet­ter, de­spite be­ing dogged by high place­bo rates. Lil­ly $LLY, which paid $960 mil­lion to buy CoLu­cid and las­mid­i­tan, al­so has a CGRP drug that has per­formed in line with the rest of the in­jecta­bles.
Two hours af­ter tak­ing las­mid­i­tan or a place­bo, here were the the lat­est Phase III re­spons­es on free­dom from pain by dosage: 28.6% for 50 mg (p=0.003); 31.4% for 100 mg (p<0.001); 38.8% for 200 mg (p<0.001) and 21.3% for place­bo. In­ves­ti­ga­tors al­so nailed an end­point on free­ing pa­tients of their most both­er­some symp­tom, whether that was nau­sea, sen­si­tiv­i­ty to sound or sen­si­tiv­i­ty to light. The da­ta: 40% for 50 mg (p=0.009); 44.2% for 100 mg (p<0.001); 48.7% for 200 mg (p<0.001) and 33.5% for place­bo.
Back-to-back Phase II­Is, how­ev­er, won't trans­late in­to a quick FDA fil­ing. Bio­haven not­ed in a re­lease that it won't be ready to file un­til 2019, keep­ing up with Al­ler­gan on that score.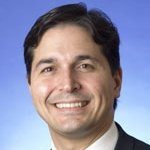 Vlad Coric
The ri­vals here are bet­ting that they can take mar­ket share for treat­ing mi­graines as heavy­weights com­pete over in­jectable CGRP drugs head­ed to reg­u­la­tors for the pre­ven­tion of acute mi­graine. Am­gen and No­var­tis lead the way on that front, with a drug un­der re­view. Te­va, and Alder are an­gling for a fol­lowup po­si­tion.
The one com­mon char­ac­ter­is­tic of these drugs is that they all per­form in re­mark­ably sim­i­lar ways, leav­ing oral de­liv­ery and price as two fea­tures that these two new ther­a­pies can com­pete on. Al­ler­gan has al­so had to ex­plain some cas­es of liv­er tox in its first Phase III — a con­cern for the class — while Bio­haven says it saw noth­ing to alarm in­ves­ti­ga­tors in its Phase III stud­ies.
Bio­haven CEO Vlad Coric had this to say:
By com­bin­ing pos­i­tive ef­fi­ca­cy re­sults and a fa­vor­able safe­ty pro­file with ease of oral dos­ing, we be­lieve that rimegepant will rep­re­sent a sig­nif­i­cant im­prove­ment over ex­ist­ing treat­ment op­tions.
Bio­haven shares al­so took a beat­ing last fall when their Phase II/III study of tri­grilu­zole demon­strat­ed not on­ly that it didn't work bet­ter than a place­bo in treat­ing spin­ocere­bel­lar atax­ia, but pa­tients in the study al­so re­port­ed in larg­er num­bers that the place­bo helped them more than the drug.