Point­ing to a cure, Bio­Marin re­ports im­pres­sive tri­al re­sults for he­mo­phil­ia A gene ther­a­py
Bio­Marin says it nailed down hard ev­i­dence that its gene ther­a­py for he­mo­phil­ia A demon­strat­ed a high chance of restor­ing pa­tients' nat­ur­al clot­ting abil­i­ties, re­duc­ing or elim­i­nat­ing bleed­ing episodes and point­ing them down the road to a nor­mal life. And com­pa­ny $BM­RN in­ves­ti­ga­tors say they are now hus­tling BMN 270 in­to a Phase IIb study that could be used to gain an ac­cel­er­at­ed ap­proval for a po­ten­tial block­buster.
Nine pa­tients re­ceived a sin­gle treat­ment with the gene ther­a­py, 7 at the high­est dose. The treat­ment us­es a be­nign vi­ral vec­tor to de­liv­er a miss­ing gene need­ed to pro­duce fac­tor VI­II, which is re­quired to spur clot­ting. The da­ta were pre­sent­ed at the an­nu­al meet­ing of the World Fed­er­a­tion of He­mo­phil­ia. Bio­Marin not­ed that:
(S)ix of sev­en pa­tients had Fac­tor VI­II lev­els above 50%, as a per­cent­age cal­cu­lat­ed based on the num­bers of In­ter­na­tion­al Units per deciliter of plas­ma (IU/dL), and the sev­enth was above 10%. In ad­di­tion, four pa­tients who have been fol­lowed the longest had a mean Fac­tor VI­II lev­el of 146% at their 20 week vis­it. Two pa­tients with Fac­tor VI­II lev­els above 200% had no un­ex­pect­ed events or need for med­ical in­ter­ven­tion. For the sev­en pa­tients at the high dose, the me­di­an an­nu­al­ized bleed­ing rate mea­sured from day of gene trans­fer to da­ta cut of ob­ser­va­tion pe­ri­od fell to 5 from 20.
In ad­di­tion, the in­ves­ti­ga­tors re­port­ed no se­ri­ous safe­ty is­sues in the study, with pa­tients ta­per­ing off steroid use with­out the kind of liv­er tox is­sues that could scut­tle the work.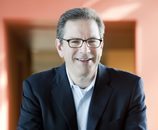 Hen­ry Fuchs, CMO at Bio­Marin
The re­sults from the study were "way be­yond our dreams and ex­pec­ta­tions," says Hank Fuchs, the chief med­ical of­fi­cer at Bio­Marin, cit­ing the in­ves­ti­ga­tors and on­look­ers who have been track­ing this study.
This is the on­ly he­mo­phil­ia A pro­gram in the clin­ic that Fuchs knows of, and he tells me that the once-off ther­a­py "has the po­ten­tial to change peo­ple's lives."
"We have con­sid­er­able in­ter­est in mov­ing quick­ly," adds the R&D chief, adding that the com­pa­ny wants to pre­serve its lead. But he's not quite ready to say when the com­pa­ny will have the da­ta from the next study need­ed to pur­sue a fast ap­proval.
Shares of Bio­Marin, which has tapped this ther­a­py as one of its top prospec­tive pro­grams in the pipeline, spiked 6% on the news Wednes­day af­ter­noon.
That amounts to a big win for Bio­Marin, which has been buf­fet­ed by re­cent set­backs, in­clud­ing the FDA's re­jec­tion of its Duchenne mus­cu­lar dy­s­tro­phy drug dris­apersen. Bio­Marin scrapped that pro­gram and three oth­ers af­ter the EMA al­so scorned its ap­pli­ca­tion.
There are a num­ber of gene ther­a­py pro­grams in the works for he­mo­phil­ia, in­clud­ing one at Bio­gen $BI­IB. Spark Ther­a­peu­tics $ONCE, which has the most ad­vanced gene ther­a­py pro­gram in the U.S., has a pre­clin­i­cal pro­gram for he­mo­phil­ia A and a clin­i­cal ef­fort un­der­way for he­mo­phil­ia B; same for uniQure $QURE. And Sang­amo $SG­MO just pre­sent­ed pre­clin­i­cal ev­i­dence to back its pro­gram.
"These da­ta pro­vide strong proof of con­cept ev­i­dence that restora­tion of clot­ting func­tion may be achieved by gene ther­a­py," said John Pasi, a pro­fes­sor of haemosta­sis and throm­bo­sis at Barts and the Lon­don School of Med­i­cine and Den­tistry and pri­ma­ry in­ves­ti­ga­tor for the BMN 270 Phase 1/2 clin­i­cal tri­al. "For the first time, pa­tients have rea­son to hope to avoid bleed­ing and the op­por­tu­ni­ty to live a nor­mal life."