Biond­Vax stock im­plodes af­ter a big PhI­II gam­ble for its uni­ver­sal flu vac­cine fails
Af­ter fly­ing high on Wall Street for the last few months of a pan­dem­ic, Biond­Vax's stock and dreams of get­ting ap­proval for its uni­ver­sal flu vac­cine hit the wind­shield.
The Jerusalem-based biotech an­nounced on Fri­day that its on­ly clin­i­cal can­di­date, M-001, failed both pri­ma­ry and sec­ondary end­points in a Phase III study. There was no sta­tis­ti­cal­ly sig­nif­i­cant dif­fer­ence in re­duc­tion of flu ill­ness and sever­i­ty be­tween the vac­cine and place­bo groups, ac­cord­ing to the com­pa­ny. The vac­cine did prove safe, if in­ef­fec­tive, Biond­Vax said.
The news sent Biond­Vax's stock plum­met­ing 85%, clos­ing at $5.20 per share. The day be­fore, shares closed at $37.88 apiece. For the last few years, the biotech's share val­ue lin­gered around $5 to $7 per share. Prices be­gan to rise in Jan­u­ary, then surged from April to Ju­ly, like­ly due to the pan­dem­ic. On Ju­ly 14, they peaked at $48.25 apiece. Ever­core ISI an­a­lyst Josh Schim­mer pre­dict­ed back in March that all vac­cine de­vel­op­ers — not just those fo­cused on Covid-19 — would prof­it from the health cri­sis, list­ing $BVXV among the po­ten­tial win­ners.
Biond­Vax's Phase III tri­al in­clud­ed 12,463 adults ages 50 and up: "the group most ur­gent­ly in need of im­proved pro­tec­tion from the flu," CSO Tamar Ben-Yedidia said in a state­ment. The can­di­date, de­signed as a com­mon de­nom­i­na­tor to in­fluen­za A and B virus­es, was stud­ied over the course of two flu sea­sons, be­gin­ning in 2018. Each par­tic­i­pant was mon­i­tored for just one flu sea­son.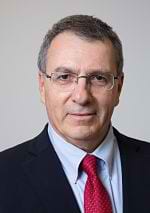 Ron Babecoff
There was no sug­ar-coat­ing the find­ings. "We are dis­ap­point­ed with these re­sults …" founder, pres­i­dent and CEO Ron Babecoff said be­fore he went on to thank the team for 15 years of "ded­i­ca­tion and pas­sion."
"Un­for­tu­nate­ly, this study did not have the ef­fi­ca­cy out­comes that we an­tic­i­pat­ed for M-001 on a stand­alone ba­sis. We have ob­served in sev­en pre­vi­ous stud­ies that M-001 safe­ly pro­voked an im­mune re­sponse to a broad range of flu strains, but ul­ti­mate­ly this was not suf­fi­cient on a stand­alone ba­sis to show pro­tec­tion," Babecoff said in the state­ment.
It's not look­ing good for the biotech, which said it's "ex­am­in­ing op­tions to max­i­mize the val­ue" of its as­sets, in­clud­ing IP and a state-of-the-art man­u­fac­tur­ing fa­cil­i­ty.
Back in June, Biond­Vax met both pri­ma­ry end­points in a Phase II tri­al sup­port­ed by the NI­AID. The com­pa­ny had an­nounced that the can­di­date "in­duced sig­nif­i­cant poly­func­tion­al T cell re­spons­es" — but it wasn't enough to clear Phase III.
Oth­er play­ers in search of the Holy Grail in­clude Vac­citech, which be­gan dos­ing par­tic­i­pants in a Phase IIb study last June, and the NIH, which un­veiled a can­di­date head­ed for the clin­ic last April.