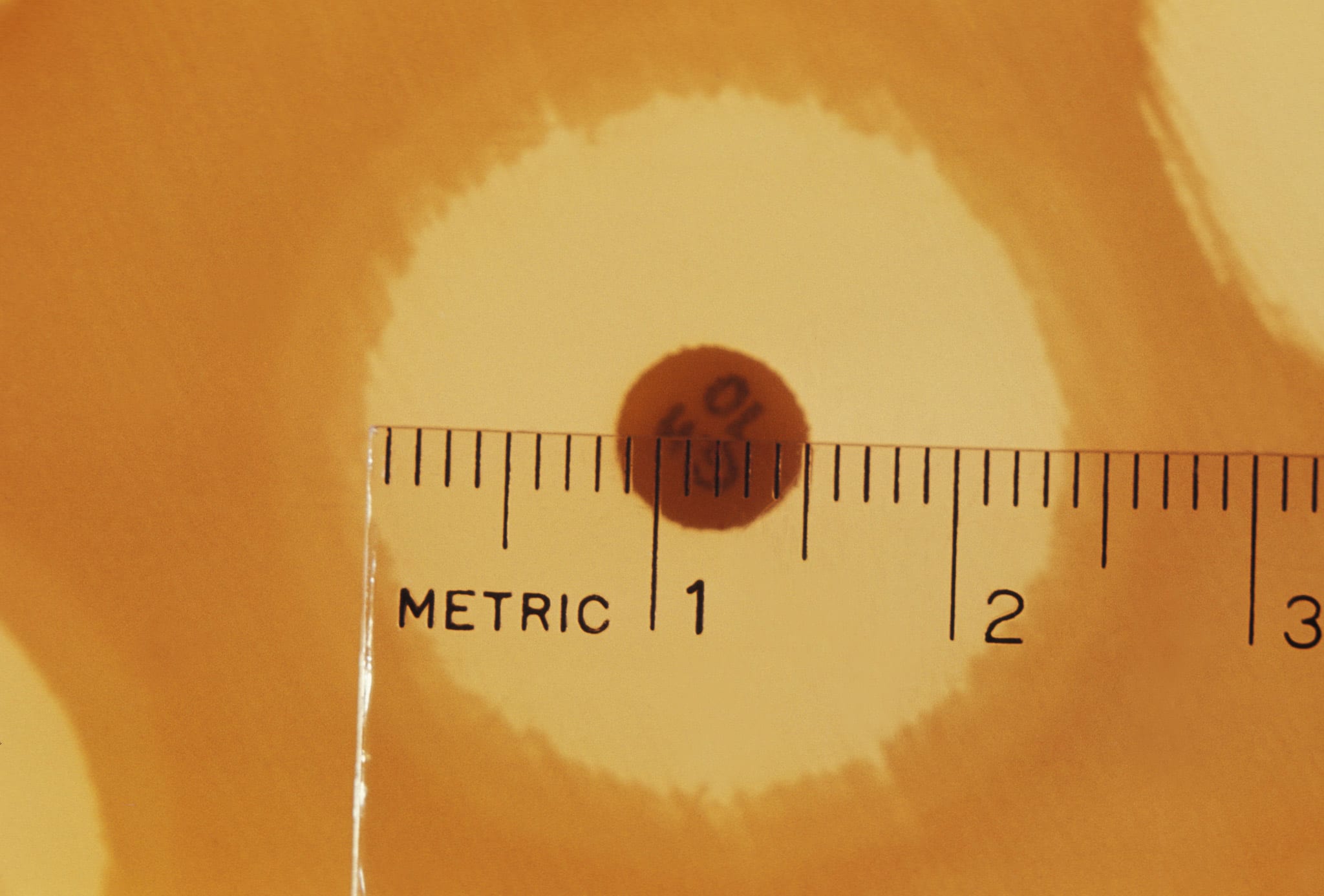 This image shows a lab technician measuring the zone of inhibition during an antibiotic sensitivity test, 1972. The zone of inhibition is measured and compared to a standard in order to determine if an antibiotic is effective in treating the bacterial infection. (Gilda Jones/CDC via Getty Images)
Bio­phar­ma has aban­doned an­tibi­ot­ic de­vel­op­ment. Here's why we did, too.
Biotech Voices is a collection of exclusive opinion editorials from some of the leading voices in biopharma on the biggest industry questions today. Think you have a voice that should be heard? Reach out to Amber Tong.

Tim­ing is Every­thing
When we launched Oc­ta­gon Ther­a­peu­tics in late 2017, I was con­vinced that the time was right for a new an­tibi­ot­ic dis­cov­ery ven­ture. The com­pa­ny was found­ed on im­pres­sive aca­d­e­m­ic pedi­gree and the man­age­ment team had known each oth­er for years. Our first pro­gram was based on a com­pelling ap­proach to tar­get­ing cen­tral me­tab­o­lism in the most dan­ger­ous bac­te­r­i­al pathogens. We had al­ready shown a high lev­el of ef­fi­ca­cy in an­i­mal in­fec­tion mod­els and knew our drug was safe in hu­mans.
At the time, 12 of the largest 18 bio­phar­ma com­pa­nies had aban­doned all an­tibi­ot­ic de­vel­op­ment ef­forts, fo­cus­ing in­stead on dis­ease-mod­i­fy­ing ther­a­pies for chron­ic dis­eases or can­cer. Rather than a neg­a­tive sig­nal, we be­lieved this thin de­vel­op­ment pipeline pre­sent­ed an op­por­tu­ni­ty for small biotechs to fill the void. Week­ly head­lines were scream­ing about the rise of "su­per­bugs," the mul­ti-drug re­sis­tant bac­te­ria that can­not be treat­ed with ex­ist­ing med­i­cines. Pew Trusts had pub­lished an ex­ten­sive re­por­thigh­light­ing su­per­bugs as the next lead­ing glob­al cause of death, even­tu­al­ly claim­ing more lives than all can­cers com­bined. I was con­vinced that this clear clin­i­cal need would re­sult in re­al re­form in the an­timi­cro­bial de­vel­op­ment space, and that larg­er play­ers would cor­re­spond­ing­ly re-en­ter the mar­ket, hun­gry to pick up first-in-class an­tibi­ot­ic pro­grams.
In ad­di­tion to a clear clin­i­cal need, there had been re­al move­ment on gen­er­at­ing in­cen­tives for an­tibi­ot­ic de­vel­op­ment, and new fund­ing mech­a­nisms were be­com­ing avail­able. The GAIN Act had re­cent­ly been signed in­to law, pro­vid­ing stream­lined re­view and oth­er de­vel­op­ment in­cen­tives for prod­ucts tar­get­ing qual­i­fy­ing pathogens. CARB-X, a pub­lic-pri­vate ef­fort backed by Gates and BAR­DA (and oth­ers), had been cre­at­ed specif­i­cal­ly to fund pre­clin­i­cal an­tibi­ot­ic de­vel­op­ment ef­forts. Ear­ly com­pa­nies re­ceiv­ing mil­lions of dol­lars from CARB-X in­clud­ed Achao­gen and Melin­ta, as well as lo­cal Mass­a­chu­setts play­ers such as Spero, Macrolide, and Tetraphase.
In Short: I Got it Wrong
Oc­ta­gon was able to raise Seed fi­nanc­ing based on our strong da­ta pack­age and founder CVs. How­ev­er, as we put our heads down and be­gan op­ti­miz­ing our in­ter­est­ing chem­i­cal hit, we watched the space fur­ther de­te­ri­o­rate:
Spero ($SPRO) had a suc­cess­ful IPO but lost half their mar­ket cap in the sub­se­quent 12 months.
No­var­tis an­nounced that they, too, were aban­don­ing all an­tibi­ot­ic de­vel­op­ment ef­forts.
Achao­gen ($AKAO) and Paratek ($PRTK) both had NDAs ap­proved for nov­el an­tibi­otics and saw their stock prices drop sharply in re­sponse to the news, as in­vestors an­tic­i­pat­ed all those pesky ex­pens­es re­lat­ed to com­mer­cial­iza­tion.
Months lat­er, Achao­gen filed Chap­ter 11. Com­mer­cial stage an­tibi­ot­ic de­vel­op­er Melin­ta is head­ing that way as well.
Macrolide piv­ot­ed and re­brand­ed to Zikani (their web­site now has no men­tion of an­tibi­otics).
Tetraphase ($TTPH) has a new CEO fo­cused on com­mer­cial­iza­tion but has not been able to make their an­tibi­ot­ic prod­uct prof­itable. They have less than 9 months of cash on hand and pub­lic mar­kets are bet­ting against them.
And these are the suc­cess sto­ries: drug de­vel­op­ment com­pa­nies with the skill and good for­tune to ad­vance a nov­el med­i­cine all the way to ap­proval!
An­tibi­ot­ic com­pa­nies com­pared to the Biotech In­dex in 2018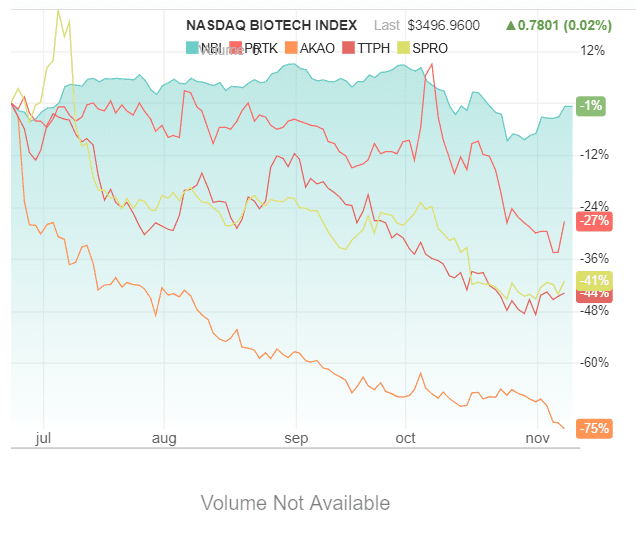 Click on the im­age to see the full-sized ver­sion
Like so many larg­er bio­phar­ma com­pa­nies, Oc­ta­gon changed course, putting our promis­ing an­tibi­ot­ic pro­gram on the shelf and fo­cus­ing all ef­forts on a re­lat­ed ap­proach to treat­ing au­toim­mu­ni­ty. The choice was not prof­it-max­i­miz­ing; it was ex­is­ten­tial.
Why Did This Hap­pen?
How has the space gone from bad to worse while rates of mul­ti-drug re­sis­tant in­fec­tion and deaths caused by su­per­bugs steadi­ly in­crease? Well, it's ac­tu­al­ly not en­tire­ly clear how many lives are claimed by lack of ef­fec­tive an­tibi­otics. Pa­tients who con­tract, or suc­cumb to, a re­sis­tant in­fec­tion are se­vere­ly un­der­count­ed. Un­der the Af­ford­able Care Act, hos­pi­tals must pay a penal­ty for each hos­pi­tal-ac­quired-in­fec­tion (HAI) oc­cur­ring with­in their in-pa­tient pop­u­la­tion. As a re­sult, if a pa­tient dies from a su­per­bug con­tract­ed dur­ing a pro­ce­dure such as surgery, the of­fi­cial cause of death may be in­stead list­ed as "Com­pli­ca­tions from Surgery." Con­sis­tent and sys­temic un­der­count­ing of ill­ness­es and deaths from re­sis­tant in­fec­tions fur­ther dis­cour­ages the de­vel­op­ment of new an­tibi­otics as the num­ber of pa­tients who need these med­i­cines may ap­pear to be very small.
The fail­ure of the mar­ket for new an­tibi­otics has al­so been caused by sev­er­al eco­nom­ic and com­mer­cial fac­tors. Ap­proval in­cen­tives were not the on­ly pol­i­cy in­clud­ed in the GAIN Act. There were al­so mea­sures de­signed to pro­mote stew­ard­ship, or ap­pro­pri­ate use, of new an­tibi­otics. In short, when a new an­tibi­ot­ic be­comes avail­able, it should on­ly be used as a last re­sort to pre­vent new re­sis­tance from aris­ing. This kind of re­spon­si­ble use is a good thing! But stew­ard­ship se­vere­ly lim­its the num­ber of pa­tients who will re­ceive a new an­tibi­ot­ic and, cor­re­spond­ing­ly, the po­ten­tial sales vol­ume.
In­sur­ers pay for in-pa­tient an­tibi­otics as part of a lump sum to hos­pi­tals known as a Di­ag­no­sis Re­lat­ed Group (DRG). Us­ing a cheap an­tibi­ot­ic in­creas­es hos­pi­tal prof­it mar­gins, while us­ing an ex­pen­sive new drug could mean that a hos­pi­tal might lose mon­ey by treat­ing a giv­en pa­tient. As a re­sult, hos­pi­tals are in­cen­tivized to use cheap­er an­tibi­otics when­ev­er pos­si­ble. This puts sig­nif­i­cant pric­ing pres­sure on new an­tibi­otics, which are one of the on­ly type of med­i­cines paid for like this.
As a re­sult, new an­tibi­otics typ­i­cal­ly end up with list prices in the $2,000 — $3,000 range (for a one-time cure!) while pay­ers glad­ly shell out tens or hun­dreds of thou­sands for can­cer drugs or med­i­cines for rare ge­net­ic dis­eases. Low sales vol­umes (due to stew­ard­ship) and low price points (due to DRG-dri­ven pric­ing pres­sures) re­sult in min­i­mal sales for nov­el an­tibi­otics. Achao­gen's new an­tibi­ot­ic was see­ing unim­pres­sive sales of around a mil­lion dol­lars per quar­ter be­fore the com­pa­ny fold­ed. At these sales fig­ures, the com­pa­ny would have nev­er re­couped the cost of de­vel­op­ing the drug.
Smart Mon­ey is Stay­ing on the Side­lines
This is a com­plete fail­ure of the mar­ket for these crit­i­cal­ly im­por­tant prod­ucts. Pro­grams like CARB-X and the No­vo RE­PAIR Fund, de­signed to fund risky pre­clin­i­cal work and pro­mote da­ta shar­ing, are well-mean­ing but in­suf­fi­cient. An­tibi­otics are just not worth the cost of de­vel­op­ment. With­out a func­tion­ing mar­ket, CARB-X and oth­er grant pro­grams are a bridge to nowhere. Ven­ture cap­i­tal in­vestors know this. VCs will tol­er­ate bi­ol­o­gy risk, they like clin­i­cal risk, but they will not go near a ven­ture where there is ma­jor com­mer­cial risk of fail­ure. Risk cap­i­tal is bet­ter de­ployed to­wards pro­grams ad­dress­ing large num­bers of pa­tients or those that can be ex­pect­ed to re­ceive high price points. No amount of non-di­lu­tive fund­ing can make up for the lack of ven­ture cap­i­tal and growth cap­i­tal in­vest­ment in de­vel­op­ing these med­i­cines. Oc­ta­gon pitched dozens of ven­ture cap­i­tal firms and watched part­ners im­me­di­ate­ly tune out at the men­tion of an­tibi­otics; there is noth­ing worse than an in­vestor meet­ing that is over be­fore it starts.
The lack of ven­ture cap­i­tal in­vest­ment in­to de­vel­op­ing these prod­ucts has fur­ther neg­a­tive con­se­quences. Com­pe­ti­tion for tal­ent is fierce in the biotech ecosys­tem. Cash-strapped an­tibi­ot­ic de­vel­op­ers may be un­able to com­pete with high pro­file VC-backed com­pa­nies on com­pen­sa­tion. The most skilled and am­bi­tious sci­en­tists will rein­vent them­selves, join­ing mi­cro­bio­me com­pa­nies or syn­thet­ic bi­ol­o­gy star­tups where they can ap­ply their mi­cro­bi­ol­o­gy smarts. Oc­ta­gon lost one of our best sci­en­tists to or­gan­ism en­gi­neer­ing com­pa­ny, Gink­go Bioworks. If this trend con­tin­ues, an­tibi­ot­ic dis­cov­ery and de­vel­op­ment may well be­come a lost art.
Pub­lic mea­sures de­signed to in­cen­tivize de­vel­op­ment of new an­tibi­otics are woe­ful­ly in­ad­e­quate. No amount of grant fund­ing will make up for a mar­ket that is hope­less­ly bro­ken. Mer­ck CEO Ken Fra­zier put it well: "Some­times new drugs are not avail­able, not be­cause the price is too high, but be­cause it is too low." New ideas are be­ing ex­plored, such as sub­scrip­tion mod­els that de­cou­ple sales from vol­ume while guar­an­tee­ing an­nu­al min­i­mums, but these are lit­tle more than thought ex­per­i­ments at present and may on­ly work in sin­gle-pay­er health­care sys­tems.
If our in­dus­try tru­ly be­lieves we have a re­spon­si­bil­i­ty to put pa­tients ahead of prof­its, we need to work to fix this bro­ken mar­ket rather than ig­nor­ing the prob­lem in fa­vor of more prof­itable dis­ease ar­eas. There are ma­jor ex­ter­nal­i­ties dri­ven by ac­cess to new ef­fec­tive an­tibi­otics. With­out the abil­i­ty to treat in­fec­tions, sim­ple pro­ce­dures such as C-sec­tions or hip re­place­ments will present enor­mous risk, and can­cer mor­tal­i­ty rates will sky­rock­et. Sav­ing lives should be good busi­ness but, in this case, it's not. With­out re­al mar­ket re­form, an­tibi­ot­ic de­vel­op­ment will con­tin­ue to be un­in­vestable, and these med­i­cines will not be avail­able to pa­tients who des­per­ate­ly need them.
---
Isaac Ston­er is the co-founder of Oc­ta­gon, a drug dis­cov­ery com­pa­ny de­vel­op­ing tar­get­ed meta­bol­ic in­hibitors for au­toim­mune dis­ease. He has spent his ca­reer build­ing ear­ly stage life sci­ences com­pa­nies as a sci­en­tist, op­er­a­tor, and in­vestor.
Orig­i­nal­ly post­ed on Medi­um