Each year for the last nine years, inVentiv Health Consulting has surveyed pharmaceutical and biotech dealmakers to assess their intentions for the next 12 months and put these findings into context for our Dealmakers' Intentions Study, the only forward-looking measure of dealmaking in the industry. Based on this year's survey, dealmaking in the life sciences is once again expected to be robust in 2017, but closer to what we saw in 2016 (approximately $250 billion). It is unlikely to reach the peak achieved in 2015 when deal value reached approximately $425 billion (including financing, M&A and partnering/asset purchases), which was more than double the deals seen in 2014. For 2017 we are seeing dealmaking activity continue to level out closer to historical norms, with the M&A momentum of 2015 slowing as buyers search for more tailored and precise portfolio additions. We project that dealmaking value this year will be in the low $200 billion range, which will still rank it among the top three in value since our first Dealmakers' Intentions report nine years ago.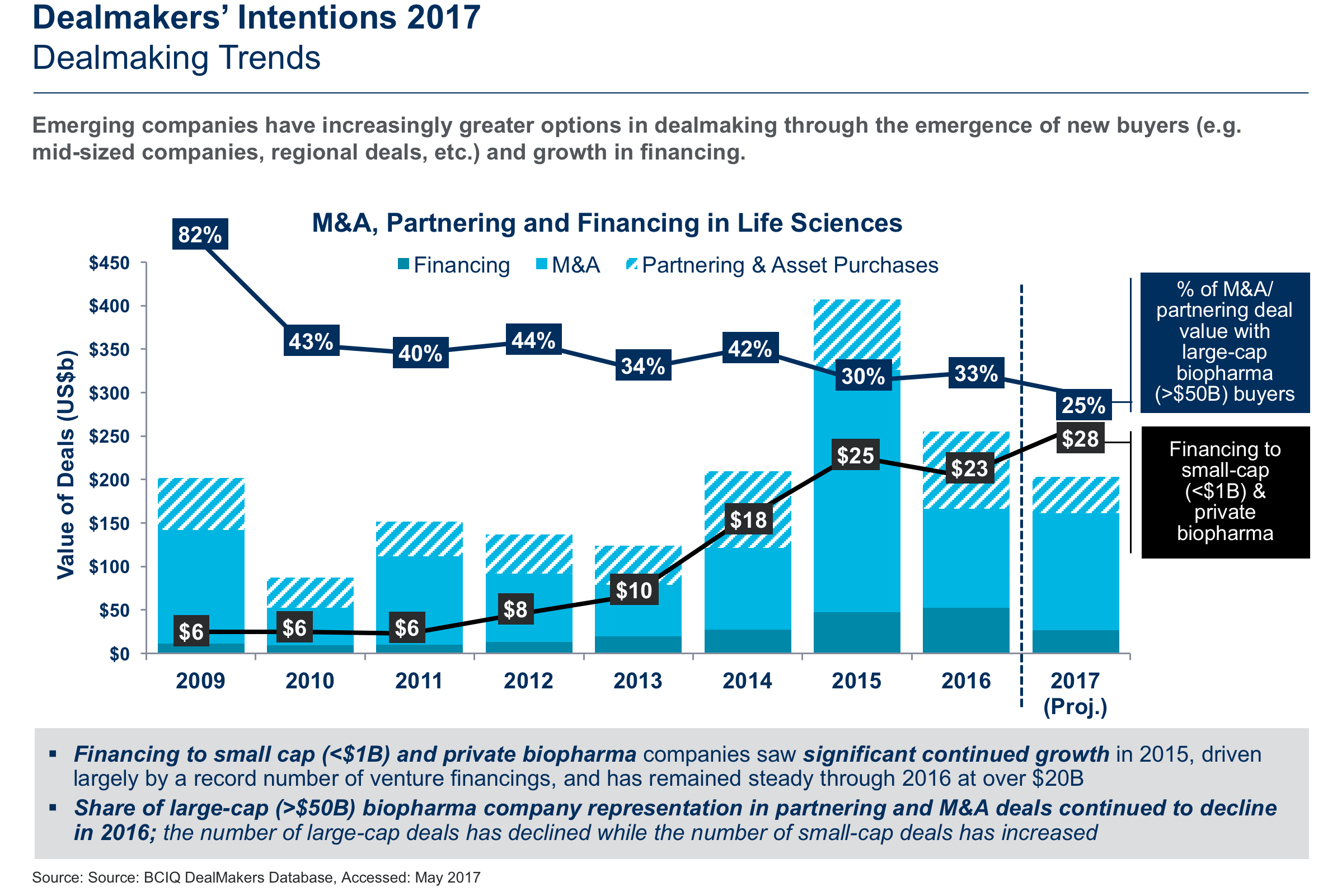 ---
To gain more insight into what the rest of 2017 holds, we surveyed 107 members of the biopharmaceutical community who participate on both sides of deals and who have predominantly executive-level influence on decision-making. The full report for 2017 captures their expectations for deal activity, supply and demand for specific assets at different development stages, and various approaches to valuation. In this article we discuss the top factors influencing dealmaking this year and provide insight on the hottest areas for licensing.
Top Factors Influencing Dealmaking
Overall, the major factors affecting dealmaking are internal, the biggest one being buyers' abilities to finance acquisitions, followed by the ability of buyers to access debt. While major news headlines emphasize the long-term impact within the industry of the global political environment and pricing pressures, the impact on dealmaking of external factors like political and pricing pressures and potential changes to the Affordable Care Act are expected to have less impact than the headlines might suggest. Pricing pressure, for instance, will likely be reflected in the valuation of the deal.
But one major uncertainty in the mix is the new administration's stated intention to incentivize U.S. companies to repatriate their overseas cash (at a proposed 10% tax rate instead of the current 35% tax rate). Corporate America had $1.3 trillion, or 74% of its total cash, stashed overseas in 2016, according to Moody's Investors Service. While the top five overseas cash holders are technology companies, large pharma accounts for a large portion of that cash. For example, five large pharma companies, including J&J, Amgen and Eli Lilly, hold a combined $250 billion in overseas funds. If repatriation happens it could spark a new wave of life sciences dealmaking as the capital will likely need to be deployed to build a growth story for shareholders.
Overall, internal factors (especially financing) are expected to dominate dealmaking activities this year, while some unpredictable external forces (e.g., repatriation) are in play. The favorable financing environment plus the large cash balances buyers have on hand and the strong equity market – all coupled with the potential for repatriation – could tee up the opportunity for another robust period of licensing and M&A.
Hottest Areas for Licensing
Innovation in immuno-oncology and genetics remain "hot spots" for licensing in 2017 as they were in 2016. Specific areas of interest include CAR-T therapies, CRISPR-Cas9, cancer vaccines, biosimilars and anti-body drug conjugates. The "other genome editing approaches" category has also emerged this year as a hot area for licensing.
Several factors are continuing to conspire to make these areas ripe for dealmaking. To start with, T-cell immunotherapy remains a hot area for funding and research. It is still not clear whether CAR-T therapies will be widely used in the future for a broader range of cancers. But the opportunities for a breakthrough are continuing to fuel high interest this year and will likely do so for the foreseeable future. In addition, there also continues to be extensive interest in genomics and cell therapies. CRISPR/Cas9 has the attention of hundreds of researchers worldwide, and interest in gene therapy has developed into a high interest area among buyers.
Interest continues in cancer vaccines as an area for licensing, driven by developments over the past few years in immuno-oncology and several high-profile successes in treating patients with various conditions including metastatic squamous non-small cell lung cancer.
The CNS space is also hot going into 2017, with deals that include Vtesses' sale of its preclinical asset VTS-270 (for Niemann-Pick Disease Type C1) to Sucampo for $200 million upfront plus milestone payments; Neurovance's sale of its phase IIb compound centanafadine (for ADHD) to Otsuka for $100 million upfront plus up to $250 million in milestone payments; and Lysosomal Therapeutics sale of its phase Ib compound LTI-291 (for Parkinson's) to Allergan for $125 million upfront.
Also in early 2017, there have been two deals of compounds for non-alcoholic steatohepatitis (NASH) with Allergan and J&J as buyers; in 2016 there were six NASH deals completed with two of them valued at over $1 billion. Most of the completed deals in NASH have been for assets in earlier stages of development. NASH is an attractive therapeutic area because there is a significant unmet need (no currently approved treatments) and a large potential patient population. Some analysts value the market at $20 billion or more by 2026
Strategic Implications
One of the key takeaways from the 2017 Dealmakers' Intentions Study is that while dealmaking volume in 2017 may continue to level out closer to historical norms (although still ranking among the top three years in total value since 2009), decision makers are continuing to think creatively about new partnership opportunities. True innovators can expect to benefit from the emergence of new buyers and more financing options from the capital markets, permitting them to hold on to assets through to commercialization in some disease areas. However, success with this strategy requires a clear understanding of the long-term potential of their asset in a rapidly evolving buyer's market and payer landscape. Current buyers may find high asset prices a challenge to getting deals done; however, their ability to raise capital and the potential for tax reform in the US may catalyze dealmaking.
This is the first post in a series related to the 2017 Dealmakers' Study.  The next article will report on expectations for supply and demand of assets by therapeutic area and stage of development.  Follow my LinkedIn page and check back on Endpoints News to read future articles on factors impacting dealmaking.
---
Author Neel Patel is Managing Director in the Commercial Strategy and Planning Practice at inVentiv Health Consulting. inVentiv Health Consulting is an industry-leading consulting firm specializing in the biopharmaceutical industry. Recognized by Forbes magazine as one of America's Best Management Consulting Firms for two years running, inVentiv Health Consulting provides services across a comprehensive range of key areas, including commercial strategy and planning, medical affairs, risk and program management and pricing and market access.