BioReg­num: An­oth­er great rea­son emerges for As­traZeneca to tar­get new biotech deals
Bioreg­num
The view from
End­points
The pres­sure on As­traZeneca CEO Pas­cal So­ri­ot to get its glob­al R&D op­er­a­tion to per­form while ex­e­cut­ing new deals just soared. The phar­ma gi­ant has lost a bid to keep cheap gener­ic ver­sions of Crestor off the mar­ket. That drug earned some $5 bil­lion of the $23 bil­lion it made last year.
To put this in­to a per­spec­tive that must be in­creas­ing­ly un­com­fort­able at the phar­ma gi­ant, As­traZeneca will soon have a new, block­buster-sized hole to fill as in­vestors con­tin­ue to in­sist that the com­pa­ny keep its promise to hit $45 bil­lion in sales in just sev­en more years.
It's no won­der that As­traZeneca has been ru­mored to be lurk­ing near the bar­gain­ing ta­ble for the Medi­va­tion buy­out. An es­tab­lished drug plus a promis­ing late-stage PARP in­hibitor could be just what the doc­tor or­dered. And if an­oth­er com­pa­ny like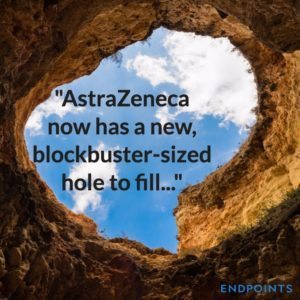 Sanofi wins the bid­ding war, As­traZeneca is go­ing to be forced to find oth­er drugs to help with its am­bi­tious mis­sion.
The com­pa­ny's lawyers had kept peo­ple guess­ing about the out­come un­til late yes­ter­day, when a fed­er­al judge ruled against As­traZeneca's bid to use a re­cent ap­proval to use a high dose of the drug for rare cas­es of ho­mozy­gous fa­mil­ial hy­per­c­ho­les­terolemia in chil­dren. The lawyers tried to ar­gue that FDA la­bel­ing rules on pe­di­atric drugs should keep the gener­ic off the ta­ble.
The judge, though, wasn't in­ter­est­ed in pro­tect­ing the mega-fran­chise at the pub­lic's ex­pense and re­ject­ed the re­quest for a tem­po­rary re­strain­ing or­der. Sen­a­tors Su­san Collins and Claire Mc­Caskill weren't amused, ei­ther. They not­ed in a let­ter to So­ri­ot that the ap­proval they based their chal­lenge on rest­ed on 300 pa­tients, rais­ing con­cerns about the mil­lions who would ben­e­fit from a cheap copy­cat.
Cut off from the le­gal gam­bit, So­ri­ot will be forced to fo­cus on deals, as it's un­like­ly the pipeline will get him to where he needs to be.
As­traZeneca—the world's 7th largest drug de­vel­op­er by R&D bud­get—won big with its re­cent ap­proval for Tagris­so. But with its check­point in­hibitor rel­e­gat­ed to a late fourth-place fin­ish, it will need a lot of help to come even close to the fin­ish line it set for it­self as Pfiz­er looked to buy the com­pa­ny.
Any biotech com­pa­ny that sees them com­ing won't over­look that sim­ple fact. As­traZeneca will need to pay a pre­mi­um for sheer need­i­ness.
In the mean­time, As­traZeneca may al­so feel pres­sure to shed more R&D jobs. The com­pa­ny con­firmed last week that it was cut­ting back at Med­Im­mune, even as it fo­cused more on im­muno-on­col­o­gy. Now comes con­fir­ma­tion of some small but note­wor­thy cut­backs in Boston as well.
Any­one not work­ing on a pri­or­i­ty project—par­tic­u­lar­ly in can­cer—may be feel­ing par­tic­u­lar­ly vul­ner­a­ble right now. – John Car­roll, fol­low me @John­Cendpts