Bioregnum
The view from
Endpoints
The pressure on AstraZeneca CEO Pascal Soriot to get its global R&D operation to perform while executing new deals just soared. The pharma giant has lost a bid to keep cheap generic versions of Crestor off the market. That drug earned some $5 billion of the $23 billion it made last year.
To put this into a perspective that must be increasingly uncomfortable at the pharma giant, AstraZeneca will soon have a new, blockbuster-sized hole to fill as investors continue to insist that the company keep its promise to hit $45 billion in sales in just seven more years.
It's no wonder that AstraZeneca has been rumored to be lurking near the bargaining table for the Medivation buyout. An established drug plus a promising late-stage PARP inhibitor could be just what the doctor ordered. And if another company like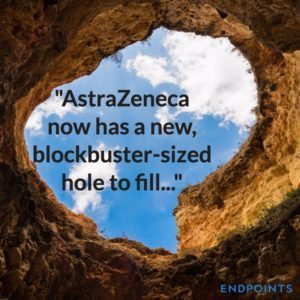 Sanofi wins the bidding war, AstraZeneca is going to be forced to find other drugs to help with its ambitious mission.
The company's lawyers had kept people guessing about the outcome until late yesterday, when a federal judge ruled against AstraZeneca's bid to use a recent approval to use a high dose of the drug for rare cases of homozygous familial hypercholesterolemia in children. The lawyers tried to argue that FDA labeling rules on pediatric drugs should keep the generic off the table.
The judge, though, wasn't interested in protecting the mega-franchise at the public's expense and rejected the request for a temporary restraining order. Senators Susan Collins and Claire McCaskill weren't amused, either. They noted in a letter to Soriot that the approval they based their challenge on rested on 300 patients, raising concerns about the millions who would benefit from a cheap copycat.
Cut off from the legal gambit, Soriot will be forced to focus on deals, as it's unlikely the pipeline will get him to where he needs to be.
AstraZeneca—the world's 7th largest drug developer by R&D budget—won big with its recent approval for Tagrisso. But with its checkpoint inhibitor relegated to a late fourth-place finish, it will need a lot of help to come even close to the finish line it set for itself as Pfizer looked to buy the company.
Any biotech company that sees them coming won't overlook that simple fact. AstraZeneca will need to pay a premium for sheer neediness.
In the meantime, AstraZeneca may also feel pressure to shed more R&D jobs. The company confirmed last week that it was cutting back at MedImmune, even as it focused more on immuno-oncology. Now comes confirmation of some small but noteworthy cutbacks in Boston as well.
Anyone not working on a priority project—particularly in cancer—may be feeling particularly vulnerable right now. – John Carroll, follow me @JohnCendpts
---
The best place to read
Endpoints News

? In your inbox.

Comprehensive daily news report for those who discover, develop, and market drugs. Join 41,900+ biopharma pros who read Endpoints News by email every day.

Free Subscription
---
---
---