BioReg­num: What's the deal with Bio­gen?
Bioreg­num
The view from
End­points
"We are in a world of eat or be eat­en," Cowen's Er­ic Schmidt told the Boston Globe about Bio­gen. "If they don't re­de­ploy their cash ef­fi­cient­ly or prop­er­ly, there's al­ways a chance that some­body may come in and mon­e­tize their as­sets for them."
Sound fa­mil­iar? That was from a year ago, as a set­back on its new Alzheimer's drug co­in­cid­ed with fal­ter­ing Tec­fidera sales to set the stage for what has be­come a mantra: Bio­gen has to ei­ther get mov­ing and start strik­ing some ma­jor drug deals, or it will face a takeover. So it's no won­der that with no block­buster-style deals in 12 months, we're see­ing re­ports pop up now as ex­ec­u­tives at oth­er Big Phar­mas have start­ed sound­ing out Bio­gen's board mem­bers about their in­ter­est in sell­ing the com­pa­ny.
The big­ger ques­tion: Why did it even take this long?
A new re­port from Reuters adds a few telling de­tails to this week's hot sto­ry from the Wall Street Jour­nal that Bio­gen has been in­for­mal­ly ap­proached about a pos­si­ble buy­out by Mer­ck and Al­ler­gan. The over­tures were large­ly ca­su­al­ly di­rect­ed at in­di­vid­ual board mem­bers. And they ap­peared most­ly de­signed to see if there was some kind of in­ter­est in a friend­ly merg­er.
Not sur­pris­ing­ly, Mer­ck's in­ter­est is stronger than Al­ler­gan's, ac­cord­ing to Reuters. But there was nev­er any­thing for­mal put on the ta­ble.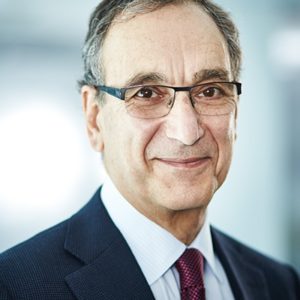 CEO George Scan­gos
Whether or not Mer­ck or any oth­er com­pa­ny will make an of­fer, the ru­mors are swirling around a com­pa­ny that has be­come dis­tinct­ly vul­ner­a­ble over the past year as its flag­ship drug wanes. Bio­gen doesn't have the kind of pipeline that gives an­a­lysts cause to cheer near term cat­a­lysts. And with CEO George Scan­gos now stand­ing with one foot out the door, the com­pa­ny will have to un­der­go ma­jor pipeline changes in or­der to win back Wall Street's en­thu­si­asm for this com­pa­ny.
One way of do­ing that, and mov­ing past the M&A ru­mors, is by fi­nal­ly grab­bing hold of a late-stage deal that has im­pres­sive po­ten­tial. Cel­gene and Gilead have proven sev­er­al times over the past year that there are ma­jor part­ner­ships to be had. And Bio­gen's slow mo­tion re­sponse may ex­plain why Scan­gos will soon be de­vot­ing more time to the fam­i­ly back on the West Coast. As of now, Bio­gen ex­ecs have on­ly been able to promise land­mark deals, with­out de­liv­er­ing.
Yes, there was an in­ter­est­ing gene ther­a­py col­lab­o­ra­tion at the Uni­ver­si­ty of Penn­syl­va­nia, but that's a dis­cov­ery deal. There was a pact with Mit­subishi Tan­abe last fall, for a Phase II au­toim­mune drug; not enough to rev up much ex­cite­ment. So we're left with fresh promis­es to con­sid­er.
Here's Scan­gos from the Q2 call:
Ac­tu­al­ly, we would look at deals at all stages of de­vel­op­ment from pre-clin­i­cal through Phase 3. And we are cur­rent­ly do­ing that. We're in a num­ber of dis­cus­sions now, and we hope to bring some of those to con­clu­sion.

We are fo­cused large­ly on neu­rol­o­gy. That's where we have our core ex­per­tise. And I think we be­lieve that the – you can make more so­phis­ti­cat­ed de­ci­sions about things in ar­eas that you un­der­stand re­al­ly in de­tail. So main­ly we're look­ing in neu­rol­o­gy. With (R&D chief) Mike (Ehlers') ar­rival, we have a new per­son here who's got his own set of ex­per­tise, his own views on things. And I would say we wouldn't rule out things out­side of neu­rol­o­gy, but the bar gets high­er as they get fur­ther from our cen­ter of ex­cel­lence. As Mike put it yes­ter­day, we want to have kind of laser vi­sion, but we don't want to have tun­nel vi­sion. We want to be open to things that are in­ter­est­ing and can pro­vide share­hold­er val­ue.
We're well past the point when it be­came ob­vi­ous that Bio­gen had to eat or be eat­en. It may well need to find some­thing out­side of neu­rol­o­gy as well, which has been Scan­gos' com­fort zone. And the deal(s) needs to in­volve late-stage as­sets with block­buster po­ten­tial.
The ex­pec­ta­tions keep get­ting high­er and the takeover ru­mors aren't go­ing away un­til Bio­gen fi­nal­ly de­liv­ers.