Biotech backer Ver­sant arms it­self with record $400M fund, tar­gets a new wave of up­starts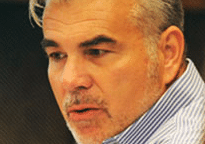 Brad Bol­zon
Ver­sant Ven­tures has once again racked up a record new biotech fund. Fund VI has land­ed, weigh­ing in at $400 mil­lion, well ahead of the ini­tial $350 mil­lion goal and Fund V's $305 mil­lion to­tal.
That's enough cash to back some two dozen up­starts in the biotech world, and you can ex­pect a siz­able amount to be di­rect­ed at the emerg­ing com­pa­nies be­ing forged in its dis­cov­ery in­cu­ba­tors in Cana­da and the US: Blue­line Bio­science in Toron­to, High­line Ther­a­peu­tics in New York, and In­cep­tion Sci­ences in San Diego, Van­cou­ver and Mon­tre­al.
Ver­sant likes to work in places where oth­er ven­ture groups are re­luc­tant to fol­low. That's once of the rea­sons why the VC has been par­tic­u­lar­ly ac­tive in Cana­da. But the ven­ture team al­so has ex­ten­sive con­nec­tions in Eu­rope, an­oth­er re­gion that has been tra­di­tion­al­ly un­der­served by in­vestors.
The for­mu­la has been ef­fec­tive, with IPOs or buy­outs for Quan­ti­cel, Novi­ra, Okairos, Clo­vis, CRISPR, Au­dentes and Gen­Sight. And while IPOs have been on the wane for more than a year now, in­sti­tu­tion­al in­vestors ap­pear hap­py to wait it out for the next wave of of­fer­ings and M&A.
More mon­ey, more in­vest­ing in more places means Ver­sant will al­so be grow­ing its team this year, Man­ag­ing Di­rec­tor Brad Bol­zon tells me to­day. So look for some an­nounce­ments on that score soon. And while the ba­sic strat­e­gy re­mains the same, he adds, you can ex­pect to see even more ear­ly-stage in­vest­ing as Ver­sant stays fo­cused on tap­ping in­to aca­d­e­m­ic ad­vance­ments "off the beat­en track."
"Val­u­a­tions in­flate when there's com­pe­ti­tion for deals," adds Bol­zon, "and the com­pe­ti­tion is most fierce in the Bay Area and Boston. We're tak­ing a dif­fer­ent tack" while the VC group will stay in­volved in both big hubs.
"Clear­ly we rec­og­nize that you can't de­pend on the IPO win­dow," he says. "It's a cycli­cal phe­nom­e­non," so Ver­sant will shift more fo­cus to M&A and build-to-buy deals like Quan­ti­cel, which was ac­quired by Cel­gene.
The grow­ing re­sources has po­si­tioned Ver­sant to jump in­to some am­bi­tious part­ner­ships as well. Most no­tably, the VC and Bay­er have teamed up on a $225 mil­lion stem cell ven­ture, Blue­Rock, con­vinced that af­ter more than a decade of set­backs in the field, the tech­nol­o­gy and the ex­perts are ready to make a land­mark break­through in the clin­ic, point­ing to a wave of com­mer­cial prod­ucts.
Ver­sant now has more than $2 bil­lion un­der man­age­ment.