Biotech deal­mak­er Ra­maswamy rais­es an­oth­er $55M for Ax­o­vant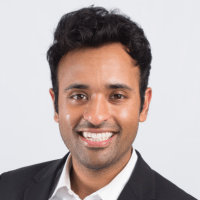 One of biotech's most promi­nent wheel­ers and deal­ers just nabbed an ex­tra $55 mil­lion to push along the pipeline at the neu­ro­sciences play­er Ax­o­vant.
Vivek Ra­maswamy, who's been whip­ping up new com­pa­nies and rais­ing hun­dreds of mil­lions of dol­lars in IPOs, inked a debt fi­nanc­ing deal with Her­cules Cap­i­tal. Ra­maswamy will start off pay­ing in­ter­est for 18 months, then is in line to be­gin pay­ing back prin­ci­pal as well.
"Her­cules is pleased to en­ter in­to this fi­nanc­ing part­ner­ship with Ax­o­vant at this im­por­tant stage to al­low it to con­tin­ue to ad­vance and ex­pand its pipeline and achieve its growth ob­jec­tives," said Scott Bluestein, the chief in­vest­ment of­fi­cer at Her­cules Cap­i­tal, in a state­ment.
Ra­maswamy raised mon­ey and eye­brows in the sum­mer of 2015 af­ter par­lay­ing a $5 mil­lion up­front deal with Glaxo for a dis­card­ed 5-HT6 in­hibitor Alzheimer's drug in­to a record $350 mil­lion IPO. That deal put him in a late-stage study — MIND­SET — that's due to read out in the third quar­ter.
Ra­maswamy wants to be known as a great drug de­vel­op­er with an abil­i­ty to spot val­ue in Big Phar­ma's re­ject pile. But his rep has been fixed on his abil­i­ty to raise ex­tra­or­di­nary amounts of cash, even from re­luc­tant mar­kets.