Over the course of the first three days of this week we've been treated to two biotech buyouts totaling $9.6 billion — by itself more than all the buyout cash EvaluatePharma accounted for during all of Q2 last year. And after Q1 racked up close to $47 billion in M&A work, there's plenty of anticipation that more deals lie ahead in what could be a very busy 2018.
At the top of the to-buy list right now is Shire $SHPG, which Takeda put into play with its move to flag a likely upcoming offer. That would be worth more than $50 billion by itself. Takeda's interest came out of left field, but the company has been restructuring for the past two years, shedding R&D jobs and reevaluating the pipeline.
Since news of Takeda's interest surfaced, the reviews of Shire's Flemming Ornskov on the numbers have been brutal. And if Takeda can't finish the deal, someone else may well come along and do it. 
We still haven't heard about anything big from Biogen $BIIB, which most analysts would tell you needs to do something impressive on the M&A front that would help spread the considerable risk it faces on Alzheimer's and some distant catalysts for investors to ponder. And there's been word that Celgene $CELG is back at it, hunting new buyouts after scooping up Juno in the first quarter, looking for another deal that would help ease the concerns that have been growing about its wobbly performance of late.
Agios $AGIO has been one possible target mentioned, but Celgene likes to roam far and wide in hunting buyout targets.
This is one year when you might expect the unexpected. Novartis set the tone for surprising strategies with its $8.7 billion deal to buy AveXis $AVXS and its late-stage gene therapy for SMA. (Another reason why Biogen, with its SMA therapy Spinraza now facing an even bigger threat, has to pull the trigger on something impressive.) Novartis CEO Vas Narasimhan intends to make the pharma giant a big leader in the cell and gene therapy field, and he's cut himself free of the usual $2 billion to $5 billion bolt-on acquisitions that had limited their earlier activity.
You can also never forget Pfizer in these discussions, the last of the big players which still has an appetite for mega-mergers, even though they offer a questionable path to earnings growth. GSK's new CEO Emma Walmsley has done one consumer deal, and now you can expect her to turn to the research side for new pacts. And what about Eli Lilly, where the new R&D chief has made it clear he'd like to do some pipeline building?
M&A charts are usually dominated by single deals, as you can see in Evaluate's chart below. But this year the focus is on a slate of multibillion-dollar deals more in the small to mid-range arena. That trend will keep everyone looking for the next deal. And the next. And the next. 
It's a seller's market right now, with money pumping into the industry from every direction. How long this can last is anyone's guess.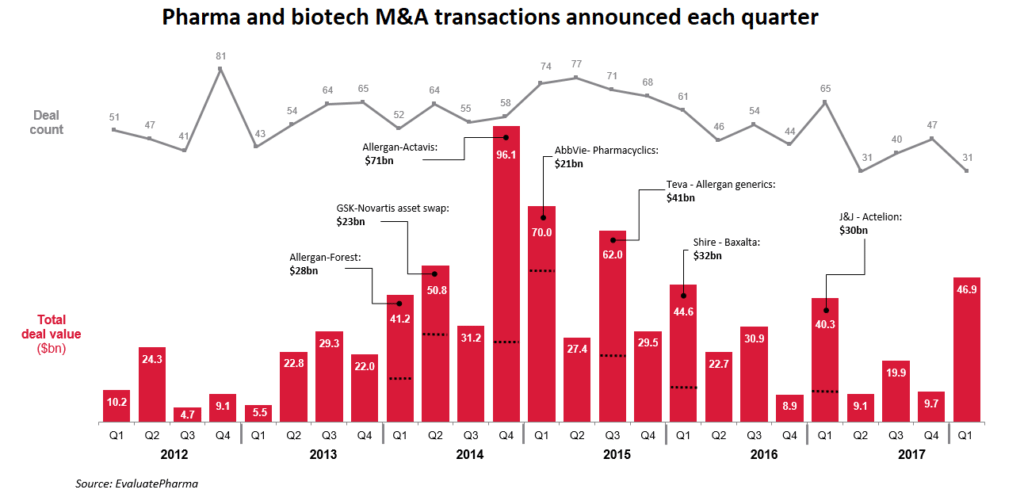 ---
The best place to read
Endpoints News

? In your inbox.

Comprehensive daily news report for those who discover, develop, and market drugs. Join 47,200+ biopharma pros who read Endpoints News by email every day.

Free Subscription
---
---
---