Biotech sci­en­tist/en­tre­pre­neur Saurabh Sa­ha makes an un­usu­al re­turn to the arms of a big — and ex­ces­sive­ly dis­creet — R&D group
Over the past few years we've seen a grow­ing ex­o­dus of R&D ex­perts out of big bio­phar­ma groups and in­to the rapid­ly grow­ing ranks of biotech star­tups. Now, one of the biggest play­ers in the on­col­o­gy field is get­ting at least one suc­cess­ful biotech sci­en­tist and en­tre­pre­neur to make an un­usu­al re­turn trip and come back in­to the fold of a ma­jor re­search or­ga­ni­za­tion.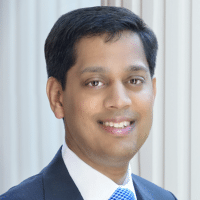 Saurabh Sa­ha
This morn­ing Bris­tol-My­ers Squibb $BMY put out word that the com­pa­ny had hired Saurabh Sa­ha to run the trans­la­tion sci­ence group for the com­pa­ny, which is re­spon­si­ble for triag­ing pre­clin­i­cal work of in­ter­est and steer­ing the most promis­ing pro­grams to­ward the clin­ic.
Sa­ha — a 40-year-old Johns Hop­kins grad, where he worked in Bert Vo­gel­stein's lab — once up­on a time la­bored in­side No­var­tis' glob­al ops, be­fore leav­ing for a string of new jobs in biotech. Nine years ago he set up a trans­la­tion­al re­search and de­vel­op­ment or­ga­ni­za­tion called Bio­Med Val­ley Dis­cov­er­ies. Then his role as a ven­ture part­ner at the pro­lif­ic At­las Ven­ture led him to be­come chief med­ical of­fi­cer at Syn­log­ic, fol­lowed by a brief but wild­ly suc­cess­ful stint as CEO of Delinia.
Back at the be­gin­ning of this year Cel­gene stepped up with a $775 mil­lion deal to ac­quire Delinia — with $300 mil­lion of that in cash — just four months af­ter Sa­ha lined up a $35 mil­lion round to back a pre­clin­i­cal au­toim­mune drug that showed promise in con­trol­ling reg­u­la­to­ry T cells, restor­ing im­mune tol­er­ance and home­osta­sis.
Odd­ly, Bris­tol-My­ers has de­cid­ed to keep Sa­ha un­der wraps for this an­nounce­ment, not al­low­ing in­ter­views. That's too bad, as com­pa­nies like Bris­tol-My­ers could use all the fresh, in­tel­li­gent faces it can get to per­suade in­vestors that there's rea­son to be­lieve new stuff is com­ing along to whip up some ex­cite­ment.
As big bio­phar­ma of­fers re­peat­ed ev­i­dence of the kind of cash-con­strained, slow mov­ing en­vi­ron­ments that re­searchers have chafed against, high-risk biotechs with op­por­tu­ni­ty for rapid re­wards and cash wind­falls have of­fered a com­pelling bea­con for some high pro­file ex­ecs. What­ev­er Sa­ha's rea­sons, any­thing he says that might per­suade sci­en­tists to re­con­sid­er that could on­ly ben­e­fit an in­dus­try where the trends have so far point­ed in on­ly one di­rec­tion.
That's par­tic­u­lar­ly true for the trans­la­tion­al side of the busi­ness.
Sa­ha is stay­ing in the Boston area, where Bris­tol-My­ers is build­ing a new R&D cen­ter.