Biotech vet Gould lands $55M start­up round for a new Third Rock plat­form biotech
Af­ter leav­ing the helm of Epizyme last fall, Robert Gould took some time off, then took some more time to look over some biotech star­tups in the Third Rock pipeline. Tak­ing them out for a spin, so to speak.
Then he got a close­up of Ful­crum Ther­a­peu­tics, a new mod­el plat­form com­pa­ny tak­ing shape on Third Rock's back­yard in Cam­bridge, MA, look­ing to use small mol­e­cules to reg­u­late genes, turn­ing them on and off in pur­suit of con­trol­ling a dis­ease.
It had all the right el­e­ments:
— Great sci­ence board dri­ving a cut­ting-edge ap­proach? Check.
— Prod­uct en­gine tuned for a va­ri­ety of ther­a­peu­tic tracks? Check.
— Enough fu­el to re­al­ly get some­place? Check and dou­ble check.
Third Rock has now seen to that last part with a $55 mil­lion start­up round.
"I just like build­ing stuff," Gould tells me, with the kind of en­thu­si­asm you'd ex­pect to hear in the voice of an en­tre­pre­neur drawn to biotech.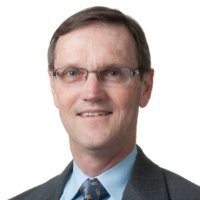 Robert Gould
There's noth­ing new about ex­plor­ing the ge­net­ic dri­vers of dis­ease. That work has been pil­ing up new tar­gets for years. The big idea at Ful­crum is that you can use new tech­nolo­gies, like CRISPR Cas9 gene edit­ing, stem cell tech and more, to dis­sect the prob­lem and find the best treat­ments that can most ef­fec­tive­ly reg­u­late tar­gets of gene ex­pres­sion.
Po­ten­tial­ly, there are hun­dreds of tar­gets to go af­ter, but Gould's new crew is go­ing to start with two: Frag­ile X syn­drome and a form of mus­cu­lar dy­s­tro­phy called fa­cioscapu­lo­humer­al mus­cu­lar dy­s­tro­phy. Both of these dis­eases are trig­gered by a sin­gle is­sue in gene reg­u­la­tion; the si­lenc­ing of the FMR1 gene for Frag­ile X and the ac­ti­va­tion of a gene called DUX4 for FSHD.
"We're about 10 peo­ple cur­rent­ly," says Gould, who plans to grad­u­al­ly dou­ble that in the not dis­tant fu­ture. "We ex­pect that we'll be in the clin­ic a few years from now," he adds, "but we're still at the ear­ly stages of drug dis­cov­ery."
Each of the two ini­tial dis­eases arise from a sin­gle gene mu­ta­tion that cre­ates an er­ror in gene reg­u­la­tion. Gould wants to use them as test cas­es to demon­strate how they can turn genes on and off. In the case of Frag­ile X, the si­lenc­ing of the FMR1 gene elim­i­nates the cell's abil­i­ty to make a pro­tein need­ed for brain func­tion. In FSHD, the pre­cip­i­tat­ing cause is the ac­ti­va­tion of a gene called DUX4 that should be silent in adult­hood. This ac­ti­va­tion leads to mus­cle wast­ing as cells die.
In clas­sic Third Rock stye, Gould will be work­ing with a sci­en­tif­ic cab­i­net which in­cludes:
Michael Green, Uni­ver­si­ty of Mass­a­chu­setts Med­ical School; The Howard Hugh­es Med­ical In­sti­tute; Na­tion­al Acad­e­my of Sci­ences; pro­vid­ing ex­per­tise in gene reg­u­la­tion
Dan­ny Rein­berg, New York Uni­ver­si­ty School of Med­i­cine; The Howard Hugh­es Med­ical In­sti­tute; pro­vid­ing ex­per­tise in chro­matin struc­ture and func­tion
Rudolf Jaenisch, White­head In­sti­tute for Bio­med­ical Re­search; Mass­a­chu­setts In­sti­tute of Tech­nol­o­gy; In­sti­tute of Med­i­cine; Na­tion­al Acad­e­my of Sci­ences; pro­vid­ing ex­per­tise in stem cell bi­ol­o­gy
Jean­nie Lee, Har­vard Med­ical School; The Howard Hugh­es Med­ical In­sti­tute; pro­vid­ing ex­per­tise in gene reg­u­la­tion and X chro­mo­some ge­net­ics
And Brad Bern­stein, Har­vard Med­ical School; Broad In­sti­tute of MIT and Har­vard; pro­vid­ing ex­per­tise in genome-wide char­ac­ter­i­za­tion of gene reg­u­la­tion