Biotech vet MacK­ay grabs a $25M A round to back a gene ther­a­py up­start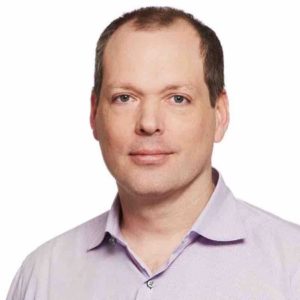 Ge­off McK­ay
Af­ter com­plet­ing an 11-year stint as CEO of Organo­gen­e­sis, Ge­off MacK­ay gath­ered a small, ex­pe­ri­enced team to­geth­er and be­gan a glob­al search for new gene ther­a­pies at Avro­Bio. Ear­li­er this year, they land­ed seed fi­nanc­ing from At­las Ven­ture af­ter ze­ro­ing in on the work of a pair of sci­en­tists in Toron­to. And to­day he land­ed a $25 mil­lion A round to get his two lead pro­grams in­to the clin­ic lat­er this year.
MacK­ay be­lieves that this is ex­act­ly the right time to get in­to gene ther­a­py, af­ter pi­o­neers like Blue­bird have es­tab­lished how the tech­nol­o­gy can work safe­ly. And he's putting that to the test with a new gene ther­a­py aimed at rare cas­es of Fab­ry dis­ease.
"We like that the con­cept has been val­i­dat­ed," says the biotech vet, who al­so ex­pects to be able to move quick­ly now that the A round is in place. MacK­ay says that if all goes ac­cord­ing to plan, the first round of safe­ty and ef­fi­ca­cy da­ta from small stud­ies should show up next year. But he's not try­ing to rush things.
For the Fab­ry pro­gram, which will look to sub­sti­tute en­zyme re­place­ment ther­a­pies with a once-and-done cu­ra­tive treat­ment, in­ves­ti­ga­tors are us­ing an ex vi­vo ap­proach: ex­tract­ing CD34+ hematopo­et­ic stem cells from pa­tients and then us­ing a lentivi­ral vec­tor to reengi­neer them to ex­press the nor­mal gene be­fore in­fus­ing them back in­to the pa­tient.
Avro­Bio al­so has an en­try in the fast-grow­ing im­munother­a­py are­na for acute myeloid leukemia. It's ex­tract­ing can­cer cells and en­gi­neer­ing them to ex­press IL-12 in or­der to spur a durable T cell as­sault on the can­cer.
"IL-12 not a new con­cept or cy­tokine," says the CEO. "It's been stud­ied for 20 years." It's al­so been too tox­ic to use sys­tem­i­cal­ly, so Avro­Bio is us­ing its tech­nol­o­gy to get right in­to the tu­mor mi­croen­vi­ron­ment, where it can do all the dam­age it can af­ter cap­tur­ing all the neoanti­gens in the can­cer cell.
The Avro­Bio team is work­ing with two sci­en­tif­ic co-founders, Jef­frey Medin, who un­til re­cent­ly was a pro­fes­sor at the Uni­ver­si­ty of Toron­to along with Christo­pher Paige. Avro­Bio is based in Cam­bridge, home turf to MacK­ay, with a fa­cil­i­ty in Toron­to where it can re­main close to its sci­en­tif­ic home.
At­las Ven­ture, Clarus and SV Life Sci­ences co-led the A-round, con­tribut­ing their part­ners to the board. Bruce Booth at At­las is sign­ing on as chair­man while Scott Re­quadt, a man­ag­ing di­rec­tor at Clarus, and Josh Resnick at SV Life Sci­ences join the board.
Right now, the team con­sists of a core group of 8, which MacK­ay says is set to grow.