BioX­cel scores an­oth­er win with re­for­mu­lat­ed Pfiz­er seda­tive, this time in an Alzheimer's symp­tom
Less than six months af­ter re­port­ing pos­i­tive Phase III re­sults for its lead pro­gram in treat­ing ag­i­ta­tion re­lat­ed to schiz­o­phre­nia and bipo­lar dis­or­der, small AI biotech BioX­cel fol­lowed up Tues­day with top-line da­ta in an ear­ly stage tri­al for ag­i­ta­tion in de­men­tia and Alzheimer's dis­ease.
The ex­per­i­men­tal drug, known as BX­CL501, met its pri­ma­ry and sec­ondary end­points in the high­er evalu­able dose of a 54-pa­tient Phase Ib/II tri­al, BioX­cel an­nounced, in­duc­ing a sta­tis­ti­cal­ly sig­nif­i­cant calm­ing ef­fect com­pared to place­bo with no se­vere or se­ri­ous side ef­fects. With the da­ta in hand, BioX­cel plans to meet with the FDA some­time in the first half of 2021 be­fore launch­ing a late-stage study some­time af­ter­wards.
BioX­cel $BTAI shares ticked up by as much as 10% in pre-mar­ket trad­ing Tues­day, but af­ter the open­ing bell were down about 7%.
BX­CL501 is a re­for­mu­la­tion of Pfiz­er's 21-year-old se­da­tion drug Pre­cedex. BioX­cel cre­at­ed a dis­solv­ing film-based, sub­lin­gual ver­sion of the drug — think Lis­ter­ine strips, but placed un­der the tongue — that pa­tients ad­min­is­tered them­selves. It es­sen­tial­ly pro­duces a calm­ing ef­fect with­out knock­ing a pa­tient out and ac­ti­vates the al­pha-2 re­cep­tor, the path­way through which nor­ep­i­neph­rine, among oth­er neu­ro-chem­i­cals, trav­els.
Tues­day's da­ta come from a dou­ble-blind­ed and ran­dom­ized study con­duct­ed en­tire­ly with­in as­sist­ed liv­ing fa­cil­i­ties. Pa­tients in the drug co­horts re­ceived ei­ther a 30 μg, 60 μg or 90 μg dose, though BioX­cel did not mea­sure ef­fi­ca­cy or safe­ty in the 90 μg arm due to high­er ex­po­sure lev­els. Six­teen pa­tients re­ceived the 30-μg dose, 20 took the 60-μg dose, four be­gan the 90-μg dose lev­el and 14 were ran­dom­ized to the place­bo group.
It's the 60 μg lev­el where BX­CL501 dif­fer­en­ti­at­ed it­self from place­bo at a sig­nif­i­cant lev­el. The pro­gram hit on all three scales used to mea­sure change in ag­i­ta­tion from base­line, the PEC, PAS, and Mod-CMAI. For the PEC, the p-val­ue was p=0.0011, while the oth­er two p-val­ues reg­is­tered at p<0.0001.
The can­di­date al­so showed a rapid on­set, BioX­cel said, hit­ting sta­tis­ti­cal sig­nif­i­cance com­pared with place­bo in the PEC and PAS just one hour af­ter pa­tients took the film strips, with the com­pa­ny not­ing it didn't mea­sure Mod-CMAI af­ter this time pe­ri­od. Calm­ing ef­fects at this dos­ing lev­el re­mained at sta­tis­ti­cal­ly sig­nif­i­cant lev­els through eight hours.
BX­CL501's 30-μg dose did not hit sta­tis­ti­cal sig­nif­i­cance in any of the three scales, clock­ing in at p=0.0813 for PEC, p=0.0961 for PAS and p=0.0591 in the Mod-CMAI.
The most com­mon side ef­fect was som­no­lence, or drowsi­ness. Half of the 16 pa­tients in the 30-μg co­hort self-re­port­ed mild drowsi­ness, while 11 of 20 in­di­vid­u­als in the 60-μg co­hort did so. There was one case of mod­er­ate drowsi­ness in the 60-μg group as well.
In ad­di­tion, there were two cas­es of hy­poten­sion in the 60-μg co­hort, one mild and one mod­er­ate, as well as one case of mild dizzi­ness.
Jef­feries an­a­lyst Chris How­er­ton took a pos­i­tive view of the da­ta, writ­ing that the 60-μg dose ap­pears to "check all the box­es." The safe­ty at this dose lev­el looked "clean," though How­er­ton not­ed be­cause Pre­cedex is known to be more po­tent in el­der­ly pa­tients, he wouldn't be sur­prised if BioX­cel al­so looked at a 45-μg dose in their piv­otal tri­al.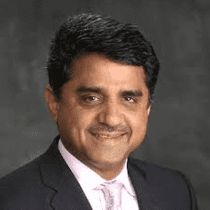 Vi­mal Mehta
The is­sue of a 45-μg dose al­so came up in a con­fer­ence call BioX­cel held Tues­day morn­ing with in­vestors. CEO Vi­mal Mehta said that al­though BioX­cel will like­ly pri­or­i­tize 60 μg for the Phase III giv­en Tues­day's top-line re­sults, they aren't rul­ing out al­so test­ing 45 μg.
Mehta al­so said on the call that he doesn't an­tic­i­pate much dis­rup­tion in Phase III en­roll­ment re­lat­ed to the on­go­ing Covid-19 pan­dem­ic.
BioX­cel is one in a slate of biotechs that has raised mil­lions in re­cent years on the promise of us­ing ar­ti­fi­cial in­tel­li­gence to speed the drug de­vel­op­ment process. The com­pa­ny filed for a $69 mil­lion IPO in 2018 less than a year af­ter be­ing found­ed, and has aimed to use its tech to find com­pounds val­i­dat­ed to some de­gree by oth­er com­pa­nies and re­pur­pose them.
Back in Ju­ly, BioX­cel re­port­ed that in two near­ly 400-per­son Phase III tri­als for bipo­lar dis­or­der and schiz­o­phre­nia, the lead drug ef­fec­tive­ly calmed pa­tients' ag­i­ta­tion.