Blue­bird bio steps up with a promis­ing snap­shot of its gene ther­a­py up­grade
As a pi­o­neer in the new wave of gene ther­a­py treat­ments that have been steadi­ly wind­ing their way to­ward reg­u­la­tors with the promise of a once-and-done ge­net­ic fix for a wide range of ail­ments, blue­bird bio $BLUE al­so got the first taste of the kind of back­lash that can oc­cur when a new tech­nol­o­gy fails to live up to the hope and hype that spurs bil­lions of dol­lars of in­vest­ments.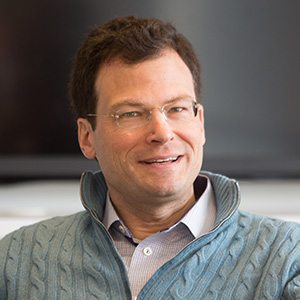 David David­son
For blue­bird, that mo­ment of truth came a lit­tle more than two years ago, when the com­pa­ny re­port­ed that a hand­ful of pa­tients had in­ad­e­quate re­spons­es to its gene ther­a­py for sick­le cell dis­ease and be­ta-tha­lassemia. Com­pa­ny in­ves­ti­ga­tors went back to the draw­ing board, changed the man­u­fac­tur­ing process on Lenti­Glo­bin with a new ap­proach they had been work­ing on that they felt would de­liv­er a bet­ter gene ther­a­py. And to­day they un­wrapped a snap­shot of the im­pact they've had.
Bot­tom line: The first glimpse of hu­man da­ta looks promis­ing.
The first three pa­tients in blue­bird's Phase III study for trans­fu­sion-de­pen­dent be­ta-tha­lassemia pa­tients of­fered some of the hu­man proof-of-con­cept da­ta they were look­ing for, mul­ti­ply­ing the num­ber of cells they were de­liv­er­ing with cor­rec­tive genes and pro­duc­ing a healthy flow of he­mo­glo­bin need­ed to cor­rect the dis­ease in the first pa­tient that was evalu­able at 6 months. Two oth­er pa­tients of­fered in­di­ca­tions of a sim­i­lar suc­cess — though one of the pa­tients al­so reg­is­tered a pos­i­tive but low­er num­ber of vec­tor pos­i­tive cells than the oth­er two — leav­ing blue­bird ex­ecs hop­ing that they have the right po­ten­cy in place for a durable cure.
That un­even re­sponse took a quick bite out of blue­bird's shares Fri­day morn­ing, slid­ing 6% in ear­ly trad­ing.
"This is an ex­cit­ing val­i­da­tion of the changes in the man­u­fac­tur­ing process," says blue­bird CMO David David­son. He ex­plained: "We added two small mol­e­cule en­hancers – trans­duc­tion en­hancers – that we have been re­search­ing for many years, to find ways of in­creas­ing the ef­fi­cien­cy of the vi­ral vec­tor to en­ter and in­te­grate in­to stem cells."
Here's the slide on the first pa­tient's re­sponse from blue­bird's pre­sen­ta­tion at the Eu­ro­pean Hema­tol­ogy As­so­ci­a­tion meet­ing in Madrid, which the biotech shared with me in a pre­view.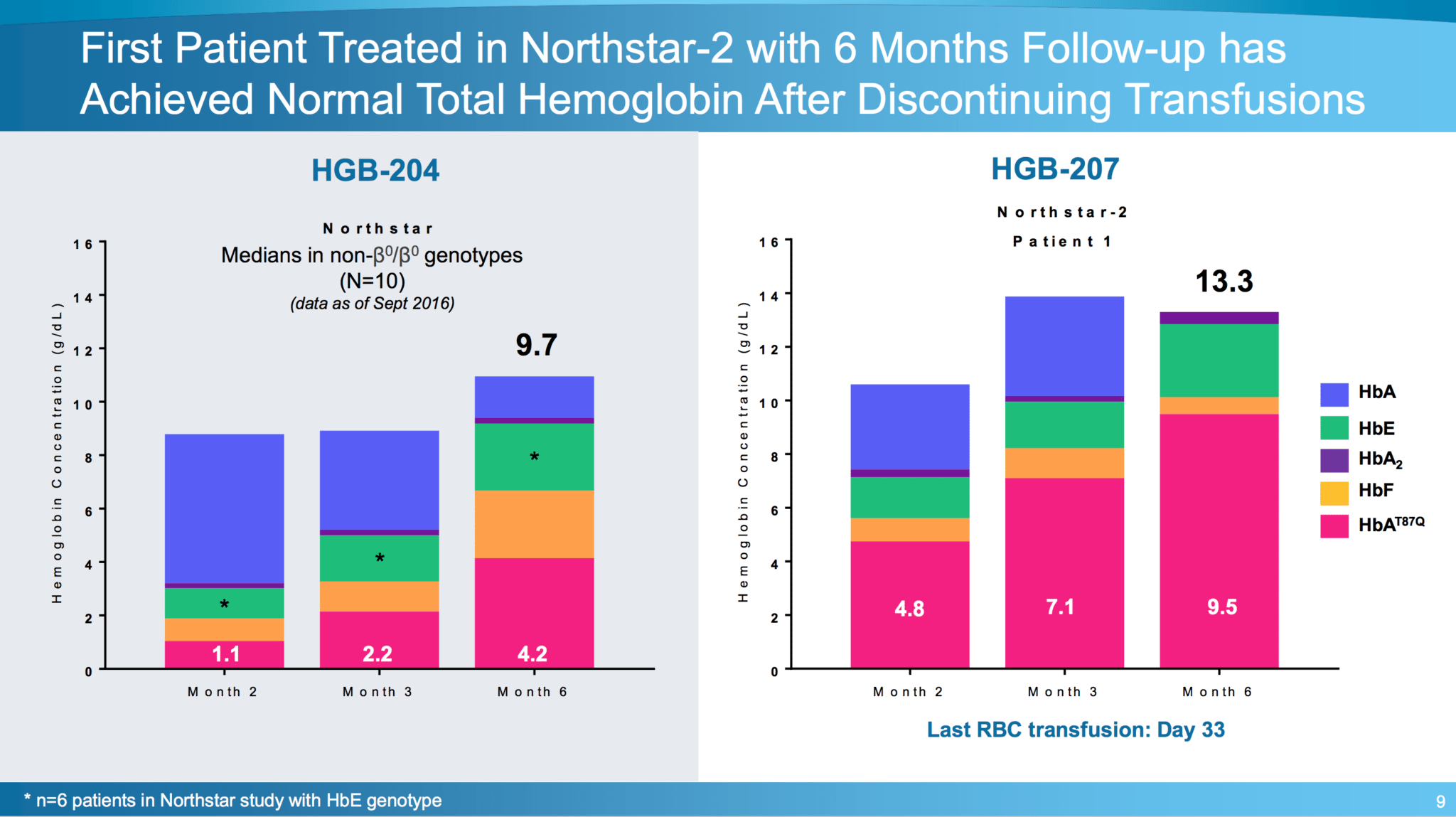 ---
That 13.3 grams per deciliter col­umn on the right at 6 months in­cludes a sub­stan­tial amount of he­mo­glo­bin pro­duced specif­i­cal­ly by the ther­a­py af­ter trans­fu­sions were stopped.
It is, to be cer­tain, a tiny num­ber of pa­tients and there are no guar­an­tees in this busi­ness. But then blue­bird's for­tunes in gene ther­a­py have al­ways been de­cid­ed by the re­spons­es of a hand­ful of pa­tients. Its piv­otal Phase III — da­ta from which will be de­liv­ered to the FDA along with an­oth­er late-stage tri­al— ini­tial­ly will re­cruit 15 adult and ado­les­cent pa­tients, then bring in 8 more chil­dren in an ex­ten­sion study. They'll all be tracked for a con­sid­er­able amount of time as in­ves­ti­ga­tors look for any vari­a­tion in ef­fi­ca­cy and safe­ty.
Blue­bird still has a long ways to go and isn't free of con­cerns on the safe­ty front. David­son al­so high­light­ed two pa­tients who were hos­pi­tal­ized af­ter ex­pe­ri­enc­ing acute gas­troen­teri­tis and acute chest syn­drome in their ear­li­er -205 study, though the com­pa­ny al­so be­lieves that in­ves­ti­ga­tors are in­creas­ing­ly con­fi­dent that they can avoid re­peats in the fu­ture.
So blue­bird takes an­oth­er step down the late-stage path­way, with plans to seek an ear­ly, con­di­tion­al ap­proval in Eu­rope based on the small ear­ly stud­ies it com­plet­ed.
"Eu­ro­pean reg­u­la­tors have been a lit­tle more cre­ative and more will­ing to ad­vance these ther­a­pies for­ward" than the FDA, David­son adds. But they are ad­vanc­ing on both fronts to­day.