As a pioneer in the new wave of gene therapy treatments that have been steadily winding their way toward regulators with the promise of a once-and-done genetic fix for a wide range of ailments, bluebird bio $BLUE also got the first taste of the kind of backlash that can occur when a new technology fails to live up to the hope and hype that spurs billions of dollars of investments.
For bluebird, that moment of truth came a little more than two years ago, when the company reported that a handful of patients had inadequate responses to its gene therapy for sickle cell disease and beta-thalassemia. Company investigators went back to the drawing board, changed the manufacturing process on LentiGlobin with a new approach they had been working on that they felt would deliver a better gene therapy. And today they unwrapped a snapshot of the impact they've had.
Bottom line: The first glimpse of human data looks promising.
The first three patients in bluebird's Phase III study for transfusion-dependent beta-thalassemia patients offered some of the human proof-of-concept data they were looking for, multiplying the number of cells they were delivering with corrective genes and producing a healthy flow of hemoglobin needed to correct the disease in the first patient that was evaluable at 6 months. Two other patients offered indications of a similar success — though one of the patients also registered a  positive but lower number of vector positive cells than the other two — leaving bluebird execs hoping that they have the right potency in place for a durable cure.
That uneven response took a quick bite out of bluebird's shares Friday morning, sliding 6% in early trading.
"This is an exciting validation of the changes in the manufacturing process," says bluebird CMO David Davidson. He explained: "We added two small molecule enhancers – transduction enhancers – that we have been researching for many years, to find ways of increasing the efficiency of the viral vector to enter and integrate into stem cells."
Here's the slide on the first patient's response from bluebird's presentation at the European Hematology Association meeting in Madrid, which the biotech shared with me in a preview.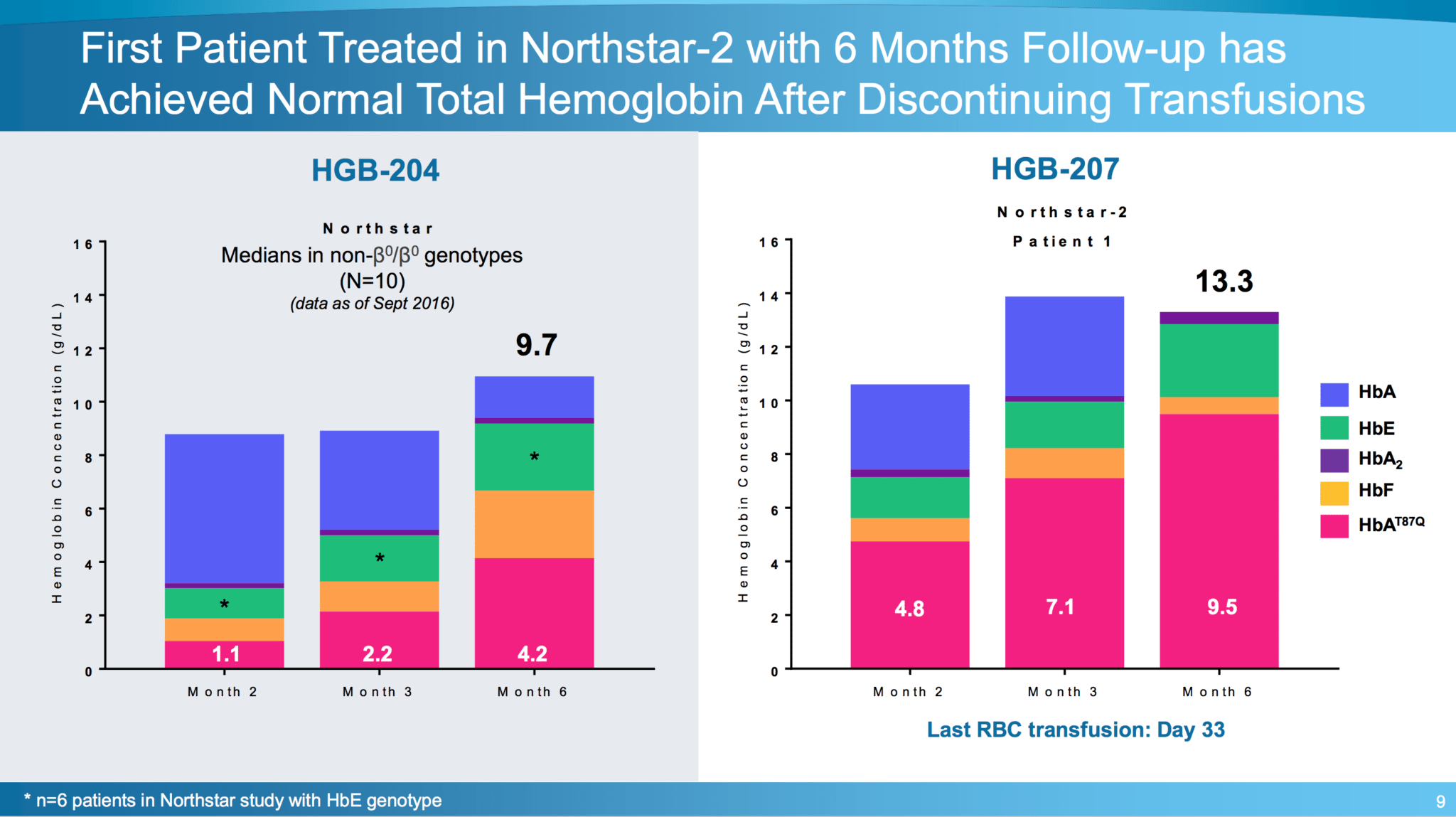 ---
That 13.3 grams per deciliter column on the right at 6 months includes a substantial amount of hemoglobin produced specifically by the therapy after transfusions were stopped.
It is, to be certain, a tiny number of patients and there are no guarantees in this business. But then bluebird's fortunes in gene therapy have always been decided by the responses of a handful of patients. Its pivotal Phase III — data from which will be delivered to the FDA along with another late-stage trial— initially will recruit 15 adult and adolescent patients, then bring in 8 more children in an extension study. They'll all be tracked for a considerable amount of time as investigators look for any variation in efficacy and safety.
Bluebird still has a long ways to go and isn't free of concerns on the safety front. Davidson also highlighted two patients who were hospitalized after experiencing acute gastroenteritis and acute chest syndrome in their earlier -205 study, though the company also believes that investigators are increasingly confident that they can avoid repeats in the future.
So bluebird takes another step down the late-stage pathway, with plans to seek an early, conditional approval in Europe based on the small early studies it completed.
"European regulators have been a little more creative and more willing to advance these therapies forward" than the FDA, Davidson adds. But they are advancing on both fronts today.
---
The best place to read
Endpoints News

? In your inbox.

Comprehensive daily news report for those who discover, develop, and market drugs. Join 51,000+ biopharma pros who read Endpoints News by email every day.

Free Subscription
---
---
---