Blue­print stum­bles in PhI­II GIST tri­al, send­ing stock slid­ing, but an­a­lysts preach cau­tion
When the FDA ap­proved Blue­print's first drug three months ago, they split their de­ci­sion. Ay­vak­it would be ap­proved for gas­troin­testi­nal stro­mal tu­mors (GIST) with a rare mu­ta­tion called PDGFRa. The oth­er half of their ap­pli­ca­tion for plain old fourth line GIST would have to wait. Reg­u­la­tors want­ed to know how the drug per­formed in a Phase III tri­al.
Re­sults are now in from that Phase III tri­al and they spelled a death-knell. In a study of 476 pa­tients with third or fourth line GIST, Ay­vak­it (avapri­tinib) per­formed worse on the pri­ma­ry end­point than the al­ready-ap­proved Bay­er GIST drug, re­go­rafenib. Pro­gres­sion-free sur­vival was 4.2 months, com­pared with 5.6 months for Ay­vak­it.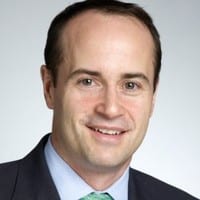 Jeff Al­bers
Blue­print's drug did have a high­er re­sponse rate — 17% com­pared with 7% — but that ap­peared as lit­tle con­so­la­tion. The com­pa­ny is dis­con­tin­u­ing de­vel­op­ment of the drug for those pa­tients.
"We will con­tin­ue to ad­vance our pipeline with clear near-term pri­or­i­ties in sys­temic mas­to­cy­to­sis and RET-al­tered can­cers," CEO Jeff Al­bers said in a state­ment.
The com­pa­ny's stock $BPMC took a sig­nif­i­cant hit, falling 20% from $70.90 to $56.71, ef­fec­tive­ly eras­ing over $800 mil­lion in val­ue.
Cowen's Marc Frahm sug­gest­ed, though, that this was an over­re­ac­tion, writ­ing in a note to in­vestors that "GIST was not the the­sis." The drug could still be po­ten­tial­ly used off-la­bel in fourth line GIST, Frahm wrote, but they were still re­mov­ing 3rd and 4th line GIST from their fu­ture sales pro­jec­tions. Nev­er­the­less, he ar­gued the tri­al said lit­tle about Ay­vak­it's po­ten­tial in sys­temic mas­to­cy­to­sis — a rare dis­ease where mast cells ac­cu­mu­late in or­gans — or, in com­bi­na­tion with an­oth­er ex­per­i­men­tal drug, in can­cers with RET mu­ta­tions.
"We have re­moved sales for the broad 3/4L GIST in­di­ca­tions but con­tin­ue to view BPMC shares as un­der­val­ued," Frahm wrote, pric­ing them at $83.
An­drew Berens at SVB Leerink was less up­beat but echoed the call for cau­tion. The fail­ure will "fun­da­men­tal­ly hit" Blue­print, he said, but the greater po­ten­tial lay else­where.
"Over­all, we be­lieve that GIST is less im­por­tant to the BPMC the­sis and think that in­vestors are like­ly to step in af­ter this read­out for more long-term op­por­tu­ni­ties in RET-dri­ven ma­lig­nan­cies and sys­temic mas­to­cy­to­sis (SM) with up­com­ing cat­a­lyst," Berens wrote.
Blue­print had been in a two-per­son race with De­ci­phera to get a drug ap­proved for GIST — a rare form of sar­co­ma in the di­ges­tive sys­tem — dri­ven by a mu­ta­tion to the platelet-de­rived growth al­pha gene, or PDGFRa. Ay­vak­it was ap­proved un­der ac­cel­er­at­ed ap­proval, while De­ci­phera awaits an Au­gust de­ci­sion date from the FDA. Both com­pa­nies are al­so pur­su­ing sys­temic mas­to­cy­to­sis and 2nd line GIST.
De­ci­phera does not have a tri­al for 3rd line GIST, but Berens said the com­pa­ny could ben­e­fit if on­col­o­gists de­cide to try their drug off-la­bel in that set­ting.
So­cial im­age: Jeff Al­bers, Blue­print CEO (CN­BC)