Boehringer In­gel­heim adds sec­ond AI part­ner in a month
Three weeks af­ter sign­ing a deal with one AI-fo­cused biotech, Boehringer In­gel­heim is adding an­oth­er.
The Ger­man phar­ma has an­nounced a part­ner­ship with BERG, the da­ta analy­sis and Bayesian AI com­pa­ny found­ed over a decade ago by re­al es­tate bil­lion­aire Carl Berg. Berg will use its com­put­er and wet lab plat­form to in­ves­ti­gate in­flam­ma­to­ry dis­eases, most no­tably at­tempt­ing com­ing up with caus­es, bio­mark­ers, drug tar­gets and drugs for in­flam­ma­to­ry bow­el dis­ease and Crohn's dis­ease.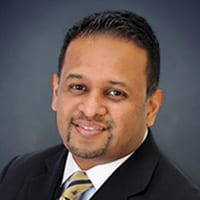 Niv­en Narain
"The bi­ol­o­gy be­hind these dis­eases are still not well un­der­stood," BERG CEO Niv­en Narain told End­points News, not­ing that it can still be dif­fi­cult to dis­tin­guish Crohn's from IBD. The plat­form will try "to de­mys­ti­fy the bi­o­log­i­cal trig­ger points."
For Boehringer, the deal comes not long af­ter they inked a deal with In­sil­i­co, the com­pa­ny that pro­voked both en­thu­si­as­tic and deeply skep­ti­cal head­lines last Sep­tem­ber af­ter pub­lish­ing a Na­ture Biotech­nol­o­gy pa­per ex­plain­ing how they de­signed a drug can­di­date mol­e­cule in 21 days. In in­ter­views, Narain is quick to dis­tance BERG from the hype that has sur­round­ed ma­chine learn­ing-fo­cused biotech star­tups, not­ing that Berg em­ploys a wet lab, gen­er­ates their own da­ta, has brought a pair of their own drugs in­to the clin­ic, and us­es a math­e­mat­i­cal ap­proach dis­tinct from ma­chine learn­ing.
"We're a bi­ol­o­gy com­pa­ny," Narain said. "We use AI as a tool."
BERG, though, found­ed in 2006, was among the ear­ly biotechs to promise that their plat­form can make the drug dis­cov­ery faster, cheap­er, and more ef­fi­cient — the now ubiq­ui­tous and yet un­sub­stan­ti­at­ed claim of the AI biotech world. And they are far from alone in hav­ing a wet lab or gen­er­at­ing their own da­ta.
The com­pa­ny's ap­proach in­volves tis­sue sam­ples from pa­tients with and with­out dis­ease, sub­ject­ing the cells to dif­fer­ent con­di­tions and wring­ing as much da­ta as pos­si­ble from them: ge­nomics, pro­teomics, metabolomics, lipidomics, and oth­ers. The com­pa­ny then us­es Bayesian AI, a math­e­mat­i­cal method to de­duce causal­i­ty.
With Boehringer, BERG will an­a­lyze tis­sues for a host of ac­tion­able da­ta. That in­cludes bio­mark­ers to di­ag­nose in­flam­ma­to­ry dis­eases ear­ly, to in­di­cate which drugs are most like­ly to work in which pa­tients, and to de­cide what drugs to give to pa­tients who have failed an ear­ly med­ica­tion. Longer term, the hope is to find new drugs.
"This is fur­ther along than just the ba­sic re­search," Narain said. "There could be ac­tion­able in­sights that come out of this project."
It's the third Big Phar­ma part­ner­ship for the com­pa­ny. They have al­so worked with As­traZeneca on Parkin­son's Dis­ease, help­ing lead to one drug now in lead op­ti­miza­tion, Narain said, and with Sanofi on in­fluen­za and dengue fever vac­cines. They just com­plet­ed a Phase II tri­al on their in­ter­nal pan­cre­at­ic can­cer can­di­date.