Boehringer In­gel­heim joins the crowd and goes all-in on on­colyt­ic virus­es, buy­ing Vi­raTher­a­peu­tics in $244M deal
Boehringer In­gel­heim de­cid­ed 3 years ago it that would take an ac­tive role in fos­ter­ing the on­colyt­ics virus biotech Vi­raTher­a­peu­tics.
The Ger­man com­pa­ny's ven­ture arm in­vest­ed in the fledg­ling's biotech's tiny $4 mil­lion A round in the sum­mer of 2015. BI ex­ecs came back with a $230 mil­lion dis­cov­ery deal — build­ing in a buy­out op­tion — and then added a sec­ond pro­gram. And this morn­ing they're go­ing all in, buy­ing the com­pa­ny in a deal val­ued at $244 mil­lion.
BI is keep­ing the com­pa­ny — a spin­out of Aus­tria's Med­ical Uni­ver­si­ty of Inns­bruck — right where it is, adding the group and the re­gion­al con­nec­tions they have on cam­pus as a sub­sidiary as they look to jump in­to the clin­ic with a lead pro­gram.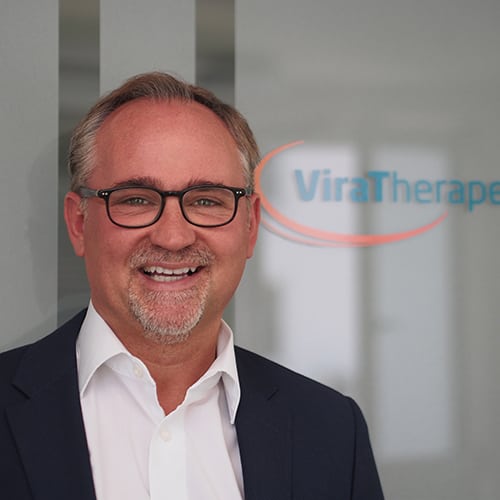 Heinz Schw­er
Boehringer first tied up with Vi­raTher­a­peu­tics just months ahead of Am­gen's land­mark ap­proval of T-Vec, the world's first mar­ket­ed on­colyt­ic virus. And since then the field has ex­plod­ed with new re­search projects as dozens of new play­ers brewed up to beat the pi­o­neer.
Ear­li­er this year J&J ex­e­cut­ed one of its clas­sic bil­lion-dol­lar deals to buy BeneVir. Mer­ck's R&D chief Roger Perl­mut­ter — who steered the T-Vec deal at Am­gen — bagged Vi­r­a­lyt­ics for $394 mil­lion. A re­cent study from the Can­cer Re­search In­sti­tute found 69 OVs in clin­i­cal de­vel­op­ment and an­oth­er 95 in a pre­clin­i­cal pro­gram.
What's the big deal?
On­colyt­ic virus­es are the Tro­jan horse of im­muno-on­col­o­gy. The virus­es are de­signed to in­fect can­cer cells, in­vad­ing the dis­ease, and then ex­plod­ing them, which sub­se­quent­ly sig­nals the im­mune sys­tem to mount an at­tack on the sur­vivors. There's a clear clin­i­cal track record show­ing how they work. And now a host of ri­vals like PsiOxus and many, many oth­ers be­lieve that sys­temic ad­min­is­tra­tion will do a bet­ter job.
Vi­raTher­a­peu­tics ex­ecs — led by Mor­phoSys vet Heinz Schw­er — have al­so been busy en­gi­neer­ing an OV ther­a­py that they be­lieve can do a bet­ter job of ini­tial­ly evad­ing de­tec­tion by the im­mune sys­tem, avoid­ing trig­ger­ing any an­ti­bod­ies and the­o­ret­i­cal­ly mak­ing it pos­si­ble to do re­peat ad­min­is­tra­tions.
Not sur­pris­ing­ly, BI al­so plans to whip up a pipeline of com­bi­na­tion ap­proach­es, arm­ing their OV with can­cer drugs that can both amp up the im­mune sys­tem at­tack and charge di­rect­ly at can­cer cells.