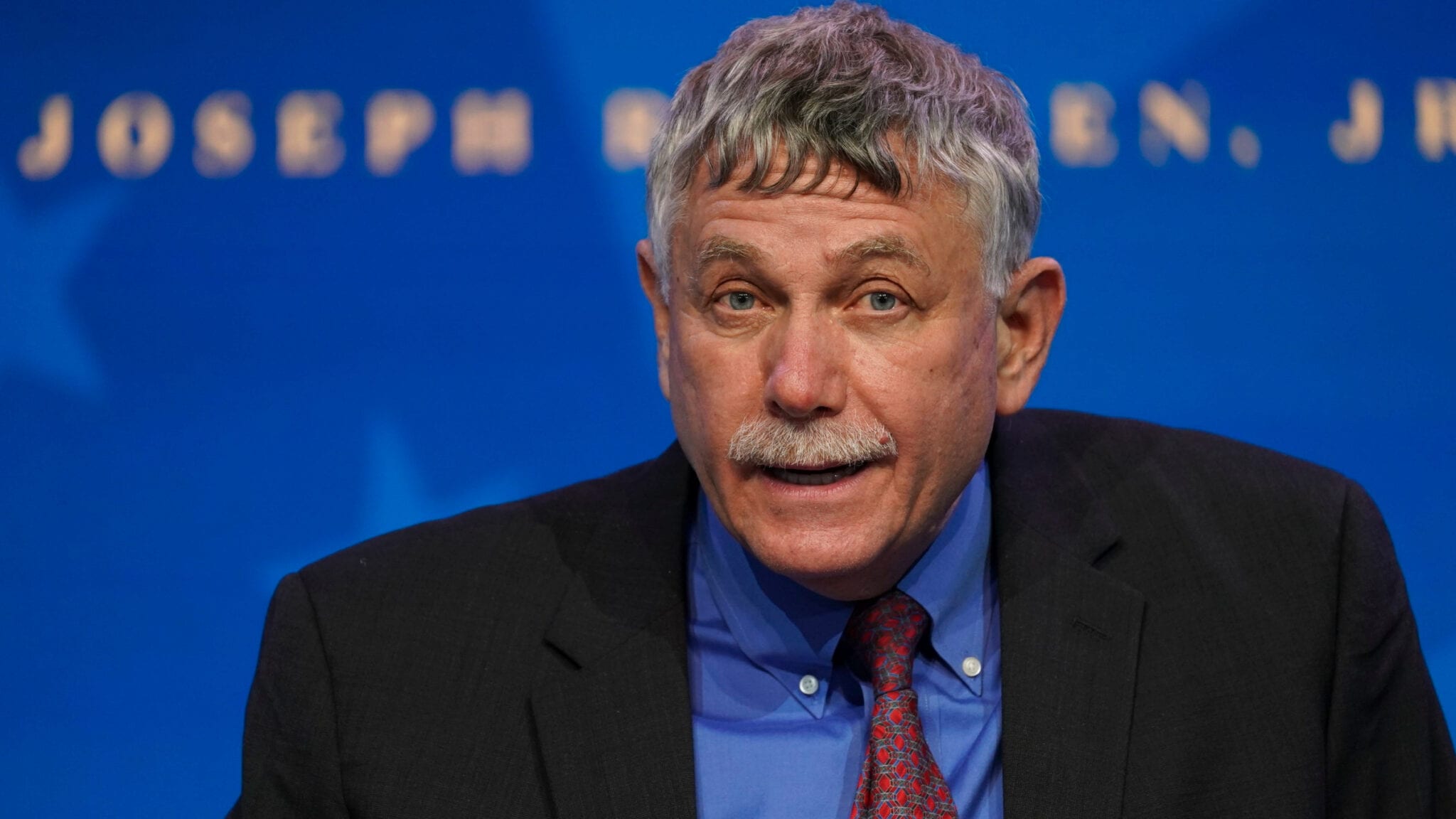 Eric Lander (Matt Slocum/AP Images)
Er­ic Lan­der 'bul­lied and de­meaned' staff at White House sci­ence of­fice — in­ves­ti­ga­tion
A re­cent White House in­ves­ti­ga­tion con­clud­ed that Er­ic Lan­der, Pres­i­dent Biden's top sci­ence ad­vi­sor, bul­lied and de­meaned his sub­or­di­nates, Politi­co re­port­ed.
The news dropped just hours af­ter Politi­co re­port­ed that Lan­der, the famed but of­ten con­tro­ver­sial ge­neti­cist who served as found­ing di­rec­tor of the Broad In­sti­tute be­fore get­ting tapped to lead the White House's Of­fice of Sci­ence and Tech­nol­o­gy Pol­i­cy, emailed all his staff to apol­o­gize for speak­ing to col­leagues in a "dis­re­spect­ful and de­mean­ing way."
"The in­ves­ti­ga­tion found cred­i­ble ev­i­dence of in­stances of mul­ti­ple women hav­ing com­plained to oth­er staff about neg­a­tive in­ter­ac­tions with Dr. Lan­der, where he spoke to them in a de­mean­ing or abra­sive way in front of oth­er staff," Chris­t­ian Peele, the White House's deputy di­rec­tor of man­age­ment and ad­min­is­tra­tion for per­son­nel, said in a brief­ing — a record­ing of which was ob­tained by Politi­co.
Four­teen cur­rent and for­mer staffers of the OSTP — which has a head­count of about 140 — shared with Politi­co "sim­i­lar de­scrip­tions of a tox­ic work en­vi­ron­ment where they say Lan­der fre­quent­ly bul­lied, cut off and dis­missed sub­or­di­nates," some­times yelling at peo­ple and mak­ing them feel hu­mil­i­at­ed in front of peers.
While most re­mained anony­mous, Rachel Wal­lace — a long­time civ­il ser­vant and the OSTP's chief op­er­at­ing of­fi­cer, who first filed a com­plaint against Lan­der and OSTP lead­er­ship — went on the record say­ing that Lan­der "re­tal­i­at­ed against staff for speak­ing out and ask­ing ques­tions by call­ing them names, dis­parag­ing them, em­bar­rass­ing them in front of their peers, laugh­ing at them, shun­ning them, tak­ing away their du­ties, and re­plac­ing them or dri­ving them out of the agency. Nu­mer­ous women have been left in tears, trau­ma­tized, and feel­ing vul­ner­a­ble and iso­lat­ed."
None of the de­tails were men­tioned in Lan­der's vague­ly-word­ed apol­o­gy email.
"It's my re­spon­si­bil­i­ty to set a re­spect­ful tone for our com­mu­ni­ty. It's clear that I have not lived up to this re­spon­si­bil­i­ty," reads an email ob­tained by Politi­co. "This is not on­ly wrong, but al­so in­con­sis­tent with our Safe and Re­spect­ful Work­place Pol­i­cy. It is nev­er ac­cept­able for me to speak that way. I am deeply sor­ry for my con­duct. I es­pe­cial­ly want to apol­o­gize to those of you who I treat­ed poor­ly or were present at the time."
Wal­lace told Politi­co the apol­o­gy "did not come close to ad­dress­ing" the full ex­tent of his of­fense. Oth­er staffers ar­gue he should be fired, or at least face a sus­pen­sion, with one call­ing him an ag­gres­sor who "open­ly tar­gets women" and an­oth­er high­light­ing the "open and brazen way he con­ducts his abuse."
"He did so much more than speak to staff in a 'dis­re­spect­ful or de­mean­ing way,'" Wal­lace said, adding: "Lan­der's apol­o­gy was not on­ly disin­gen­u­ous. It com­pound­ed the deep hurt and dam­age he has caused by ig­nor­ing these oth­er acts of ag­gres­sion, ha­rass­ment and re­tal­i­a­tion."
Biden el­e­vat­ed the sci­ence of­fice to Cab­i­net lev­el in an at­tempt to sig­nal his gov­ern­ment's fo­cus on sci­ence.
But his se­lec­tion of Lan­der as the leader of the of­fice and his sci­ence ad­vi­sor wasn't with­out fric­tion, with crit­ics slam­ming what they see as over-the-top ar­ro­gance that con­sumes sci­en­tif­ic ac­co­lades at the ex­pense of oth­ers, es­pe­cial­ly women and peo­ple of col­or.
Dur­ing his in­au­gu­ra­tion, Biden al­so pledged a ze­ro-tol­er­ance pol­i­cy on im­prop­er con­duct: "If you are ever work­ing with me and I hear you treat an­oth­er col­league with dis­re­spect, talk down to some­one, I promise you I will fire you on the spot. On the spot. No ifs, ands or buts."
It re­mains to be seen what con­se­quences Lan­der, who has al­so been tapped to head the re­cent­ly re­launched Can­cer Moon­shot ini­tia­tive — a project close to Biden's heart — will face.
White House lead­er­ship has met with Lan­der to dis­cuss the "se­ri­ous­ness of the mat­ter," ac­cord­ing to a spokesper­son. An OSTP spokesper­son said that "cor­rec­tive ac­tion was tak­en con­sis­tent with those find­ings."
Lan­der, who ap­par­ent­ly got wind of the in­ves­ti­ga­tion and loom­ing Politi­co re­port, ref­er­enced it in his email.
"I un­der­stand that some of you have been asked about this, and I thought it was im­por­tant to write di­rect­ly to you," he wrote. "I al­so re­al­ize that my con­duct re­flects poor­ly on this Ad­min­is­tra­tion, and in­ter­feres with our work. I deeply re­gret that."
He promised to "take con­crete steps to pro­mote a bet­ter work­place," in­clud­ing reg­u­lar fo­rums to check in with staff and train­ings to en­sure they know how to re­port con­cern­ing con­duct. In the record­ed brief­ing, Peele talked about re­quir­ing Lan­der to hold more col­lab­o­ra­tive meet­ings such as "brown bag ses­sions," and men­tioned there would be a check-in with staff af­ter 30 and 45 days.