Bris­tol-My­ers craters af­ter block­buster check­point drug Op­di­vo fails key lung can­cer study
Bris­tol-My­ers Squibb an­nounced this morn­ing that Op­di­vo has flopped in a late-stage study on non-small cell lung can­cer, pre­sent­ing a stun­ning set­back for the star ther­a­py. Its shares $BMY im­me­di­ate­ly plunged 18%, wip­ing out bil­lions in mar­ket val­ue, while ri­val Mer­ck $MRK—a run­ner-up in the check­point mar­ket—saw its shares soar 10%.
Re­searchers had re­cruit­ed a broad pop­u­la­tion of 541 pre­vi­ous­ly un­treat­ed first line pa­tients whose tu­mors ex­pressed PD-L1 at ≥ 5%, a key bio­mark­er used to iden­ti­fy pa­tients most like­ly to re­spond. The Op­di­vo arm was com­pared to a group who re­ceived their physi­cian's choice of al­ter­na­tive ther­a­pies. But this time, in the first ma­jor re­ver­sal for Bris­tol-My­ers, the drug failed to de­liv­er a sig­nif­i­cant im­prove­ment in pro­gres­sion-free sur­vival.
The fo­cus now may cen­ter on the lev­el of PD-L1 ex­pres­sion used to qual­i­fy pa­tients. Last fall, when the FDA ex­pand­ed its ap­proval of Op­di­vo to NSCLC pa­tients whose can­cer had spread af­ter chemo, FDA can­cer czar Richard Paz­dur not­ed:
"While Op­di­vo showed an over­all sur­vival ben­e­fit in cer­tain non-small cell lung can­cer pa­tients, it ap­pears that high­er ex­pres­sion of PD-L1 in a pa­tient's tu­mor pre­dicts those most like­ly to ben­e­fit."
"The missed re­sult like­ly re­flects the fact that BMY pushed the en­ve­lope too far in de­sign­ing its tri­al," not­ed Bern­stein's Tim An­der­son. "Specif­i­cal­ly, as men­tioned in the press re­lease to­day, they chose a "cut-off val­ue" for PDL1 ex­pres­sion of 5%. This is in-line with what we had been say­ing (that 5% was the val­ue), where­as the con­sen­sus view had been that the cut-off was 10%. By mak­ing it 5%, BMY was in essence try­ing to broad­en the pa­tient pop­u­la­tion where it could claim a ben­e­fit (had re­sults been pos­i­tive, of course), but failed re­sults sug­gest they like­ly made it too broad, mean­ing they en­rolled pa­tients with too lit­tle PDL1 ex­pres­sion, and this soured the over­all analy­sis. The pop­u­la­tion MRK stud­ied was nar­row­er."
PDL1 ex­pres­sion, as­say and PFS end­point all con­tributed to #fail

— Sal­ly Church 🏴󠁧󠁢󠁥󠁮󠁧󠁿 (@Mav­er­ick­NY) Au­gust 5, 2016
I/O in­vest­ment spe­cial­ist Brad Lon­car had this to say:
Bris­tol's more ag­gres­sive strat­e­gy of fo­cus­ing on a broad­er pop­u­la­tion rather than high PD-L1 ex­pres­sors has worked out for them in lat­er stages of dis­ease, but it looks like that has fi­nal­ly reached its lim­it. This is a very dis­ap­point­ing re­sult, but I think they de­serve cred­it for try­ing to help as many pa­tients as pos­si­ble.
Mer­ck has been lag­ging far be­hind Bris­tol-My­ers Squibb in the check­point sales race, with
Gio­van­ni Caforio, Bris­tol-My­ers Squibb CEO
Op­di­vo OK'd for use with­out a di­ag­nos­tic test while Keytru­da pa­tients have to be screened. Free of test­ing pa­tients, Op­di­vo has raced far ahead on the sales front. But Keytru­da—which was test­ed in pa­tients with a PD-L1 ex­pres­sion of 50%—looks to have the edge now in a key mar­ket­place.
These two pi­o­neer­ing drugs work es­sen­tial­ly the same way. They both dis­man­tle a hur­dle that can­cer cells re­ly on to es­cape an at­tack by the im­mune sys­tem. That has proven to be a game-chang­er in many types of can­cer, where new com­bi­na­tions are now be­ing test­ed to pro­vide a one-two punch against can­cer cells.
Gio­van­ni Caforio, the CEO at Bris­tol, had this to say:
While we are dis­ap­point­ed Check­Mate -026 did not meet its pri­ma­ry end­point in this broad pa­tient pop­u­la­tion, we re­main com­mit­ted to im­prov­ing pa­tient out­comes through our com­pre­hen­sive de­vel­op­ment pro­gram, in­clud­ing the on­go­ing Phase 3 Check­Mate -227 study ex­plor­ing the po­ten­tial of the com­bi­na­tion of Op­di­vo plusYer­voy for PD-L1 pos­i­tive pa­tients, and Op­di­vo plus Yer­voy, or Op­di­vo plus chemother­a­py in PD-L1 neg­a­tive pa­tients.
---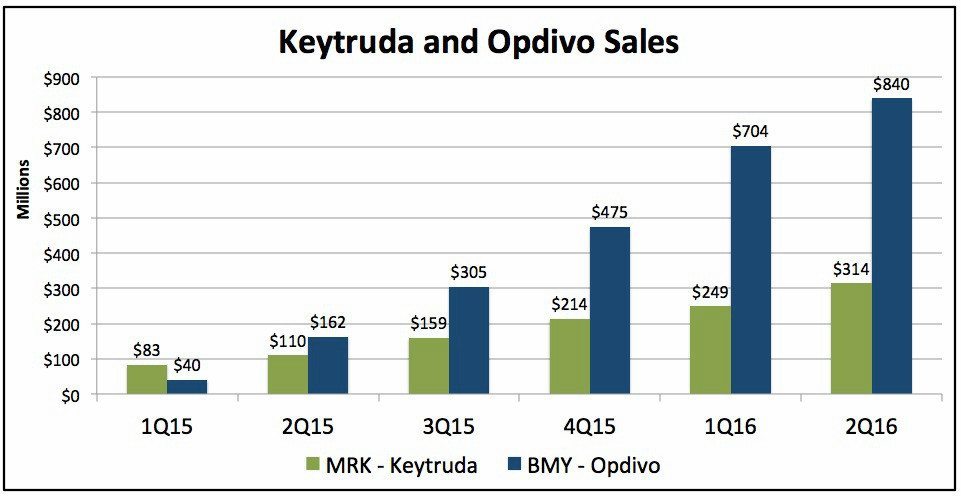 via Brad Lon­car