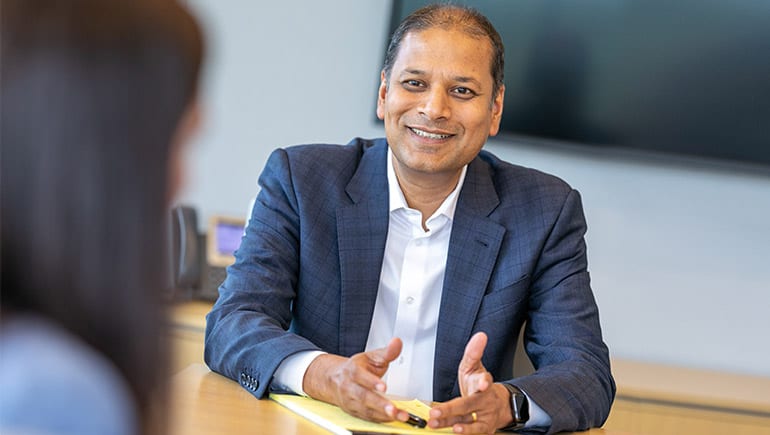 Samit Hirawat. Bristol-Myers Squibb
Bris­tol-My­ers is mak­ing a bee-line to the FDA with pos­i­tive liso-cel da­ta — but is it too late in the CAR-T game?
Bris­tol-My­ers Squibb came to ASH this past week­end with a va­ri­ety of mes­sages on the new can­cer drugs they had ac­quired in the big Cel­gene buy­out, in­clud­ing liso-cel, the lead CAR-T pro­gram picked up in the $9 bil­lion Juno ac­qui­si­tion. And one of the most im­por­tant was that they had the piv­otal ef­fi­ca­cy and safe­ty da­ta need­ed to snag an ap­proval from the FDA next year, with the BLA on track for a fil­ing this month.
Pro­vid­ed there are no sna­fus or even mod­est stum­bles now, they should get an OK with­in the 2020 time­line lined out in their $9 CVR for Cel­gene — the first in a tri­fec­ta of ap­provals re­quired for a pay­out.
Whether they can go on to make it in­to a vi­able com­mer­cial ther­a­py, though, is a whole oth­er thing.
At first glance, there isn't any­thing about the safe­ty and ef­fi­ca­cy da­ta that would force a CRL or de­lay. In a large tri­al of pa­tients with re­lapsed/re­frac­to­ry large B-cell lym­phomas in­ves­ti­ga­tors tracked an out­stand­ing 73% re­sponse rate and 53% com­plete re­sponse rate in heav­i­ly pre­treat­ed pa­tients with few op­tions.
That's in line with Yescar­ta from Gilead's Kite, which snagged an ap­proval more than 2 years ago, just af­ter No­var­tis' Kym­ri­ah came through.
Then there's safe­ty. To be sure, the drug has safe­ty is­sues. There were 4 pa­tients in the study who died af­ter treat­ment. Sev­er­al oth­ers died for un­re­lat­ed is­sues. But…with on­ly a 2% rate of cy­tokine re­lease syn­drome, Bris­tol-My­ers has a shot at a dif­fer­en­ti­at­ed safe­ty pro­file.
"There is a po­ten­tial these pa­tients can be treat­ed on an out­pa­tient ba­sis," says Samit Hi­rawat, the chief med­ical of­fi­cer at Bris­tol-My­ers. He not­ed that 26% of pa­tients were nev­er ad­mit­ted, while 76% were ad­mit­ted 4 days or lat­er af­ter ther­a­py. The key is to treat them at a hos­pi­tal with the in­fra­struc­ture to pro­vide care 24/7, so a pa­tient can be ad­mit­ted at any time lat­er if need­ed.
How that will fly with pay­ers af­ter ri­vals have been on the mar­ket for about 3 years, with new ev­i­dence that ear­li­er use of steroids can dra­mat­i­cal­ly re­duce CRS and con­sid­er­able dura­bil­i­ty of re­sponse, will have to be seen.
But time is not on Bris­tol-My­ers' side. Liso-cel is the long de­layed fol­lowup to the dis­as­trous JCAR015, which killed a num­ber of pa­tients. Their set­back threw them years off sched­ule. And ri­vals are ad­vanc­ing off-the-shelf al­ter­na­tives or oth­er new ap­proach­es that could knock the pi­o­neers com­plete­ly out of the game. In the mean­time, Bris­tol-My­ers is gath­er­ing its own dura­bil­i­ty da­ta and will grad­u­al­ly see if their mix of CD4 and CD8 cells can do bet­ter.
The main in­ter­est now is in the time­line around the ap­proval. Hi­rawat says they'll ask for pri­or­i­ty re­view, and there's every rea­son to be­lieve that reg­u­la­tors will move swift­ly — bar­ring a nasty sur­prise.