Bris­tol-My­ers preps sec­ond check­point/can­cer vax com­bo study un­der its $1B Bavar­i­an Nordic pact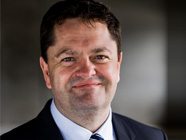 Paul Chap­lin, Bavar­i­an Nordic
Bris­tol-My­ers Squibb is ready to launch its sec­ond com­bi­na­tion tri­al us­ing Bavar­i­an Nordic's can­cer vac­cine Prost­vac.
Op­er­at­ing un­der a 2015 deal worth up to about a bil­lion dol­lars, in­ves­ti­ga­tors will com­bine Prost­vac with Yer­voy and Op­di­vo in 10 pa­tients with cas­tra­tion-re­sis­tant prostate can­cer. Then they'll push en­roll­ment to 55 and divvy up the pa­tients in­to three co­horts, study­ing T cell in­fil­tra­tion in tu­mors with one-on-one com­bos or the triple.
The first tri­al in the part­ner­ship was be­gun last fall, test­ing a com­bi­na­tion of Prost­vac and Yer­voy in ear­ly prostate can­cer.
The the­o­ry here is sim­ple enough. Bris­tol-My­ers check­point drugs are de­signed to take the brakes off an im­mune sys­tem at­tack on can­cer cells while Prost­vac is de­signed to hit the gas. Can­cer vac­cines have proven to be large­ly too mild to gen­er­ate much of a clin­i­cal re­sponse in pa­tients, but re­searchers have the­o­rized that an en­hanced at­tack with check­point drugs could pro­vide a sig­nif­i­cant ben­e­fit.
The step for­ward in the pact is a plus for Bavar­i­an Nordic, which had to scrap plans for an IPO while fend­ing off an open short at­tack by Ker­ris­dale Cap­i­tal, which ridiculed Prost­vac and claimed that the Phase II da­ta it had tout­ed was large­ly an il­lu­sion due to a strik­ing­ly bad place­bo re­sponse.
We'll know more lat­er this year when Bavar­i­an Nordic re­leas­es top-line da­ta from its Phase III prostate can­cer study.
The move al­so un­der­scores that Bris­tol-My­ers' com­mit­ment to its check­point pro­gram, led by the CT­LA-4 and PD-1 drugs, re­mains as strong as ever as the com­pa­ny looks to get its groove back fol­low­ing a bit­ter set­back on non-small cell lung can­cer, which saw its ri­vals at Mer­ck leapfrog ahead with Keytru­da.
All the key check­point play­ers, in­clud­ing Genen­tech and Pfiz­er/Mer­ck KGaA, have been bar­rel­ing ahead with hun­dreds of com­bi­na­tion stud­ies, look­ing to grab the lead in var­i­ous niche can­cer mar­kets. That's a multi­bil­lion-dol­lar op­por­tu­ni­ty no one wants to lose.
"There are now eleven on­go­ing stud­ies of Prost­vac across var­i­ous stages of prostate can­cer. In re­cent years, there has been a grow­ing in­ter­est in the eval­u­a­tion of the im­munother­a­py can­di­date in ear­li­er dis­ease stages, where the can­cer has not yet spread be­yond the prostate. We are ex­cit­ed to learn more about the po­ten­tial of Prost­vac for treat­ing this pop­u­la­tion, and to eval­u­ate the po­ten­tial syn­er­gis­tic ef­fects of com­bin­ing the vac­cine with check­point in­hibitors, as we be­lieve Prost­vac may en­hance the clin­i­cal ac­tiv­i­ty of these drugs," said Paul Chap­lin, Pres­i­dent & Chief Ex­ec­u­tive Of­fi­cer of Bavar­i­an Nordic.