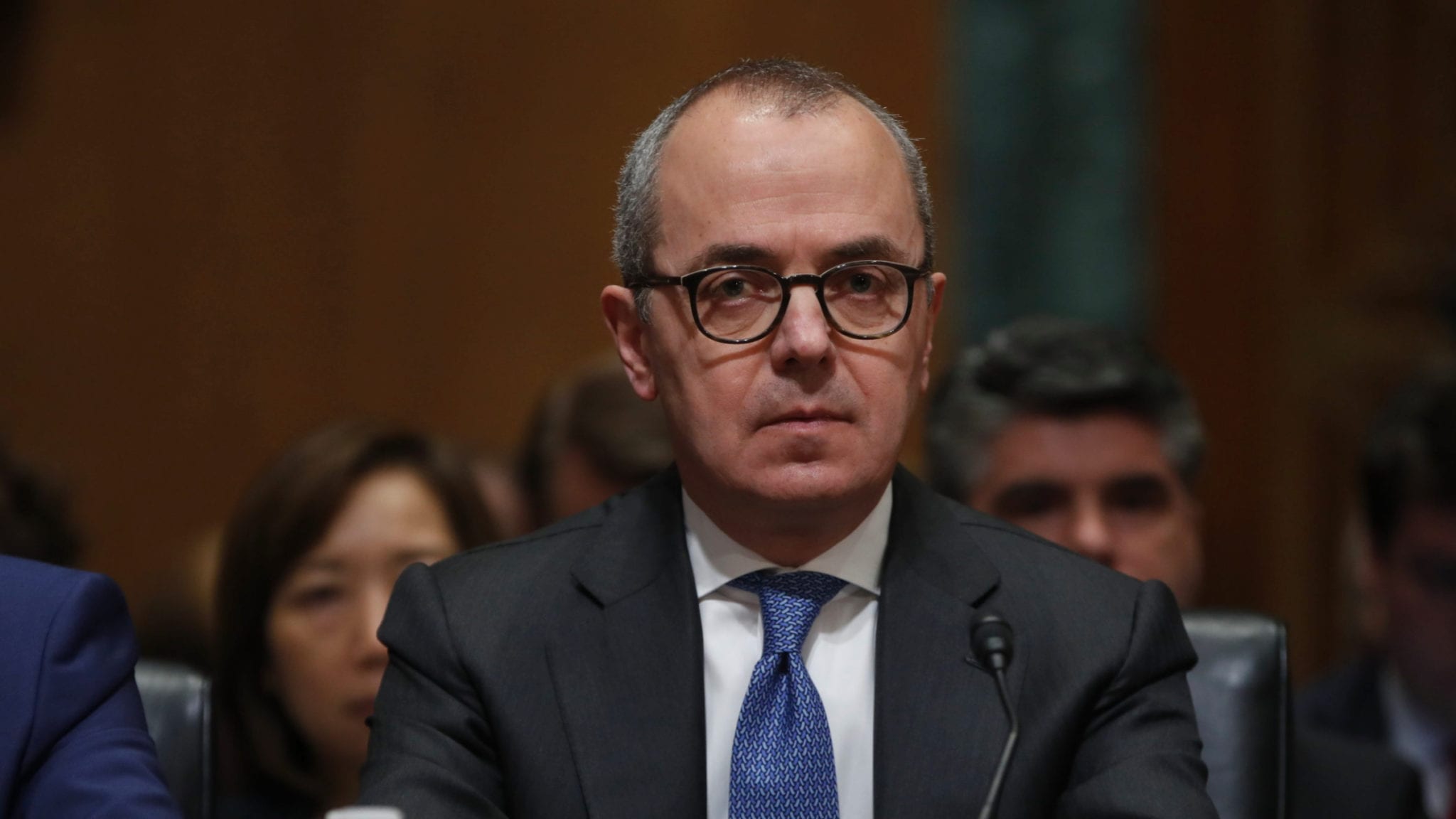 Giovanni Caforio, Bristol Myers Squibb CEO (Pablo Martinez Monsivais/AP Images)
Bris­tol My­ers faces $1B+ tax fight af­ter ac­ci­den­tal dis­clo­sure re­veals al­leged off­shore patents scheme — re­port
The IRS has bat­tled Big Phar­ma for years over off­shore patent trans­fer schemes, which it said have bilked the pub­lic in­ter­est by bil­lions of dol­lars. Now, loose lips at the agency have re­vealed its pur­suit of an­oth­er drug­mak­er — Bris­tol My­ers Squibb — that it says is on the hook for more than $1 bil­lion in back tax­es.
Bris­tol My­ers could face near­ly $1.4 bil­lion in back tax­es the IRS be­lieves it evad­ed pay­ing as part of a scheme to move its patent rights from the US to an Irish sub­sidiary and reap the in­come write-offs, the New York Times re­ports.
The dis­pute was re­vealed as part of an ac­ci­den­tal dis­clo­sure from the agency last spring, the Times said, which was al­most im­me­di­ate­ly pulled from pub­lic view.
At the cen­ter of the IRS' claims is Bris­tol's ef­fort in 2012 to es­tab­lish an Irish sub­sidiary as a ve­hi­cle to shut­tle US drug patent rights over to a coun­try with low­er cor­po­rate tax rates. In a scheme known as amor­ti­za­tion, com­pa­nies can write off the val­ue of an as­set — patents, for in­stance — from their tax­able in­come over a pe­ri­od of time. Bris­tol had al­ready writ­ten off the val­ue of its patents in the US, the IRS said, and set up a plan to move those rights to Ire­land, where that val­ue had not yet been writ­ten off.
The out­come? Around $1.38 bil­lion in back tax­es, the IRS said.
"Bris­tol My­ers Squibb is in com­pli­ance with all ap­plic­a­ble tax rules and reg­u­la­tions," the com­pa­ny said in a state­ment. "We work with lead­ing ex­perts in this area and will con­tin­ue to work co­op­er­a­tive­ly with the IRS to re­solve this mat­ter. Be­yond that, we don't com­ment on on­go­ing reg­u­la­to­ry mat­ters."
The scheme was lu­cra­tive, the Times re­port­ed. The com­pa­ny's ef­fec­tive cor­po­rate tax rate was -7% in 2012 com­pared with 25% in 2011. The dif­fer­ence was so stark that an­a­lysts re­port­ed­ly quizzed ex­ec­u­tives on the dis­par­i­ty dur­ing a Q4 2012 earn­ings call — ques­tions that Bris­tol re­fused to an­swer.
Mean­while, Bris­tol My­ers' plan re­port­ed­ly got a sign-off from two cor­po­rate au­di­tors, PwC and White & Case, in late 2012. Both firms sent lengthy let­ters to Bris­tol es­sen­tial­ly clear­ing the scheme — even af­ter Mer­ck had been cit­ed by the IRS back in 2006 for a sim­i­lar off­shoring ef­fort that saved it $1.5 bil­lion in fed­er­al tax­es over 10 years.
In that case, Mer­ck of­floaded its US patents to a Bermu­da sub­sidiary, which it then turned and paid for ac­cess to those patents, the IRS said. The amor­ti­za­tion scheme wasn't even unique to Mer­ck: Oth­er big-name drug­mak­ers such as J&J, Pfiz­er and Ab­bott have all been im­pli­cat­ed in sim­i­lar plans in the past.
In a 2018 re­port, Ox­fam es­ti­mat­ed that off­shoring schemes were sav­ing those four drug­mak­ers around $2.3 bil­lion per year in US fed­er­al tax­es. In to­tal across nine de­vel­op­ing coun­tries in­clud­ing the US, Ox­fam es­ti­mat­ed the firms were writ­ing off around $3.7 bil­lion per year.