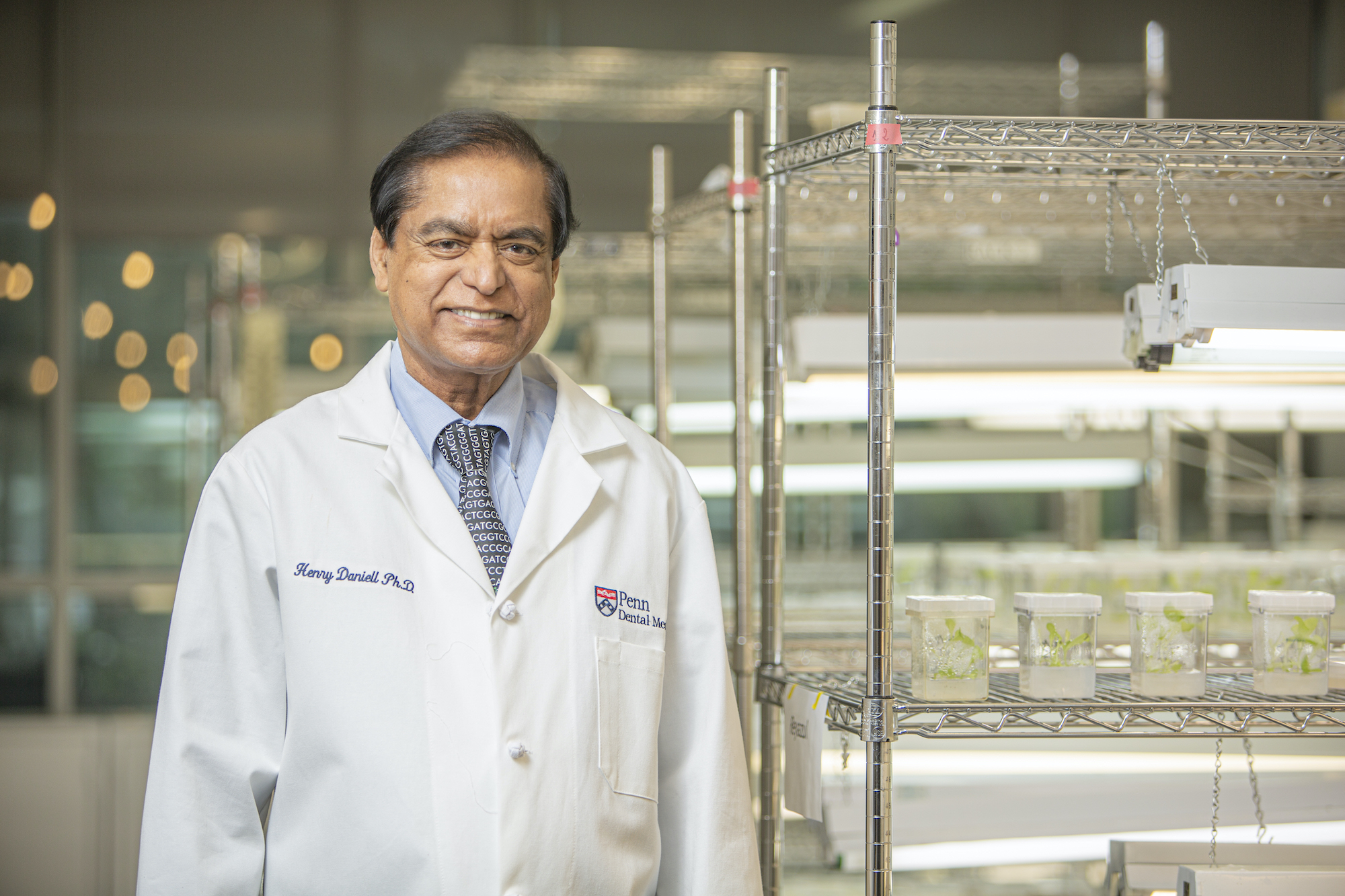 Henry Daniell (Credit: Penn Dental Medicine)
Can a spe­cial chew­ing gum slick away Covid-19 from sali­va? Penn re­searchers start clin­i­cal tri­al to find out
Re­searchers from the Uni­ver­si­ty of Penn­syl­va­nia have be­gun a small clin­i­cal tri­al to test whether a cin­na­mon-fla­vored gum (no, not Wrigley's Big Red) could re­duce the amount of Covid-19 in sali­va — a po­ten­tial way to cut trans­mis­sion of the virus.
The gum, de­signed by Penn School of Den­tal Med­i­cine's Hen­ry Daniell, is made from let­tuce plant cells that were al­tered to ex­press ACE2 — the re­cep­tor that the Covid-19 virus binds to in the body — which en­ables the gum to trap Covid-19 vi­ral par­ti­cles.
In Ju­ly, Daniell and col­leagues pub­lished a pa­per de­scrib­ing the de­sign of their virus-trap­ping gums for var­i­ous strains of Covid as well as the flu. But this isn't the first gum they've made.
Daniell's lab has long stud­ied the oral de­liv­ery of plant-based drugs, but in re­cent years has al­so been look­ing at plant-based oral drugs for the mouth it­self. Pre­vi­ous­ly, they cre­at­ed a chew­ing gum that con­tained en­zymes that could break down plaque buildup on teeth, Daniell told End­points News, an al­ter­na­tive to get­ting it painstak­ing­ly scraped off by your den­tist. "And then came the pan­dem­ic," Daniell said.
So they piv­ot­ed to make a virus-trap­ping gum.
In an ear­li­er pa­per, Daniell and col­leagues showed that their ACE2 chew­ing gum could sub­stan­tial­ly re­duce Covid-19 virus count in sali­va sam­ples — a re­sult they repli­cat­ed with var­i­ous strains of the Covid virus and two strains of the flu virus in the Ju­ly pa­per. To move their prod­uct for­ward, they got an IND in May to test the gum in peo­ple and be­gan the clin­i­cal tri­al this month, as first re­port­ed in Penn To­day.
The Phase I/II tri­al will en­roll 40 em­ploy­ees from Penn who have Covid-19, but aren't get­ting any an­tivi­rals or hos­pi­tal care for it. The em­ploy­ees will have to chew the gum for 10 min­utes four times every day for three days, and col­lect mul­ti­ple sali­va sam­ples over the course of their tri­al pe­ri­od.
The goal of the study is to (1) test the safe­ty of the gum, as with all ear­ly-stage tri­als, and (2) see whether it can ac­tu­al­ly re­duce the vi­ral load in the sali­va of the par­tic­i­pants.
The study is set to fin­ish ear­ly next year, ac­cord­ing to clin­i­cal­tri­als.gov.
"Even though our en­tire tri­al is done with Covid-19 pa­tients, the gum is re­al­ly not in­tend­ed for peo­ple af­ter in­fec­tion. And this is be­cause no­body knows when they get in­fect­ed, so this will be launched as a pro­phy­lax­is prod­uct," Daniell said, mean­ing that it would be used to pre­vent dis­ease.
The Covid-19 chew­ing gum could pro­vide an af­ford­able al­ter­na­tive in ar­eas where the vac­cine isn't read­i­ly avail­able, and it could al­so pro­tect health­care work­ers while they per­form oral or den­tal care on un­masked pa­tients, the re­searchers sug­gest in the Ju­ly pa­per.
The the­o­ry be­hind the gum is that cut­ting the amount of virus in sali­va damp­ens the risk of Covid-19 trans­mis­sion and vi­ral load. Covid-19 is trans­mit­ted through flu­ids from the mouth, nose, and eyes, and stud­ies have sug­gest­ed that the sali­va con­tains es­pe­cial­ly high vi­ral loads. But what hap­pens once you spit out the gum? Does the ef­fect last?
That's an­oth­er thing the re­searchers want to find out from the tri­al. "It is not known how long it takes for a pa­tient to re­build the virus in their mouth and in their sali­va — in spite of hun­dreds of thou­sands of pub­li­ca­tions, no­body has tried it," Daniell said, though the cur­rent pro­jec­tion his team is run­ning with is four hours.