Can Den­dreon's new Provenge da­ta help ig­nite a turn­around for the fad­ed can­cer star?
Two years ago, when Valeant bought Den­dreon and its prostate can­cer cell ther­a­py Provenge out of bank­rupt­cy for $400 mil­lion, ob­servers marked it as an­oth­er step down a long and bumpy spi­ral for a treat­ment that had once been cel­e­brat­ed as a his­toric break­through. Valeant was the sole bid­der and a bad match.
Then CEO J. Michael Pear­son called the ac­qui­si­tion an ef­fec­tive way to launch Valeant in­to the can­cer field — but Pear­son wasn't head­ed any­where. A year lat­er, the CEO was out the door and Valeant was in ut­ter dis­ar­ray as its busi­ness mod­el of buy­ing drugs and jack­ing the price be­came a ra­dioac­tive source of con­tro­ver­sy.
Provenge, though, has sur­vived the lat­est chap­ter of its trou­bled his­to­ry. A Chi­nese com­pa­ny, San­pow­er Group, struck a deal to buy the cell ther­a­py — built from cells ex­tract­ed from pa­tients — for $820 mil­lion, look­ing to pen­e­trate the huge Chi­nese can­cer drug mar­ket. And the ex­ec­u­tive crew that runs Den­dreon re­leased new "re­al world" da­ta over the week­end to un­der­score its ef­fec­tive­ness among African-Amer­i­can men, push­ing to ex­pand the mar­ket and aware­ness for a drug that had been eclipsed by Xtan­di and Zyti­ga.
When the FDA ap­proved Provenge 7 years ago, it re­quired Den­dreon to set up a pa­tient reg­istry to track its im­pact. And now Den­dreon, look­ing to stage a come­back, has post­ed some of the new da­ta they've drawn from the reg­istry to un­der­score its po­ten­tial for a sub­set of African-Amer­i­can pa­tients primed to de­liv­er the best out­comes.
Com­par­ing African-Amer­i­cans and whites with sim­i­lar base­line char­ac­ter­is­tics, Den­dreon notes that they tracked an over­all sur­vival ben­e­fit of 9.3 months com­pared with Cau­casians (37.3 months vs 28.0 months, re­spec­tive­ly). And if you re­strict to pa­tients with PSA lev­els be­low me­di­an amounts, "African-Amer­i­can pa­tients demon­strat­ed an ad­di­tion­al OS ben­e­fit of near­ly two ad­di­tion­al years (20.9 months) com­pared with Cau­casian pa­tients (54.3 months vs. 33.4 months, re­spec­tive­ly)."
The da­ta were pre­sent­ed over the week­end at the 112th Amer­i­can Uro­log­i­cal As­so­ci­a­tion An­nu­al Meet­ing in Boston by lead au­thor A. Oliv­er Sar­tor.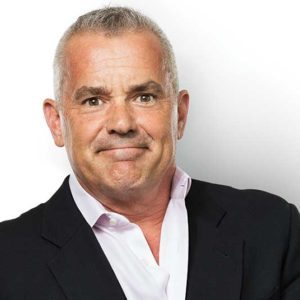 Jim Caggiano
Jim Caggiano, pres­i­dent of Den­dreon, says the da­ta un­der­score the val­ue of us­ing Provenge at an ear­ly stage of the dis­ease, par­tic­u­lar­ly among African-Amer­i­can men who suf­fer from a sig­nif­i­cant­ly high­er risk of death from prostate can­cer.
"Den­dreon is back and bet­ter than ever," Caggiano told me ahead of the da­ta re­view. "These find­ings are im­por­tant for all men."
These new da­ta mark a big step to­ward ex­pand­ing the mar­ket for Provenge, says Caggiano, who was orig­i­nal­ly hired in­to Den­dreon by for­mer CEO Mitch Gold back in 2004 as the head of its sales ef­fort.
Gold, now back at work as a biotech en­tre­pre­neur, al­so out­lined some huge sales fore­casts that caused quick and painful trou­ble for Den­dreon. With new, more eas­i­ly ad­min­is­tered drugs ri­val­ing Provenge, the au­tol­o­gous cell ther­a­py nev­er had a chance to com­pare well.
Caggiano, though, says that the drug is be­ing used by a grow­ing group of pa­tients. Last year about 4,000 men were treat­ed with Provenge, he says, up from about 3,500. And San­pow­er's will­ing­ness to pay more than twice what Valeant need­ed to pluck it out of bank­rupt­cy un­der­scores the grow­ing at­trac­tion.
San­pow­er should com­plete the buy­out soon, says Caggiano, and that will set the stage for new stud­ies to test Provenge with surgery and ra­di­a­tion, look­ing for ev­i­dence that an ag­gres­sive com­bi­na­tion can be cu­ra­tive.
Provenge is a long way from dy­ing out, says the Den­dreon pres­i­dent with all the en­thu­si­asm of a head cheer­leader. And he in­tends to try. But not every­one at the meet­ing was im­pressed.
This one? pic.twit­ter.com/RsS0flWGE1

— Ben Davies MD (UroLud­dite) (@davies­bj) May 15, 2017