Cap­ping AAV dose? Tweak­ing gene ther­a­py tri­als? New an­i­mal mod­els? FDA pos­es far-reach­ing ques­tions for ex­perts
Is it time to set a lim­it for how high a dose gene ther­a­py de­vel­op­ers and in­ves­ti­ga­tors are al­lowed to give pa­tients in each tri­al?
That's one of the ques­tions the FDA is pos­ing to its Cel­lu­lar, Tis­sue, and Gene Ther­a­pies Ad­vi­so­ry Com­mit­tee as ex­perts pre­pare for a two-day meet­ing next week. De­pend­ing on how the dis­cus­sion goes — and what the agency makes of it — the re­sults could com­plete­ly re­de­fine the rules for a ma­jor sec­tion of the boom­ing gene ther­a­py field: treat­ments that are de­liv­ered by ade­no-as­so­ci­at­ed virus vec­tors.
Com­ing in the shad­ow of pre­clin­i­cal red flags, safe­ty alerts, clin­i­cal holds and pa­tient deaths, the meet­ing is de­signed to go through any and all tox­i­c­i­ty risks re­lat­ed to AAV. And the FDA wants to get in­put on how it should deal with each of those is­sues, with reg­u­la­to­ry im­pli­ca­tions on every­thing from mouse stud­ies to clin­i­cal tri­als to man­u­fac­tur­ing stan­dards.
So high are the stakes that BIO, the biotech trade group, is ask­ing for more time to put to­geth­er a full re­sponse to the meet­ing, which is sched­uled for Sept. 2-3.
"The top­ics iden­ti­fied in the Fed­er­al Reg­is­ter No­tice are key top­ics of in­ter­est to Spon­sors," reads a re­quest post­ed on­line. "Giv­en the im­por­tance of these top­ics, BIO re­spect­ful­ly re­quests a 60-day ex­ten­sion to the dock­et to al­low com­ment­ing af­ter con­clu­sion of the meet­ing. Ex­tend­ing the dead­line for com­ments to 60 days post-meet­ing will al­low stake­hold­ers to see the meet­ing ma­te­ri­als, hear the dis­cus­sion, and pro­vide sub­stan­tive com­ments to FDA for con­sid­er­a­tion."
In a brief­ing doc­u­ment re­leased ahead of the meet­ing, the FDA kicks off by not­ing just how big the space has grown: Be­tween 2015 and 2020, CBER re­ceived 99 IND ap­pli­ca­tions for AAV-based gene ther­a­py can­di­dates, and of­fered ad­vice to an even larg­er group of drug­mak­ers in­ter­est­ed in start­ing a hu­man study.
Yet as the num­ber of tri­als bal­looned, so did re­ports of se­ri­ous side ef­fects. It quot­ed a re­cent analy­sis point­ing out that 35% of 149 AAV gene ther­a­py tri­als had treat­ment-emer­gent se­ri­ous ad­verse events, or TESAEs.
"These TESAEs in­clude he­pa­to­tox­i­c­i­ties, throm­bot­ic mi­croan­giopathies (TMA), and brain mag­net­ic res­o­nance imag­ing (MRI) find­ings of un­cer­tain sig­nif­i­cance with some TESAEs re­sult­ing in the death of study sub­jects," reg­u­la­tors wrote. "Oth­er tox­i­c­i­ties have large­ly been re­port­ed with AAV vec­tor ad­min­is­tra­tion in an­i­mal stud­ies. These in­clude dor­sal root gan­glion (DRG) and pe­riph­er­al nerve tox­i­c­i­ties, which have pri­mar­i­ly been char­ac­ter­ized in non­hu­man pri­mates (NHP)."
Over five sec­tions of the doc­u­ment, the FDA ex­plored each of the safe­ty con­cerns in greater de­tail and posed a set of draft ques­tions to ad­dress them: Should an­i­mal stud­ies be con­duct­ed dif­fer­ent­ly, us­ing dif­fer­ent species, ages and mod­els? Fol­lowed up for longer? How can pa­tients be screened so that clin­i­cians know their risk for de­vel­op­ing, say, liv­er in­jury or neur­al dam­age? What kind of strate­gies can be de­ployed to mit­i­gate those risks? Would giv­ing oth­er drugs help?
Then there's the ex­is­ten­tial ques­tion:
Con­sid­er­ing the risk of tox­i­c­i­ties ob­served in clin­i­cal tri­als with high dos­es of AAV vec­tors,

a. please dis­cuss whether an up­per lim­it should be set for the to­tal vec­tor genome dose per sub­ject.

b. giv­en that many AAV prod­ucts con­tain sig­nif­i­cant amounts of emp­ty cap­sids, please dis­cuss whether an up­per lim­it should be set on the to­tal cap­sid dose.
None of the con­cerns are new, to be sure. As ear­ly as 2018, gene ther­a­py pi­o­neer Jim Wil­son had sound­ed the alarm on high-dose AAV af­ter ob­serv­ing tox­ic re­ac­tions in mon­keys — in one of the many stud­ies quot­ed by the FDA. The field is still go­ing through a reck­on­ing in the af­ter­math of three pa­tient deaths in a tri­al by Au­dentes, and safe­ty is a con­stant talk­ing point for a grow­ing crew of next-gen­er­a­tion star­tups promis­ing to en­gi­neer their way out of the vec­tor prob­lems, as oth­ers pro­pose some­what more im­me­di­ate so­lu­tions.
While ac­knowl­edg­ing those ad­vances in en­gi­neer­ing, though, the FDA is clear­ly won­der­ing if there is some­thing in­trin­si­cal­ly dan­ger­ous with AAV vec­tors.
Mem­bers of the ad­vi­so­ry com­mit­tee have like­ly run in­to these is­sues one way or an­oth­er. Three of them — Roland Her­zog at In­di­ana Uni­ver­si­ty, Ken­neth Berns at the Uni­ver­si­ty of Flori­da and Charles Vite at the Uni­ver­si­ty of Penn­syl­va­nia — have de­clared con­flicts of in­ter­est, ei­ther due to grants or stock hold­ings in af­fect­ed com­pa­nies. All were grant­ed waivers to par­tic­i­pate in the pan­el.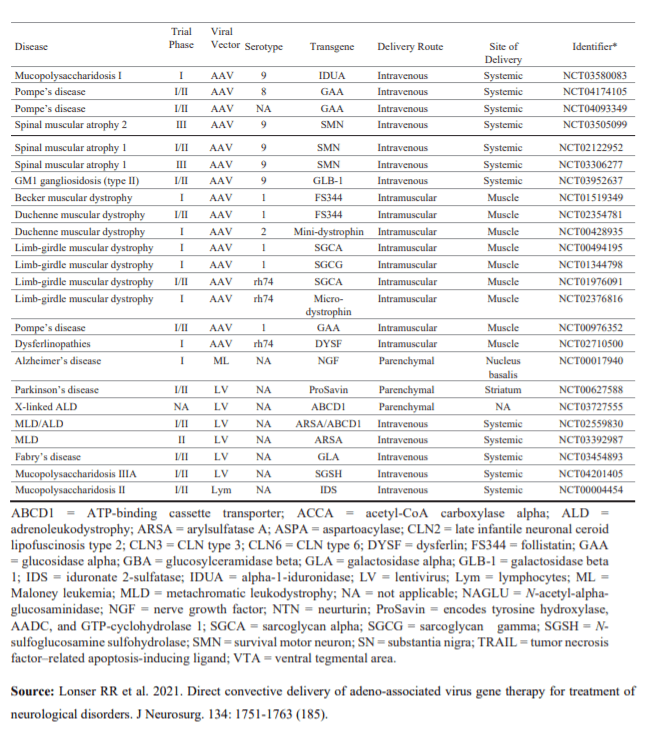 So­cial: AAV by Katery­na Kon/Shut­ter­stock