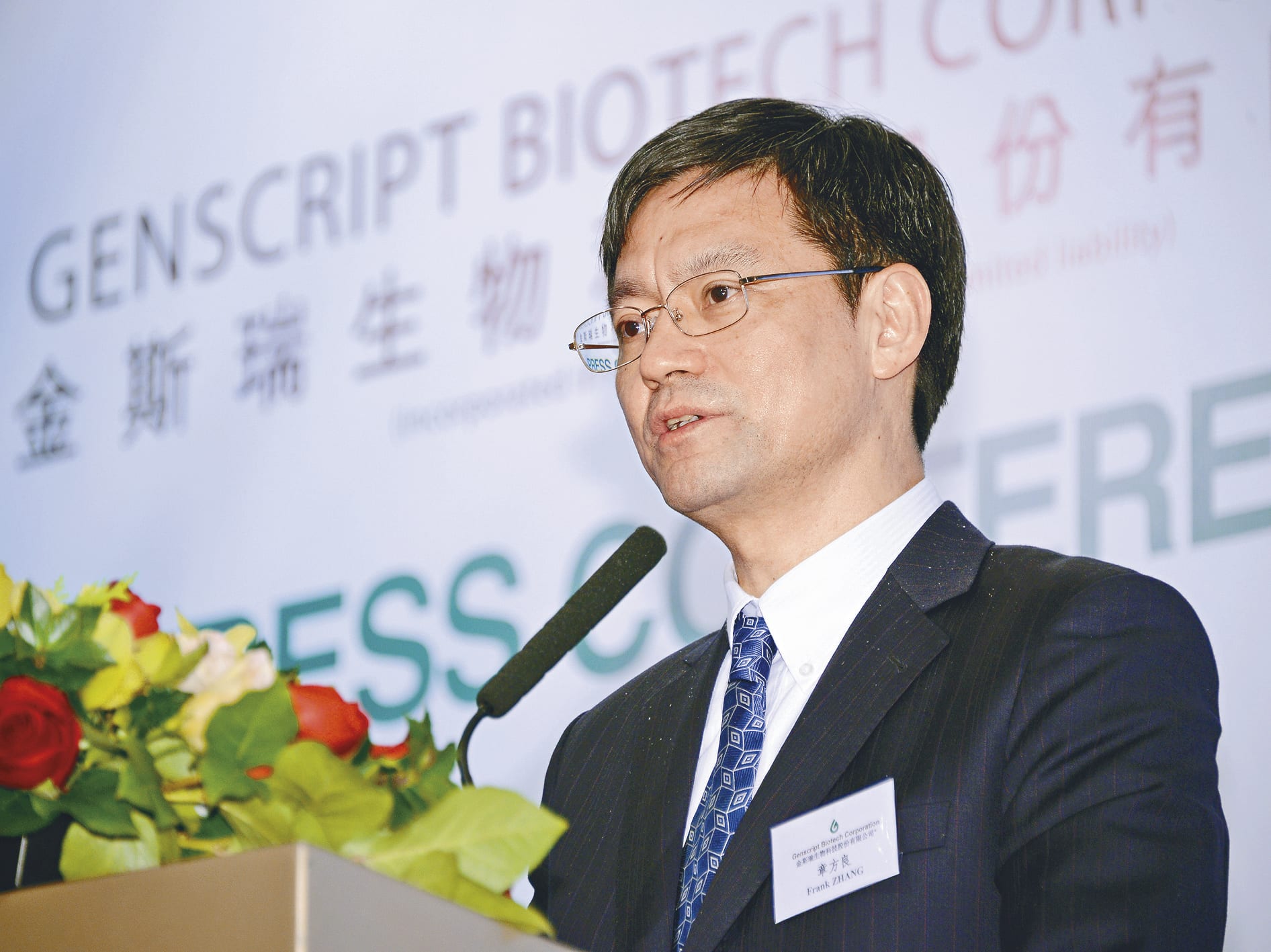 CAR-T fil­ing in sight, Frank Zhang grabs full con­trol of J&J-part­nered Leg­end Biotech, steps down from Gen­Script
Two months af­ter Yuan Xu steered Leg­end Biotech to a $424 mil­lion pub­lic de­but on the Nas­daq, founder and chair­man Frank Zhang is grab­bing the reins as CEO.
In con­junc­tion with the move, Zhang is al­so step­ping down from the helm of Gen­Script — a po­si­tion he's held for 18 years. Gen­Script, a Hong Kong-list­ed CRO, hatched Leg­end as a sub­sidiary in 2015 be­fore spin­ning it out, and re­mains a ma­jor­i­ty share­hold­er.
"This shows how much com­mit­ment I have for Leg­end," he said in a con­fer­ence call. "Over the past years, Leg­end has al­ways been un­der my watch. And I'm very in­ter­est­ed in see­ing how it will grow in the next few years."
Now is the nat­ur­al time for a tran­si­tion as Leg­end and its part­ners at J&J gear up to ini­ti­ate a BLA fil­ing of their BC­MA-tar­get­ed CAR-T ther­a­py by the end of the year, with an EMA fil­ing to fol­low in ear­ly 2021.
"I can as­sure you that this CEO tran­si­tion has noth­ing to do with any change in the planned ac­tiv­i­ties for the JNJ-4528 pro­gram, in­clud­ing clin­i­cal de­vel­op­ment and al­so reg­u­la­to­ry plans," CFO Ying Huang said in the call.
Hav­ing built up a re­sume fea­tur­ing a who's who in Big Phar­ma — span­ning Genen­tech, Glax­o­SmithK­line, No­var­tis, Am­gen, Gilead and Mer­ck — Xu took the helm in 2018 and has been run­ning Leg­end out of New York. She stepped down for "per­son­al rea­sons," ac­cord­ing to a press re­lease.
Zhang promised that the dai­ly op­er­a­tions and re­la­tion­ship with J&J should re­main in­tact.
Jef­feries an­a­lyst Biren Amin was con­vinced. While the EMA time­line marks a slight de­lay from the orig­i­nal plan, he's not both­ered ei­ther.
"We think Leg­end pur­pose­ly takes ex­tra time to pre­pare a strong CMC pack­age, to stay on the safe side," he said.
The com­pa­ny might have tak­en a page from ri­vals' re­cent trou­bles, he added:
Re­call that BMS and BLUE re­ceived Re­fusal-To-File (RTF) let­ter by FDA for the BLA sub­mis­sion of ide-cel/bb2121 in Mar '20 and re­sub­mit­ted at the end of Ju­ly, which caused a 4-mos de­lay in reg­u­la­to­ry path. FDA re­quired a sup­ple­men­tal doc­u­men­ta­tion of CMC to pro­vide de­tails on val­i­da­tion con­trol process, and we think Leg­end takes ac­tions to min­i­mize any po­ten­tial reg­u­la­to­ry risks.