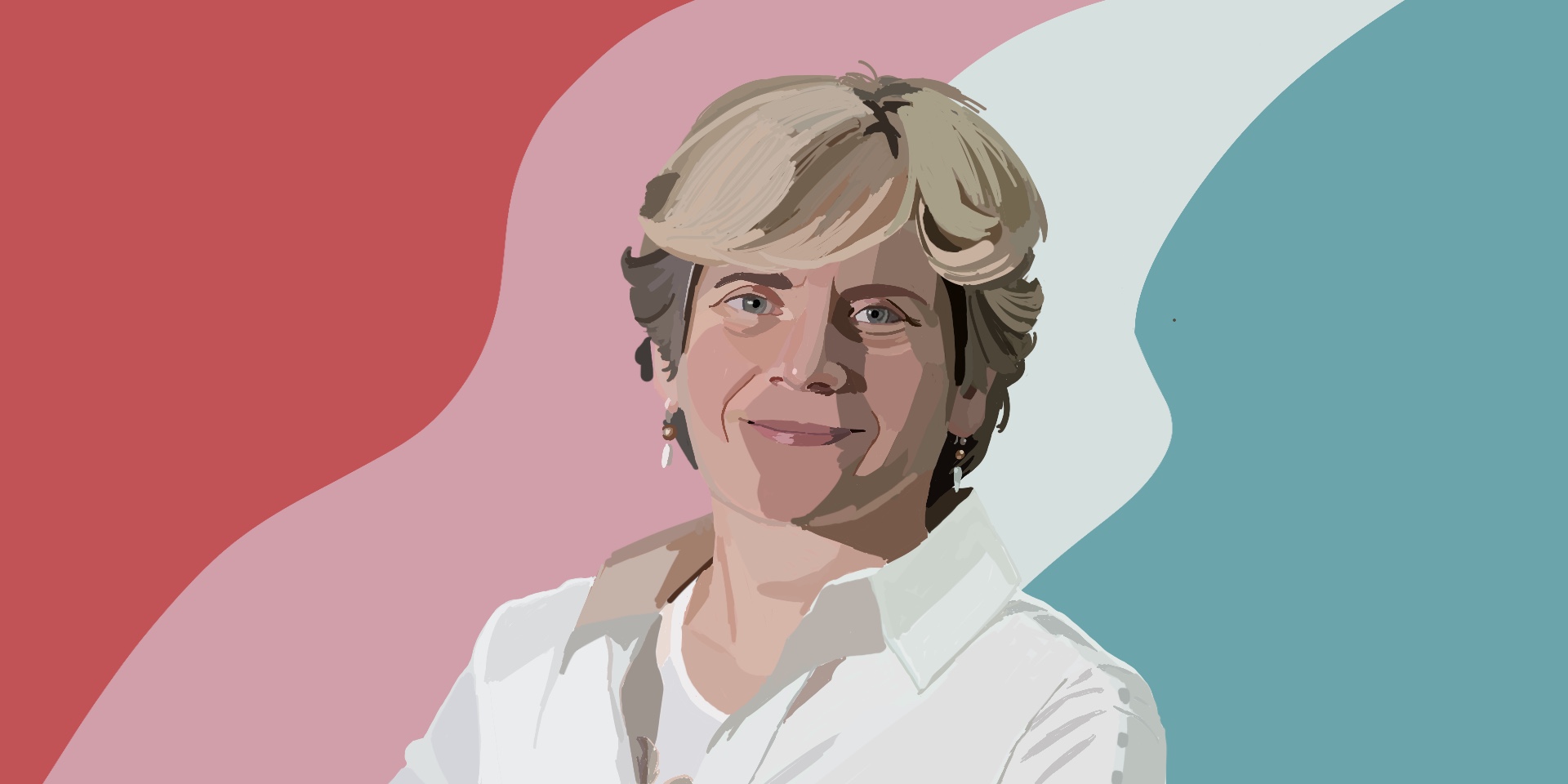 Car­olyn Bertozzi (Illustration: Assistant editor Kathy Wong for Endpoints News)
Car­olyn Bertozzi, re­peat biotech founder and launch­er of a field, shares in chem­istry No­bel win
Car­olyn Bertozzi, pre­dict­ed by some to be­come a No­bel lau­re­ate, clinched one of the world's top awards in the wee hours of Wednes­day, win­ning the No­bel Prize in Chem­istry along­side a re­peat win­ner and a Copen­hagen re­searcher.
The Stan­ford pro­fes­sor, Morten Mel­dal of Uni­ver­si­ty of Copen­hagen and 2001 awardee K. Bar­ry Sharp­less of Scripps shared the prize equal­ly. The No­bel is some­times split in quar­ters and/or halves.
"I am ab­solute­ly stunned. I am sit­ting here and can hard­ly breathe," Bertozzi said to the com­mit­tee in the mid­dle of the night Cal­i­for­nia time. "I'm still not en­tire­ly pos­i­tive that it's re­al, but it's get­ting re­al by the minute."
The in-the-mo­ment re­ac­tion was re­flect­ed sim­i­lar­ly in her in­ter­nal com­mu­ni­ca­tion with her lab group. The sub­ject line: "I can't be­lieve it's re­al." The body of the note: "Ap­par­ent­ly it is!"
Sharp­less and Mel­dal won for their con­tri­bu­tions to so-called click chem­istry. Bertozzi el­e­vat­ed the find­ings by find­ing click re­ac­tions that weren't tox­ic to cells and made "chem­i­cal re­ac­tions that don't in­ter­fere with the nor­mal bio­chem­istry of life. This now al­lows us to at­tach all kinds of mol­e­cules to bi­o­log­i­cal ones," the Roy­al Swedish Acad­e­my of Sci­ences said in its an­nounce­ment.
Bertozzi, the new­ly-mint­ed No­bel lau­re­ate, spear­head­ed the field of bioorthog­o­nal chem­istry to help map cells. She joins just sev­en oth­er women grant­ed the award — out of 191 lau­re­ates — in­clud­ing CRISPR pi­o­neers Jen­nifer Doud­na and Em­manuelle Char­p­en­tier for their ground­break­ing Cas9 gene edit­ing work that has el­e­vat­ed both to new heights and made Doud­na a house­hold name in some cir­cles.
Sharp­less joins a lim­it­ed club of re­peat win­ners: John Bardeen ('56, '72), Marie Curie ('03, '11), Li­nus Paul­ing ('54, '62) and Fred­er­ick Sanger ('58, '80). The No­bel com­mit­tee deemed Sharp­less the orig­i­na­tor of the "click chem­istry" con­cept, which they de­scribed as "sim­ple and re­li­able chem­istry" that al­low re­ac­tions to hap­pen fast and avoid un­de­sired byprod­ucts.
He and Mel­dal in­de­pen­dent­ly put to­geth­er the "crown jew­el" of click: the cop­per cat­alyzed azide-alkyne cy­cload­di­tion. The chem­i­cal re­ac­tion plays out in the de­vel­op­ment of drugs, map­ping DNA and cre­at­ing new ma­te­ri­als, the No­bel com­mit­tee wrote.
The No­bel Com­mit­tee for Chem­istry an­nounces the win­ners: Car­olyn Bertozzi, Morten Mel­dal and K. Bar­ry Sharp­less (Jonathan Nack­strand/AFP via Get­ty Im­ages)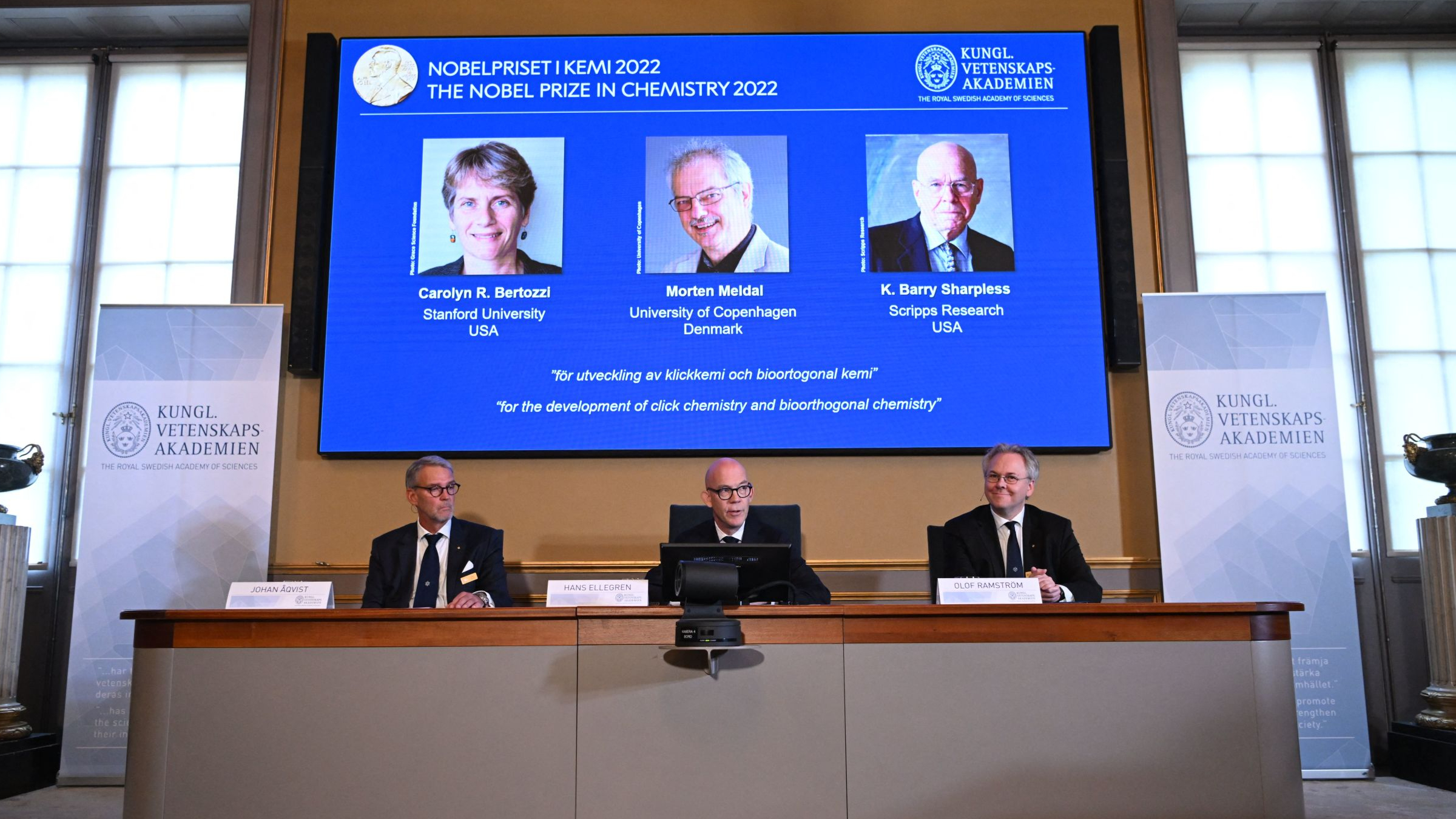 Click on the im­age to see the full-sized ver­sion
In comes Bertozzi, who es­ca­lat­ed the work of Mel­dal and Sharp­less by map­ping gly­cans, bio­mol­e­cules on the sur­face of cells. Her de­vel­op­ments, in­clud­ing a met­al-free click re­ac­tion, work in­side hu­mans. The re­search is at the heart of new treat­ments be­ing test­ed in clin­i­cal tri­als to­day.
In sum­ma­ry, the trio's find­ings have "tak­en chem­istry in­to the era of func­tion­al­ism." On the press and com­mit­tee call right af­ter the an­nounce­ment, Bertozzi said bioorthog­o­nal and click chem­istry are "still in its ear­ly phas­es" and that the im­pacts will be seen in biotech and phar­ma for years to come.
Bertozzi's work has led to the foun­da­tion of nine biotechs (a fig­ure she tal­lied up pri­or to an in­ter­view with End­points News in May), in­clud­ing Palleon Phar­ma­ceu­ti­cals, In­ter­Venn, Ly­cia Ther­a­peu­tics and oth­ers. The lat­ter came to­geth­er out of a 24-hour hum­drum of ven­ture cap­i­tal in­ter­est af­ter she tweet­ed out a preprint her group had post­ed on Chem­Rx­iv that de­scribed LY­TACs, she pre­vi­ous­ly re­called to End­points.
Asked by re­porters what ap­pli­ca­tions of her she thinks are mak­ing a lot of im­pact, she said in med­i­cine, the main one is the de­liv­ery of ther­a­peu­tics "to make sure that drugs go to the right place and stay away from the wrong place."
Bertozzi di­rects Stan­ford's Sarafan ChEM-H, short for Chem­istry, En­gi­neer­ing, and Med­i­cine for Hu­man Health. She in­flu­ences the next gen­er­a­tion as a teacher but al­so as a par­ent who helps with her chil­dren's sci­ence fair projects. Mu­si­cal in­ter­ests pop­u­late her free time as she en­joys play­ing pop, rock n' roll and jazz songs on the pi­ano, and oc­ca­sion­al­ly "keep[s] up with karaoke nights at some of the clubs in San Fran­cis­co." She's al­so a self-pro­claimed "fit­ness buff."
The Howard Hugh­es Med­ical In­sti­tute in­ves­ti­ga­tor has al­so co-found­ed Grace Sci­ence, a biotech that is at­tempt­ing to trans­late re­search out of the Grace Sci­ence Foun­da­tion to cre­ate treat­ments for NG­LY1 de­fi­cien­cy and oth­er in­di­ca­tions. Bertozzi has served on the Eli Lil­ly board of di­rec­tors and re­search ad­vi­so­ry board at GSK.