CBO: Con­gres­sion­al ac­tion on drug prices will make R&D spend­ing less at­trac­tive
The greed of phar­ma­ceu­ti­cal com­pa­nies has long been one of the rea­sons Con­gress has sought to reign in the in­dus­try's high price tags for new drugs.
But a new re­port from the non­par­ti­san Con­gres­sion­al Bud­get Of­fice on Thurs­day pours cold wa­ter on the idea that large phar­ma com­pa­nies are pump­ing all their prof­its in­to share buy­backs, mar­ket­ing, and CEO salaries. In fact, the CBO notes that phar­ma spend­ing on drug R&D ramped up by near­ly 50% be­tween 2015 and 2019, and now out­paces what oth­er sim­i­lar in­dus­tries, like soft­ware and semi­con­duc­tor com­pa­nies, spend on R&D.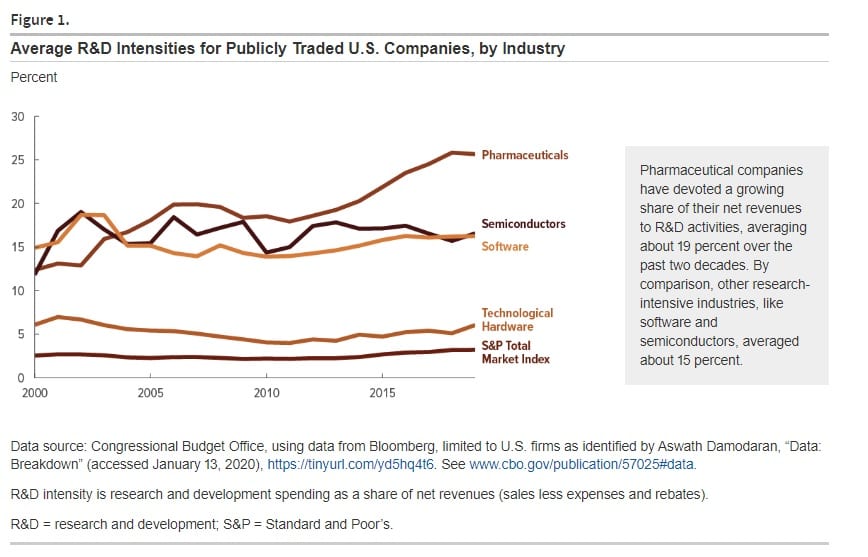 Small­er com­pa­nies are al­so shoul­der­ing some of that in­crease in R&D spend­ing in re­cent years. Com­pa­nies with an­nu­al rev­enues of less than $500 mil­lion now ac­count for more than 70% of the near­ly 3,000 drugs in Phase III clin­i­cal tri­als, the CBO says.
"The share of R&D fund­ed di­rect­ly by rev­enues has de­clined in re­cent years be­cause an in­creas­ing amount of R&D is now con­duct­ed by re­search-ori­ent­ed drug com­pa­nies with few or no prod­ucts on the mar­ket," the re­port notes. "Over the past decade, small or emerg­ing drug com­pa­nies have de­vel­oped a ris­ing share of new drugs. Those com­pa­nies have rel­a­tive­ly lit­tle rev­enue (some have none at all), and most of them must seek out­side fi­nanc­ing, such as ven­ture cap­i­tal, and col­lab­o­ra­tive agree­ments with larg­er drug com­pa­nies."
And that spike in R&D spend­ing has paid off, at least in terms of the num­bers of new drugs ap­proved in re­cent years, al­though the in­creased num­bers do not ex­plain if the drugs were in­no­v­a­tive or just in­cre­men­tal im­prove­ments.
"Be­tween 2010 and 2019, 38 new drugs were ap­proved each year, on av­er­age. That is about a 60 per­cent in­crease com­pared with the pre­vi­ous decade," CBO re­ports.
Over­all, the re­port rais­es ques­tions on what cer­tain types of con­gres­sion­al ac­tion on drug prices might do for the con­tin­ued growth of bio­phar­ma R&D.
"If ex­pect­ed prof­itabil­i­ty of new drugs de­clined — be­cause of a change in fed­er­al pol­i­cy, a shift in de­mand or sup­ply, a re­vi­sion in the bal­ance of pow­er be­tween drug com­pa­nies and drug buy­ers, or for any oth­er rea­son — the ex­pect­ed re­turns on drug R&D would de­cline as well. Low­er ex­pect­ed re­turns would prob­a­bly mean few­er new drugs, be­cause there would be less in­cen­tive for com­pa­nies to spend on R&D," the re­port says.
CBO pre­vi­ous­ly es­ti­mat­ed that un­der HR 3, a De­mo­c­rat-backed bill that passed in the House in late 2019 and would al­low drug price ne­go­ti­a­tions, ap­prox­i­mate­ly 8 few­er drugs would be in­tro­duced to the US mar­ket over the 2020-2029 pe­ri­od and about 30 few­er drugs over the sub­se­quent 10 years. But the CBO al­so ac­knowl­edged that those pro­jec­tions "were in the mid­dle of the dis­tri­b­u­tion of pos­si­ble out­comes."