CBO projects Sen­ate drug pric­ing bill would cut the de­vel­op­ment of 10 drugs over 30 years
The Con­gres­sion­al Bud­get Of­fice on Fri­day said that Sen­ate De­moc­rats' pro­pos­al to al­low Medicare to ne­go­ti­ate cer­tain drug prices could low­er the fed­er­al deficit by about $288 bil­lion through 2031, and re­duce drug­mak­ers' 1,300 to­tal drug ap­provals by about 10 drugs over the next three decades.
That trade-off, part of a larg­er Sen­ate rec­on­cil­i­a­tion pack­age on­ly need­ing a sim­ple ma­jor­i­ty of votes to pass, finds a mid­dle ground among the oth­er re­cent Con­gres­sion­al at­tempts to stem ris­ing drug prices.
CBO said Fri­day that the chill­ing ef­fect on the num­ber of drugs in­tro­duced to the US mar­ket would be about one drug over the first 10-year pe­ri­od, or 2023-2032, and about nine oth­ers over the next two decades. With ex­pec­ta­tions for about 1,300 drug ap­provals over the next 30 years, the CBO's es­ti­mate means the num­ber of drugs lost due to this leg­is­la­tion amounts to less than 1% of es­ti­mat­ed ap­provals.
For House Speak­er Nan­cy Pelosi's drug price ne­go­ti­a­tion bill, known as HR 3 and which sought deep­er pric­ing cuts, CBO pre­dict­ed at the time that it would re­sult in 59 few­er new drugs over three decades.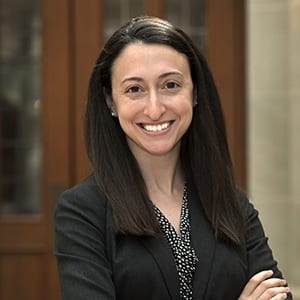 Rachel Sachs
"The rea­son the num­ber is small­er is that the pack­age has changed over time," Rachel Sachs, a law pro­fes­sor at Wash­ing­ton Uni­ver­si­ty in St. Louis told End­points News. "The ne­go­ti­a­tion pro­vi­sions now not on­ly ap­ply to few­er drugs, but they are for­mal­ly lim­it­ed in that they on­ly be­gin af­ter a drug has been on the mar­ket for a cer­tain amount of time. So com­pa­nies have a pe­ri­od of time dur­ing which ne­go­ti­a­tion is not present. CBO like­ly con­sid­ered that, as well."
But one thing the CBO doesn't con­sid­er is what types of drugs might be af­fect­ed. As with oth­er drug pric­ing CBO scores, the bud­get of­fice made clear again that it "did not pre­dict what kind of drugs would be af­fect­ed or an­a­lyze the ef­fects of for­gone in­no­va­tion on pub­lic health."
The of­fice re­cent­ly pub­lished a look at the up­dat­ed ver­sion of its mod­el used to in­form es­ti­mates of the ef­fects of HR 3 on the num­ber and tim­ing of new drugs en­ter­ing the US mar­ket.
In a Jan­u­ary slide deck on its new mod­el, CBO added, "A price ne­go­ti­a­tion pol­i­cy would have lit­tle ef­fect for the first ten years, but in the long run, such a pol­i­cy would de­crease the num­ber of new drugs en­ter­ing the mar­ket by 10%."
While PhRMA and oth­er in­dus­try groups have lament­ed this po­ten­tial for ma­jor loss­es to in­no­v­a­tive med­i­cine due to drug pric­ing pro­vi­sions, some of these es­ti­mat­ed pipeline cuts may come from me-too drugs, oth­er lat­er en­trants, or even copy­cat drugs.
The gener­ic drug in­dus­try group, the As­so­ci­a­tion for Ac­ces­si­ble Med­i­cines, and its Biosim­i­lars Coun­cil on Mon­day came out in op­po­si­tion to the new Sen­ate pric­ing re­forms, say­ing they will ma­jor­ly in­crease risks for gener­ic and biosim­i­lar man­u­fac­tur­ers as the com­pa­nies will have "no way to know whether a brand-name drug will be se­lect­ed for ne­go­ti­a­tion or what the ne­go­ti­at­ed price may be" un­til well af­ter a copy­cat's de­vel­op­ment would need to al­ready be­gin.
The CBO es­ti­mate on gov­ern­ment sav­ings al­so doesn't match Pelosi's for­mer drug price ne­go­ti­a­tions bill, which the CBO scored in Au­gust 2021 as sav­ing $456 bil­lion over 10 years, al­though it's con­sid­er­ably more than the Sen­ate Dems' last at­tempt at Medicare ne­go­ti­a­tions via the Build Back Bet­ter Act that Sen. Joe Manchin (D-WV) squashed, and which the CBO said would save about $76 bil­lion over 10 years.
Sen­ate Dems last week un­veiled the new leg­isla­tive lan­guage around Medicare drug price ne­go­ti­a­tions, which be­gin­ning in 2026 would al­low for the ne­go­ti­a­tion of 10 el­i­gi­ble drug prices, and build up to 20 drugs by 2029.
For com­pa­nies that don't com­ply, CMS can as­sess penal­ties of up to $1 mil­lion per day, ac­cord­ing to the bill text. And any man­u­fac­tur­er that "know­ing­ly pro­vides" false in­for­ma­tion al­so can be sub­ject to fines of $100 mil­lion per in­frac­tion.
The Sen­ate pro­pos­al, which mir­rors the pre­vi­ous ef­forts in the Build Back Bet­ter Act, would al­so cap se­niors' drug costs un­der Medicare at $2,000 an­nu­al­ly, but it no­tice­ably does not in­clude a $35 month­ly cap on in­sulin costs for those with in­sur­ance, which Sen. Chuck Schumer (D-NY) has twice pledged to vote sep­a­rate­ly on.