Cel­gene pays $50M to tie up with four big can­cer re­search cen­ters
The top re­search in­sti­tu­tions have played a lead­ing role in the de­vel­op­ment of a full slate of new can­cer ther­a­pies in re­cent years. And now Cel­gene has forked out $50 mil­lion to set up a con­sor­tium that will bring to­geth­er some of those in­sti­tu­tions' top in­ves­ti­ga­tors to­geth­er for the Big Biotech's work in the field.
Cel­gene hand­ed out $12.5 mil­lion each to the Abram­son Can­cer Cen­ter at the Uni­ver­si­ty of Penn­syl­va­nia, The Her­bert Irv­ing Com­pre­hen­sive Can­cer Cen­ter at Co­lum­bia Uni­ver­si­ty Med­ical Cen­ter, the Sid­ney Kim­mel Com­pre­hen­sive Can­cer Cen­ter at Johns Hop­kins, and The Tisch Can­cer In­sti­tute at the Ic­ahn School of Med­i­cine at Mount Sinai to cre­ate the group.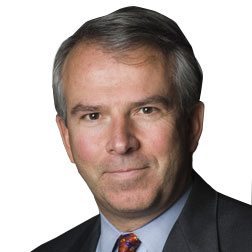 Ex­ec­u­tive Chair­man Bob Hug­in
Now their sci­en­tists — col­lec­tive­ly the in­sti­tu­tions em­ploy about 800 fac­ul­ty — will be tasked with com­ing up with new drug pro­grams for Cel­gene, which will have an opt-in po­si­tion on what­ev­er comes its way.
Cel­gene Ex­ec­u­tive Chair­man Bob Hug­in, who has seed­ed one of the busiest busi­ness de­vel­op­ment teams in bio­phar­ma, called it a "par­a­digm shift­ing" en­ter­prise.
The goal here will be to li­cense in the best pro­grams for de­vel­op­ment, says Cel­gene, with pacts that could each be worth po­ten­tial­ly hun­dreds of mil­lions of dol­lars. Each of the four in­sti­tu­tions are NCI-des­ig­nat­ed can­cer cen­ters.