Cel­gene's AML drug clears late-stage test
Cel­gene is gear­ing up for reg­u­la­to­ry sub­mis­sions af­ter a piv­otal acute myeloid leukemia (AML) study showed its drug helped pa­tients live longer.
The drug­mak­er — which is in the process of be­ing swal­lowed by Bris­tol-My­ers Squibb $BMY — test­ed its ex­per­i­men­tal drug, CC-486, in new­ly-di­ag­nosed pa­tients with AML who ful­ly or par­tial­ly ben­e­fit­ed from chemother­a­py.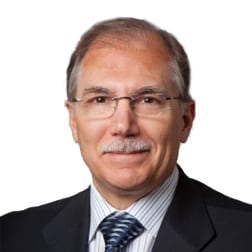 Jay Back­strom
In the 472-pa­tient QUAZAR AML-001 tri­al, pa­tients on sup­port­ive care were ei­ther giv­en CC-486 or a place­bo once dai­ly for two weeks. Main­te­nance treat­ment with CC-486 con­ferred a sta­tis­ti­cal­ly sig­nif­i­cant im­prove­ment in over­all sur­vival — meet­ing the main goal — as well as the end­point of re­lapse-free sur­vival, Cel­gene $CELG said on Fri­day.
"AML re­mains a dead­ly blood can­cer where most pa­tients are not cur­able and less than 30% of pa­tients sur­vive five years," Cel­gene's chief med­ical of­fi­cer Jay Back­strom said in a state­ment. "The CC-486 QUAZAR AML-001 study is the first phase 3 tri­al to demon­strate that the ad­di­tion of main­te­nance ther­a­py has the po­ten­tial to ex­tend over­all sur­vival in a broad pop­u­la­tion of pa­tients with new­ly di­ag­nosed AML who have achieved re­mis­sion with in­duc­tion chemother­a­py."
De­tailed da­ta on CC-486 — which is al­so be­ing test­ed in oth­er forms of can­cer — are ex­pect­ed at a fu­ture med­ical con­fer­ence, and the com­pa­ny is plan­ning reg­u­la­to­ry sub­mis­sions next year.
AML is a form of can­cer in which the bone mar­row pro­duces ab­nor­mal myeloblasts (a type of white blood cell), red blood cells, or platelets. About 21,450 cas­es of AML will be di­ag­nosed in 2019, and 10,920 will suc­cumb to the dis­ease, es­ti­mates the Amer­i­can Can­cer So­ci­ety.
Last No­vem­ber, Japan's Astel­las se­cured FDA ap­proval for its AML drug, gilter­i­tinib, for use in pa­tients that car­ry a mu­ta­tion that ac­counts for about a third of all AML cas­es. In Ju­ly 2018, Agios al­so scored FDA ap­proval for its tar­get­ed AML drug, Tib­so­vo, for pa­tients that car­ry a par­tic­u­lar mu­ta­tion.