Cel­gene's Revlim­id flops in Phase III lym­phoma study, shares slide
Shares of Cel­gene were dinged Mon­day evening af­ter the Big Biotech not­ed that its top fran­chise drug Revlim­id didn't make the cut as a main­te­nance ther­a­py for dif­fuse large B-cell lym­phoma (DL­B­CL).
While the drug hit the pri­ma­ry end­point for pro­gres­sion-free sur­vival com­pared to a place­bo in the Phase III RE­MARC study, in­ves­ti­ga­tors at the Lym­phoma Aca­d­e­m­ic Re­search Or­ga­ni­za­tion in France say it failed to make a sig­nif­i­cant dif­fer­ence in over­all sur­vival. As a re­sult, Cel­gene says it's drop­ping plans for a reg­u­la­to­ry fil­ing.
Cel­gene stock dropped 2.5% in af­ter mar­ket trad­ing. LYSARC did the study un­der a re­search con­tract for Cel­gene.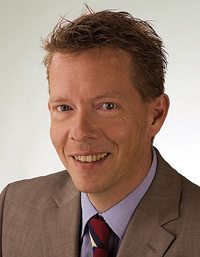 Michael Pehl, Cel­gene Pres­i­dent of Glob­al Hema­tol­ogy and On­col­o­gy
Cel­gene isn't done yet try­ing to ex­pand the mar­ket for its $6 bil­lion drug, though. The com­pa­ny says it's con­tin­u­ing Phase III stud­ies for non-Hodgkin lym­phomas. Revlim­id is used for mul­ti­ple myelo­ma. Said Michael Pehl, the pres­i­dent of hema­tol­ogy and on­col­o­gy at Cel­gene:
"We are con­tin­u­ing to part­ner with LYSA to com­plete the analy­ses of the RE­MARC study. We re­main com­mit­ted to fin­ish­ing the four on­go­ing phase III tri­als eval­u­at­ing Revlim­id and are con­fi­dent about its po­ten­tial as a treat­ment op­tion across dif­fer­ent set­tings in lym­phoma."