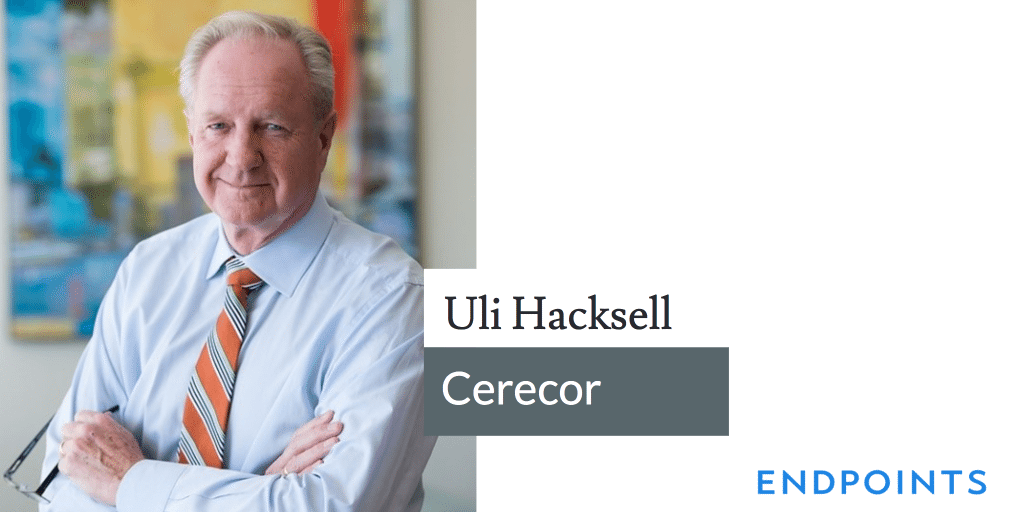 Cere­cor's $1M Lil­ly deal put it in the right place at the right time to­day
Call it col­lat­er­al — though per­haps tem­po­rary — good for­tune.
When Alk­er­mes $ALKS whis­tled up an in­stant spike for their share price on pos­i­tive Phase III da­ta for their de­pres­sion drug ALK-5461, shares of mi­cro­cap Cere­cor $CERC al­so ig­nit­ed. The stock had bounced up 56% in pre­mar­ket trad­ing be­cause it has a mid-stage drug, CERC-501, that has the same mech­a­nism as the Alk­er­mes can­di­date.
Just like '5461, CERC-501 is a kap­pa opi­oid re­cep­tor an­tag­o­nist. And while no two drugs are nec­es­sar­i­ly ex­act­ly alike, the re­sem­blance was good enough for in­vestors look­ing for oth­er bene­fac­tors of this da­ta.
Cere­cor's bounce is good for a mul­ti­mil­lion-dol­lar boost in its mar­ket cap, if it sticks (watch that num­ber, the boost was fad­ing fast in ear­ly trad­ing this morn­ing). That's many times the $1 mil­lion the Bal­ti­more-based biotech paid Eli Lil­ly up front to land rights to this drug back in Feb­ru­ary of 2015.
"We were hap­py with the deal terms," CEO Uli Hack­sell tells me this morn­ing. (And who could doubt that to­day?) Lil­ly was will­ing to prac­ti­cal­ly give this one away (my words) be­cause of the phar­ma gi­ant's in­ten­tion to pur­sue an­oth­er enor­mous Phase III pro­gram for its Alzheimer's drug solanezum­ab (his words). CERC-501 was ei­ther go­ing to be out-li­censed or shelved.
Iron­i­cal­ly, Cere­cor is not cur­rent­ly test­ing their drug for de­pres­sion. But it is en­gaged in a mid-stage pro­gram that ranges from smok­ing with­draw­al to anx­i­ety, co­caine ad­dic­tion and PTSD.
"Our in­ten­tion is to start a Phase II study next year in de­pres­sion for 501 as well," adds the CEO. Hack­sell, the for­mer CEO of Aca­dia, which fi­nal­ly capped a lengthy quest for an ap­proval of the an­tipsy­chot­ic Nu­plazid ear­li­er this year.
Now Hack­sell says he's bull­ish that his ri­val to '5461 can help re­place the an­tipsy­chotics that come in­to play when pa­tients with de­pres­sion fail the first rounds of sug­gest­ed treat­ments.
Time will tell. In the mean­time, Cere­cor is await­ing the full da­ta set from Alk­er­mes' third Phase III with plans to soak up as many lessons as pos­si­ble for its own de­vel­op­ment cam­paign.