Cerulean crash­es af­ter lead nano drug flubs its sec­ond PhII can­cer study
Cerulean Phar­ma's lead nan­otech can­cer drug has run in­to an­oth­er stone wall in the clin­ic. The Waltham, MA-based biotech $CERU says that CR­LX101 com­bined with Avastin flubbed a Phase II study, fail­ing to pro­vide ev­i­dence of an im­prove­ment in pro­gres­sion-free sur­vival when com­pared against stan­dard of care ther­a­pies for re­nal cell car­ci­no­ma.
Cerulean's shares were slammed on the news, plung­ing 62% and wip­ing out the li­on's share of its $75 mil­lion mar­ket cap.
The drug com­bo group ac­tu­al­ly per­formed worse than the con­trol arm, with in­ves­ti­ga­tors re­port­ing a 3.7 month me­di­an PFS for Cerulean's drug com­pared with 3.9 months for stan­dard of care. The ob­jec­tive re­sponse rate was even worse: 5% for the CR­LX101 com­bi­na­tion against 14% for stan­dard of care.
This wasn't the first fail­ure for Cerulean. The drug, which com­bines tiny amounts of the an­ti­cancer tox­in camp­tothecin with a poly­mer mol­e­cule in or­der to in­fil­trate leaky tu­mors, al­so failed a study for non-small cell lung can­cer in 2014 that raised se­ri­ous doubts about the tech­nol­o­gy.
The set­back marks the end of a the­o­ry that CR­LX101 could play a key role in can­cer cell sur­vival by in­hibit­ing hy­pox­ia-in­ducible fac­tor-1α (HIF-1α). The fo­cus now will shift en­tire­ly to in­hibit­ing topoi­so­merase 1 (topo 1), which is in­volved in cel­lu­lar repli­ca­tion. The biotech has sev­er­al oth­er on­go­ing stud­ies.
"We are con­vinced that CR­LX101 is an ac­tive drug," CMO Adri­an Senderow­icz told an­a­lysts in a call Wednes­day af­ter­noon, ze­ro­ing in on ear­ly clin­i­cal ev­i­dence of monother­a­py ac­tiv­i­ty for pan­creas and col­orec­tal can­ncer.
The stock crunch comes at a bad time. The biotech re­port­ed that it had $47 mil­lion in its cof­fers at the end of Q2, giv­ing it enough cash to make it through Q2 2017. CFO Gregg Beloff told an­a­lysts the com­pa­ny has op­tions to ex­tend the run­way in­to Q3 of next year, while ex­ecs look to some in­ter­im cat­a­lysts with on­go­ing pro­grams to fu­el a new fundrais­ing ef­fort. Cerulean took out a loan from Her­cules in ear­ly 2015, which won't ease any con­cerns among the an­a­lysts about its cash po­si­tion fol­low­ing a hard set­back like this.
The biotech en­list­ed MIT's pro­lif­ic nan­otech ex­pert Bob Langer for its sci­en­tif­ic ad­vi­so­ry board. The IPO boom of the past few years took a few nan­otech com­pa­nies like Cerulean on­to Nas­daq. But at least one – Bind Ther­a­peu­tics, a Langer lab spin­out – foundered and was re­cent­ly bought out of a bank­rupt­cy auc­tion by Pfiz­er.
Michael Schmidt at Leerink is tak­ing a more skep­ti­cal view of Cerulean's fu­ture now. His com­ment:
"CR­LX-101 is be­ing al­so stud­ied in plat­inum-re­sis­tant ovar­i­an can­cer; how­ev­er with mod­er­ate sin­gle agent ac­tiv­i­ty in this topo1-sen­si­tive can­cer, we think it's dif­fi­cult to in­ter­pret the ear­ly stage sin­gle-arm com­bi­na­tion da­ta. CR­LX-101 gen­er­at­ed 16% re­spons­es in 19 plat­inum re­sis­tant pa­tients sin­gle agent, 17% ORR in com­bi­na­tion w/ Avastin in 18 pts, and 5/9 (56%) in com­bi­na­tion with week­ly pa­cli­tax­el. Based on our pri­or MEDA­Corp KOL checks, we think more than 20-30% ORR would be re­quired to be con­sid­ered dif­fer­en­ti­at­ed in this in­di­ca­tion. Longer term we are more op­ti­mistic on the on­go­ing com­bi­na­tion study with Lyn­parza giv­en the stronger pre­clin­i­cal ra­tio­nale, but we think it's still too ear­ly to as­sign val­ue to this opp'ty."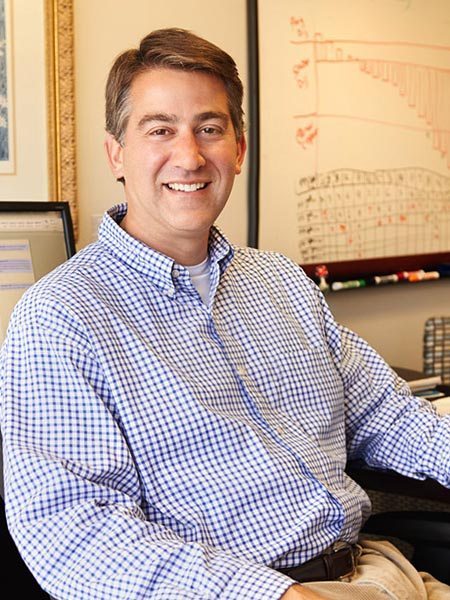 Christo­pher D. T. Guiffre, Cerulean Pres­i­dent & CEO
"We are dis­ap­point­ed with this out­come and will un­der­take a thor­ough analy­sis of the da­ta to un­der­stand why CR­LX101 plus Avastin un­der­per­formed com­pared to the re­sults we saw in an ear­li­er in­ves­ti­ga­tor-spon­sored tri­al," said Christo­pher D. T. Guiffre, Pres­i­dent and Chief Ex­ec­u­tive Of­fi­cer of Cerulean, in a state­ment. "This out­come did not sup­port our hy­poth­e­sis that tar­get­ing hy­pox­ia in­ducible fac­tor (HIF) in com­bi­na­tion with VEGF in­hibitor in RCC, a HIF-over­ex­press­ing tu­mor type, would be ben­e­fi­cial, so we will not pur­sue HIF as a tar­get go­ing for­ward. We will con­tin­ue to fo­cus on the po­tent topoi­so­merase 1 in­hi­bi­tion of CR­LX101's pay­load, camp­tothecin, in topoi­so­merase 1-sen­si­tive tu­mors. Our com­bi­na­tions with week­ly pa­cli­tax­el and LYN­PARZA (ola­parib) are ex­am­ples of on­go­ing tri­als that lever­age CR­LX101's topoi­so­merase 1 in­hi­bi­tion in com­bi­na­tion with chemother­a­pies and DNA dam­age re­pair agents."