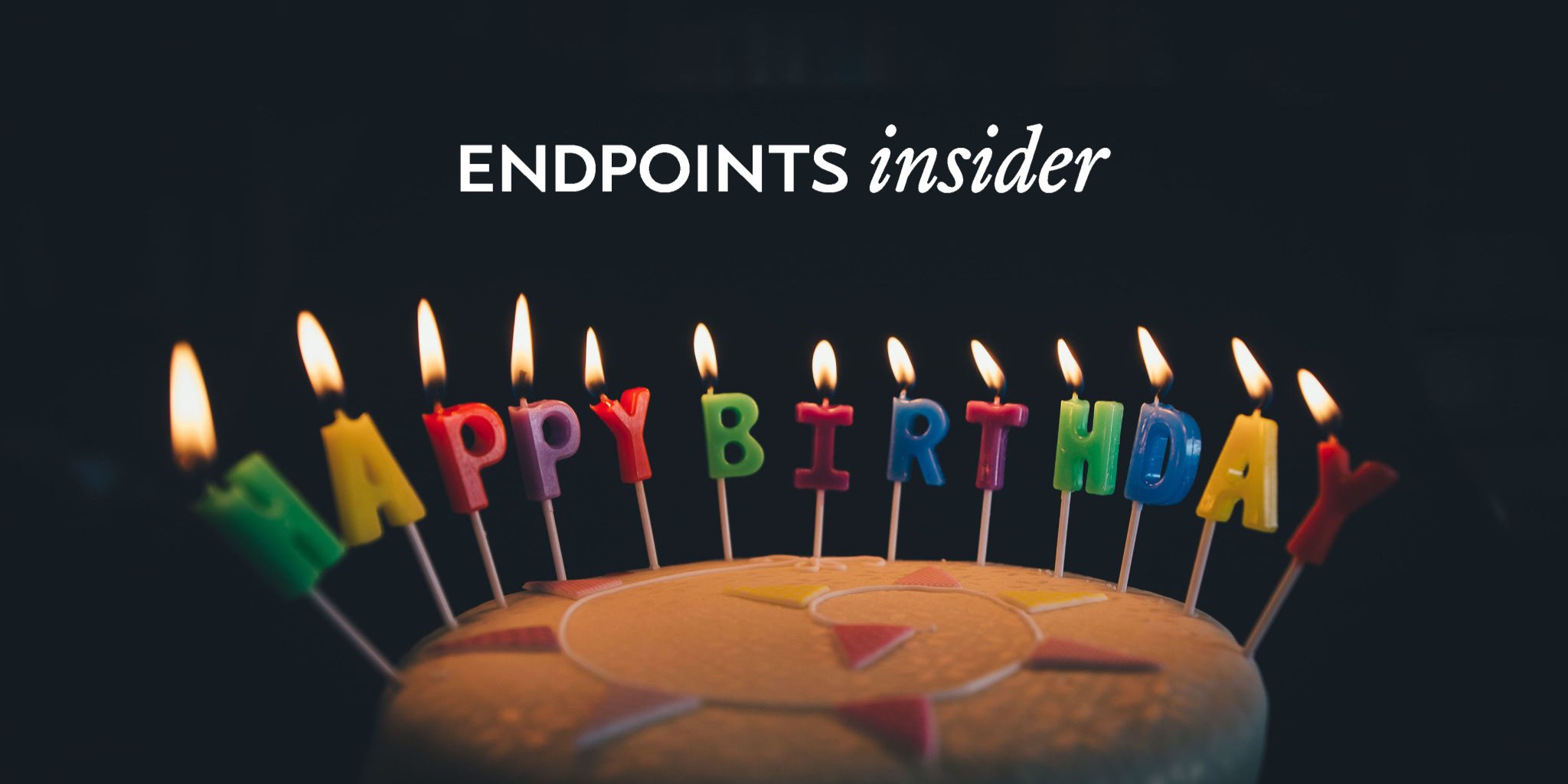 Cheers! End­points News turns 1 to­day — and we're un­wrap­ping in­fo on a new sub­scrip­tion plan
To­day, End­points News is one year old. Like any thriv­ing in­fant, we've been grow­ing at a fast pace, out­grow­ing a hasti­ly craft­ed chris­ten­ing gar­ment.
Start­ing from scratch, with just so­cial me­dia and a lot of word of mouth to re­ly on, web traf­fic to End­points was less than 14,000 vis­its per week. To­day we notch 14,000 per day, with a to­tal of 139,000 unique read­ers com­ing to the web­site in May.
Email sub­scrip­tions — the most im­por­tant met­ric we track — grew from zilch to 16,000 dai­ly bio­phar­ma sub­scribers drawn to our in­de­pen­dent style of jour­nal­ism. This was a re­sult of or­gan­ic, word-of-mouth ad­vo­ca­cy from our biggest fans. End­points' "open rate", the per­cent­age of read­ers who ac­tu­al­ly open and read the email re­ports, has nev­er fall­en be­low 40% — far above in­dus­try av­er­ages and more than dou­ble the rate you see at sim­i­lar pub­li­ca­tions.
I've writ­ten — this is a rough ball­park fig­ure — more than 650,000 words on R&D over the past 12 months. And we con­tin­ue to grow our traf­fic month­ly at a dou­ble-dig­it rate.
I am es­sen­tial­ly at about 60% of the read­er­ship I had be­fore I de­cid­ed to do a boot­strap start­up pub­li­ca­tion for bio­phar­ma R&D. And be­lieve me, it's the best 60%, as I've found dur­ing events we've host­ed along the way of our maid­en voy­age in San Fran­cis­co and Boston and Eu­rope. The rest will come along, and we'll be ready to shoot past old mark­ers and fo­cus on achiev­ing big­ger goals in the year ahead.
So where do we go from here?
Com­mit­ment to open-ac­cess and high ex­pec­ta­tions for free con­tent
My part­ner, Ar­salan Arif, and I grew up in this on­line busi­ness me­dia world. We be­lieve that to get a big au­di­ence you need to con­cen­trate on an open-ac­cess mod­el.
In plain Eng­lish, the news must re­main free.
That hasn't changed and it's not go­ing to. But we are look­ing to grow the team here at End­points, adding con­tent as we ex­pand read­er­ship fur­ther. And that's go­ing to take new rev­enue, on top of the ad­ver­tis­ing we've built up and con­tin­ue to grow.
A few weeks ago, we ran a read­er sur­vey ask­ing you whether you would con­sid­er pay­ing $200 a year for a sub­scrip­tion. Most said there wasn't a chance. You have high ex­pec­ta­tions for free con­tent and you weren't about to change. Some said they'd pay, but the fig­ure sound­ed high. And you were fine with the email blasts from ad­ver­tis­ers.
To all of you, we say thank you for spend­ing part of your work day with us. We'll work for you every day of the week.
But about 20% of you felt that you would glad­ly pay that, ei­ther to sup­port the work we're do­ing here or to pay for di­rect ac­cess to the re­port with­out any email blasts from ad­ver­tis­ers.
It was, in fact, about 50/50 on that score.
An­nounc­ing End­points In­sid­er
On Ju­ly 10, we'll roll out End­points In­sid­er, our paid sub­scrip­tion mod­el. If you'd like to sup­port our work here — or sim­ply want all the con­tent with­out the ad­ver­tis­ing — please sign up here. The cost is $200/year (no pay­ment de­tails re­quired to­day).
End­points In­sid­er pre-reg­is­tra­tion
No pay­ment de­tails re­quired to­day
In ad­di­tion to sup­port­ing us and en­joy­ing an ad-free ex­pe­ri­ence, I'll be mov­ing my opin­ion pieces be­hind the pay­wall, of­fer­ing eas­i­er ac­cess to the ed­i­to­r­i­al team for any queries you may have, and In­sid­ers can in­stant­ly down­load print-ready PDF ver­sions of all ar­ti­cles so you can print or share in­ter­nal­ly on your terms. Lat­er we'll add a few oth­er sub­scriber-on­ly pieces, but all of the dai­ly bio­phar­ma news we pub­lish will re­main free and eas­i­ly ac­cessed to those of you who like things as they are. That is not go­ing to change and you don't have to do any­thing to keep re­ceiv­ing End­points News and mes­sages from our ad­ver­tis­ers.
I'd like to thank you all for the lit­er­al­ly thou­sands of mes­sages of sup­port we've re­ceived along the way. When you start up your own in­de­pen­dent busi­ness in an in­dus­try like this, you find lots of sup­port for the en­tre­pre­neur­ial at­ti­tude we've adopt­ed. And if you would like to add your sub­scrip­tion to help sup­port that, we'd ap­pre­ci­ate that as well.
One way or the oth­er, we'll keep work­ing 24/7 on your be­half. It's been quite a ride, and we're just get­ting start­ed putting can­dles on that cake. But with­out you, this all means noth­ing. — John Car­roll