Chemo­Cen­tryx grabs $50M up­front, adds de­vel­op­ment part­ner­ship with Vi­for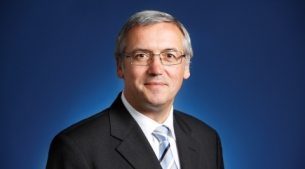 Gi­an­ni Zampieri, Vi­for Pharm
Sev­en months af­ter Vi­for swooped in to bag the Eu­ro­pean rights to Chemo­Cen­tryx's C5a-tar­get­ing CCX168 with an $85 mil­lion down pay­ment, the Swiss com­pa­ny has come back with $50 mil­lion more in cash to grab an­oth­er one of the biotech's ex­per­i­men­tal drugs.
To start, these part­ners plan to fo­cus their at­ten­tion on rare kid­ney dis­eases for CCX140, with Vi­for hold­ing an op­tion on chron­ic kid­ney dis­ease. Chemo­Cen­tryx $CCXI is keep­ing US and Chi­na rights ini­tial­ly while Vi­for holds the li­cense on the rest of the world. And if Vi­for takes its broad­er op­tion on CKD, Chemo­Cen­tryx can keep co-pro­mo­tion rights in the US.
Moun­tain View, CA-based Chemo­Cen­tryx gets mile­stones in the deal as well.
Chemo­Cen­tryx has had its ups and downs over the years. In late 2013 Glax­o­SmithK­line $GSK aban­doned its part­ner­ship on the biotech's lead drug, the Crohn's drug ver­cirnon, scrap­ping three late-stage stud­ies af­ter the first Phase III flopped. Chemo­Cen­tryx re­port­ed that GSK has begged off pur­su­ing a fol­low-up an­ti-in­flam­ma­to­ry pro­gram and re­turned an­oth­er drug—CCX354—li­censed out four years ago.
Now it's hop­ing to keep the fo­cus on a new chap­ter of de­vel­op­ment.
Said Gi­an­ni Zampieri, CEO of Vi­for Phar­ma:
"CCX140 is a high­ly in­no­v­a­tive ap­proach, which is im­pli­cat­ed in a num­ber of kid­ney dis­eases, in­clud­ing di­a­bet­ic nephropa­thy. We look for­ward to work­ing with Chemo­Cen­tryx to de­vel­op both CCX140 and the C5aR in­hibitor ava­co­pan as po­ten­tial new treat­ment op­tions for pa­tients suf­fer­ing from se­ri­ous kid­ney dis­eases."