Chi­na back­ers help bankroll a $100M mega-round as an in­flu­en­tial an­ti­body en­gi­neer read­ies tri­als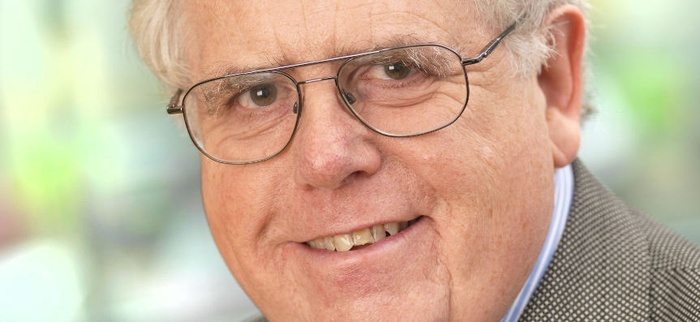 Dave Chiswell
Kymab turned to some mar­quee names in the UK and the US for the mon­ey need­ed to es­tab­lish the com­pa­ny as a high-pro­file play­er in the world of an­ti­body cus­tomiza­tion over the past 6 years. But now the game plan for the next three years will be un­der­writ­ten by an ex­pand­ed syn­di­cate that in­cludes two new play­ers based in Chi­na, ex­tend­ing its net­work of back­ers in­to a glob­al loop.
The biotech has un­veiled a whop­ping $100 mil­lion round led by ORI Health­care Fund — found­ed by Si­mone (Hong Fang) Song, the for­mer chief of Gold­man Sachs' Health­care Fund in Chi­na — and the man­u­fac­tur­er Shen­zhen He­palink Phar­ma­ceu­ti­cal Com­pa­ny.
To hear vet­er­an biotech ex­ec and Kymab CEO Dave Chiswell tell it, this was all part of a care­ful­ly con­struct­ed ef­fort to es­tab­lish new ties in what is fast be­com­ing a key glob­al hub in the bio­phar­ma world.
The Cam­bridge, UK-based biotech has been steadi­ly build­ing its syn­di­cate since the Well­come Trust kicked things off with the $30 mil­lion Se­ries A round for the Sanger In­sti­tute spin­out back in 2010. The Bill & Melin­da Gates Foun­da­tion stepped in with Neil Wood­ford's two funds and Ma­lin Corp. in 2015 with a $90 mil­lion Se­ries B. This lat­est fund­ing brings their to­tal to a re­mark­able $220 mil­lion.
The goal at this stage: "Build a prop­er pipeline," says Chiswell, who co-found­ed Cam­bridge An­ti­body Tech­nol­o­gy, an an­chor play­er to the UK biotech in­dus­try which was ac­quired by As­traZeneca. Chiswell had been ex­ec­u­tive chair­man at Kymab be­fore he added the CEO ti­tle in ear­ly 2015.
The com­pa­ny is built on the work of Al­lan Bradley, one of the world's lead­ing genome en­gi­neers who did some pi­o­neer­ing work at Sanger on a new mouse mod­el — which de­buted as the Ky­mouse — that could be used to gen­er­ate new and bet­ter hu­man an­ti­bod­ies. Bradley had been a Howard Hugh­es Med­ical In­ves­ti­ga­tor and Bay­lor pro­fes­sor be­fore tak­ing the lead role at Sanger. He's now the chief tech­ni­cal of­fi­cer at Kymab, where im­muno-on­col­o­gy, hema­tol­ogy and in­flam­ma­to­ry con­di­tions are big fo­cus­es.
Kymab's lead pro­gram now is fo­cused on OX40L, a T-cell ac­ti­va­tor in­volved in in­flam­ma­to­ry dis­eases. It is ex­pect­ed to be in the clin­ic in ear­ly 2017, says the CEO, who's plan­ning to have 5 in­de­pen­dent prod­ucts in the clin­ic by 2019. Kymab in­ves­ti­ga­tors will be pre­sent­ing pre­clin­i­cal da­ta at ASH on graft-vs-host dis­ease, which Chiswell thinks very high­ly of.
Kymab now has a sub­stan­tial staff of 120, which should con­tin­ue to grow, though on­ly slow­ly. And with enough cash in re­serves to get in­to 2019, Chiswell con­cedes that the next fund­ing step for the biotech may well be an IPO — though on­ly time will tell.
"It's very ear­ly," he notes, "but we may look like a pub­lic com­pa­ny in 2019, or 2020." Get­ting there re­quired an ex­pan­sion of a syn­di­cate with deep roots around the world.
"Kymab al­ways saw that Chi­na was a big op­por­tu­ni­ty," Chiswell tells me, "but we didn't know how best to re­al­ize it." So they took some time, work­ing with con­sul­tants and do­ing their home­work on the coun­try and its biotech in­ter­ests and in­vestors. "It's been quite a long courtship with Chi­na."
Their rep­u­ta­tion in the an­ti­body field has helped, along with a col­lab­o­ra­tion with MD An­der­son in Hous­ton.
"Speed and qual­i­ty helps," says the CEO. "In the end, it's your choice of an­ti­bod­ies. We think we have the best way of mak­ing the best an­ti­bod­ies." And with­in a year they can have new an­ti­bod­ies test­ed in mice and in man­u­fac­tur­ing.
Now, they have the mon­ey to es­tab­lish proof-of-con­cept da­ta on their own in­ter­nal pipeline.