Chi­nese de­vel­op­ment group blue­prints $1B-plus biotech cam­pus in South San Fran­cis­co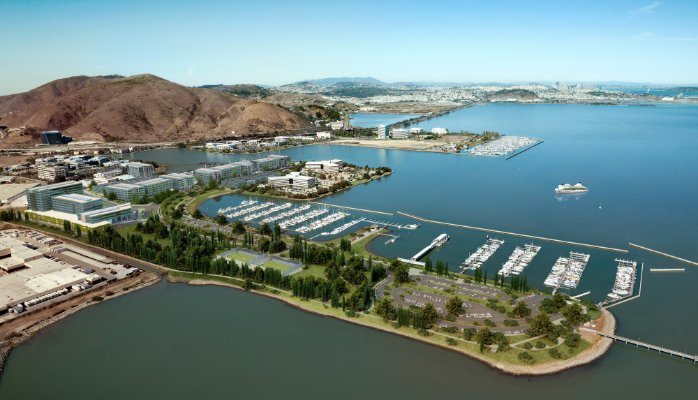 The Land­ing at Oys­ter Point, South San Fran­cis­co
When re­al es­tate bro­kers land­ed the 42-acre wa­ter­front site known as The Land­ing at Oys­ter Point in South San Fran­cis­co last fall, they oohed and aa­hed about its po­ten­tial as a new biotech cam­pus ly­ing ad­ja­cent to Genen­tech, one of the pi­o­neer­ing founders of the in­dus­try. It al­ready had a 443,000-square-foot busi­ness park in place, with po­ten­tial for hun­dreds of thou­sands of ad­di­tion­al space.
That all proved to be ir­re­sistible to a group of Chi­nese de­vel­op­ers who are now plan­ning to in­vest more than $1 bil­lion in­to the prop­er­ty, with ini­tial plans to add 500,000 square feet of of­fice and lab space for the re­gion's boom­ing biotech in­dus­try. Tao­tao Song, CEO of Oys­ter Point De­vel­op­ment, LLC, and EVP at Green­land USA, a key play­er in the joint ven­ture de­vel­op­ment group, had this to say:
"Our vi­sion is to fur­ther ce­ment South San Fran­cis­co's role and rep­u­ta­tion as the world's lead­ing biotech hub by cre­at­ing a best-in-class cam­pus that will stim­u­late and sus­tain its eco­nom­ic and so­cial fab­ric."
Bil­lions of dol­lars in new in­vest­ment cash has poured in­to Bay Area biotech in re­cent years, and this area in South San Fran­cis­co has been a mag­net for star­tups like Sec­ond Genome. Hun­dreds of life sci­ences groups have mi­grat­ed to the area, mak­ing it a ri­val West Coast hub to the bustling clus­ter in and around Cam­bridge, MA.
Don't look for any quick turn­around on this new cam­pus, though. The de­vel­op­ers are look­ing to pub­lic of­fi­cials to do the nec­es­sary in­fra­struc­ture work, with new con­struc­tion to be­gin in mid-2018. Leas­ing be­gins, well, now.