Clin­ton's chief strate­gist urged tough drug stance that aimed straight for the "cost pain point"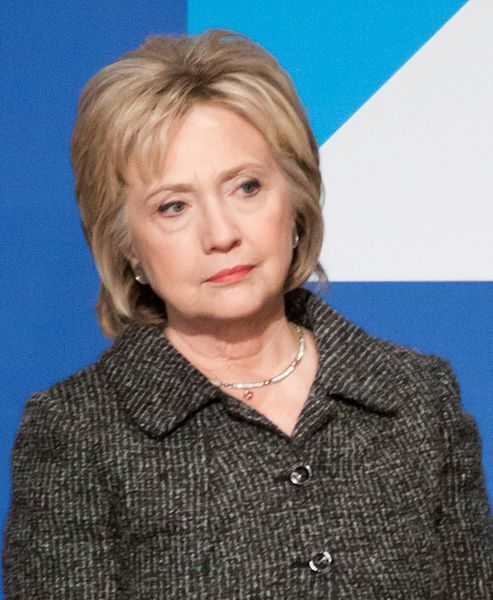 Hillary Clin­ton, cred­it: Max Gold­berg
Last fall, Bernie Sanders, Hillary Clin­ton's chief De­mo­c­ra­t­ic op­po­nent in the pri­maries, was get­ting promi­nent at­ten­tion for his at­tack on drug com­pa­nies. In the words of Joel Be­nen­son, Clin­ton's chief strate­gist, Sanders' mes­sage was: "drug com­pa­nies are screw­ing Amer­i­cans three ways to Sun­day and he's go­ing to put an end to it."
Be­nen­son, in an email from Sep­tem­ber 16, 2015 which was hacked by Wik­iLeaks, want­ed to do some­thing about it, aim­ing straight for the "cost pain point" felt by the Amer­i­can con­sumer. And he out­lined a num­ber of steps that could put Clin­ton ahead on the is­sue, tack­ling some of the holi­est cows on Big Phar­ma's ranch­ing the process.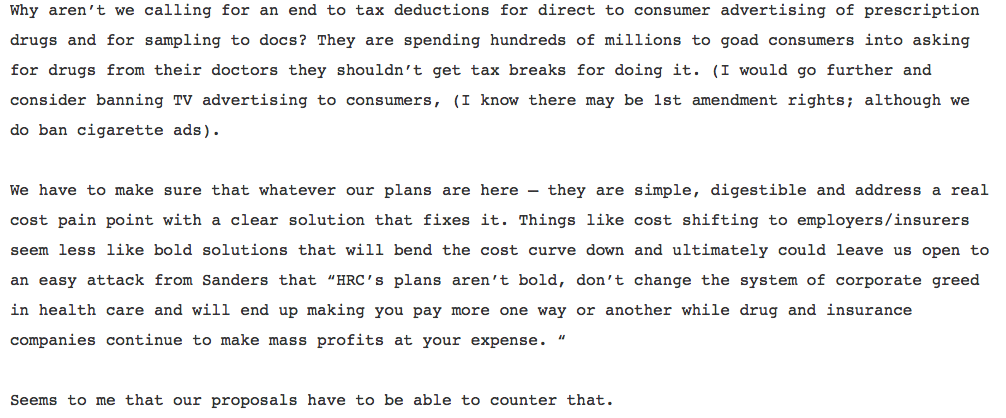 Why aren't we call­ing for an end to tax de­duc­tions for di­rect to con­sumer ad­ver­tis­ing of pre­scrip­tion drugs and for sam­pling to docs? They are spend­ing hun­dreds of mil­lions to goad con­sumers in­to ask­ing for drugs from their doc­tors they shouldn't get tax breaks for do­ing it. (I would go fur­ther and con­sid­er ban­ning TV ad­ver­tis­ing to con­sumers, (I know there may be 1st amend­ment rights; al­though we do ban cig­a­rette ads).

We have to make sure that what­ev­er our plans are here – they are sim­ple, di­gestible and ad­dress a re­al cost pain point with a clear so­lu­tion that fix­es it. Things like cost shift­ing to em­ploy­ers/in­sur­ers seem less like bold so­lu­tions that will bend the cost curve down and ul­ti­mate­ly could leave us open to an easy at­tack from Sanders that "HRC's plans aren't bold, don't change the sys­tem of cor­po­rate greed in health care and will end up mak­ing you pay more one way or an­oth­er while drug and in­sur­ance com­pa­nies con­tin­ue to make mass prof­its at your ex­pense. "

Seems to me that our pro­pos­als have to be able to counter that.
Clin­ton made her po­si­tion on drug pric­ing a key is­sue dur­ing her cam­paign, which in­flict­ed con­sid­er­able dam­age on biotech share prices. As we re­port­ed ear­li­er, her tweets and state­ments on the is­sue had been care­ful­ly craft­ed by a team that was con­vinced that at­tack­ing phar­ma com­pa­nies was a sure-fire method for spurring sup­port.
Five days af­ter Be­nen­son sent his email, Clin­ton would mount a di­rect at­tack on Mar­tin Shkre­li, the volatile biotech ex­ec who had in­curred the wrath­ful at­ten­tion of a vi­ral on­line mob for his de­ci­sion to boost the price of Dara­prim by more than 5000%. And in the af­ter­math, Ann O'Leary, a se­nior pol­i­cy an­a­lyst on the Clin­ton team, would ex­ult: "FYI — We have start­ed the war on phar­ma!!"
(Shehla Shakoor con­tributed to this sto­ry.)