Last fall, Bernie Sanders, Hillary Clinton's chief Democratic opponent in the primaries, was getting prominent attention for his attack on drug companies. In the words of Joel Benenson, Clinton's chief strategist, Sanders' message was: "drug companies are screwing Americans three ways to Sunday and he's going to put an end to it."
Benenson, in an email from September 16, 2015 which was hacked by WikiLeaks, wanted to do something about it, aiming straight for the "cost pain point" felt by the American consumer. And he outlined a number of steps that could put Clinton ahead on the issue, tackling some of the holiest cows on Big Pharma's ranching the process.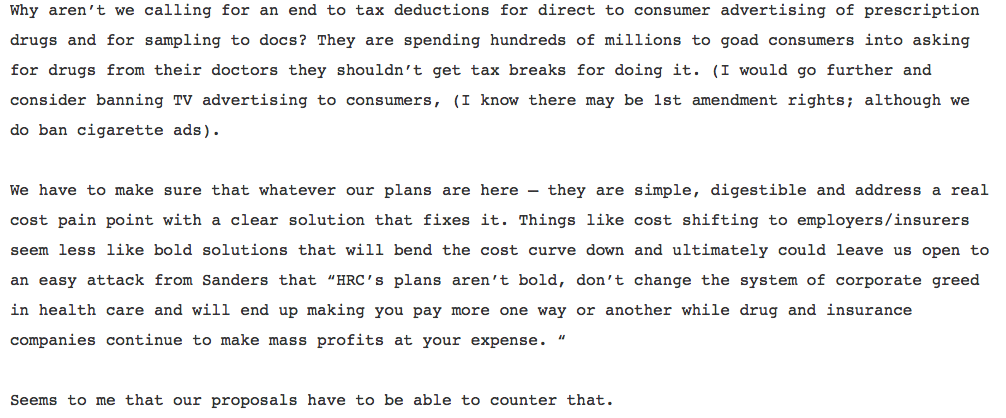 Why aren't we calling for an end to tax deductions for direct to consumer advertising of prescription drugs and for sampling to docs? They are spending hundreds of millions to goad consumers into asking for drugs from their doctors they shouldn't get tax breaks for doing it.  (I would go further and consider banning TV advertising to consumers,  (I know there may be 1st amendment rights; although we do ban cigarette ads).

We have to make sure that whatever our plans are here – they are simple, digestible and address a real cost pain point with a clear solution that fixes it.  Things like cost shifting to employers/insurers seem less like bold solutions that will bend the cost curve down and ultimately could leave us open to an easy attack from Sanders that "HRC's plans aren't bold, don't change the system of corporate greed in health care and will end up making you pay more one way or another while drug and insurance companies continue to make mass profits at your expense. "

Seems to me that our proposals have to be able to counter that.
Clinton made her position on drug pricing a key issue during her campaign, which inflicted considerable damage on biotech share prices. As we reported earlier, her tweets and statements on the issue had been carefully crafted by a team that was convinced that attacking pharma companies was a sure-fire method for spurring support.
Five days after Benenson sent his email, Clinton would mount a direct attack on Martin Shkreli, the volatile biotech exec who had incurred the wrathful attention of a viral online mob for his decision to boost the price of Daraprim by more than 5000%. And in the aftermath, Ann O'Leary, a senior policy analyst on the Clinton team, would exult: "FYI — We have started the war on pharma!!"
(Shehla Shakoor contributed to this story.)
---
The best place to read
Endpoints News

? In your inbox.

Comprehensive daily news report for those who discover, develop, and market drugs. Join 47,900+ biopharma pros who read Endpoints News by email every day.

Free Subscription
---
---
---