Close­ly al­lied with (both) Mer­cks and Cel­gene, Sutro CEO Bill Newell is lay­ing out all his cards in a new IPO
Sutro CEO Bill Newell didn't hide his in­ter­est in an IPO last year, af­ter he re­tooled a pact with Cel­gene that elim­i­nat­ed their buy­out op­tion and left the com­pa­ny free to pur­sue its own des­tiny. And with tens of mil­lions of Mer­ck dol­lars back­ing him af­ter their new can­cer drug part­ner­ship last month, he's go­ing for it.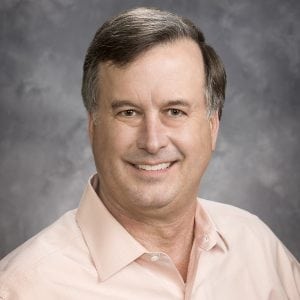 Bill Newell
South San Fran­cis­co-based Sutro filed for a $75 mil­lion IPO last night, spelling out in con­sid­er­able de­tail how he's been able to raise cash to grow the com­pa­ny from his plat­form part­ner­ships. In­vestors added an $85 mil­lion round a few days ago to top up the num­bers, bring­ing Sutro's VC to­tal to $175 mil­lion.
There's lots of cash and bil­lions in mile­stones to con­sid­er here.
We know now that in ad­di­tion to Mer­ck's $60 mil­lion up­front in Ju­ly, the phar­ma gi­ant al­so bought $30 mil­lion in stock while com­mit­ting to $1.6 bil­lion in mile­stones. That of­fers a key Big Phar­ma en­dorse­ment for a plat­form that con­cen­trates heav­i­ly on a new gen­er­a­tion of can­cer-tar­get­ing an­ti­body-drug con­ju­gates and bis­pecifics.
In the first three years of the 2014 Cel­gene deal, Sutro earned $167 mil­lion, then bagged an­oth­er $12.5 mil­lion in cash a year ago to fo­cus on four key pro­grams, an an­ti­body-drug con­ju­gate for BC­MA that leads the group. Cel­gene is us­ing their al­liance to sur­round mul­ti­ple myelo­ma from sev­er­al sides with dif­fer­ent part­ners. There are sev­er­al bis­pecifics in the deal, which are still not com­plete­ly in view, with an­oth­er $12.5 mil­lion due on the first IND clear­ance.
"We are ex­cit­ed about that tar­get for myelo­ma," Newell told me last sum­mer. "Three dif­fer­ent modal­i­ties gives them dif­fer­ent pa­tients for whom dif­fer­ent ther­a­pies might be ap­pro­pri­ate. CAR-T is ex­cit­ing, but not all pa­tients will be el­i­gi­ble for CAR-T. They want to fo­cus on dif­fer­ent modal­i­ties."
Mile­stones range from $295 mil­lion to $393.7 mil­lion, de­pend­ing on the drug.
An­oth­er set of IND-en­abling stud­ies is planned next year for their third strate­gic part­ner, Mer­ck KGaA, which has rights to six dif­fer­ent can­cer tar­gets. That pact has de­liv­ered $27 mil­lion in pay­ments and re­search sup­port.
While the part­ner­ships have helped the com­pa­ny grow, Sutro has been spot­light­ing the ear­ly clin­i­cal de­vel­op­ment of a lead ther­a­py dubbed STRO-001, an an­ti­body-drug con­ju­gate tar­get­ing CD74, which is ex­pressed on B cell ma­lig­nan­cies. And the com­pa­ny in­tends to con­tin­ue to build up its own pipeline.
Al­to­geth­er Sutro has nine dif­fer­ent in­vestors who own more than 5% of the stock, with Mer­ck on top with 12.5%. The rest of the group in­cludes Al­ta Part­ners, Cel­gene, Lil­ly and Sky­line Ven­tures as well as Vi­da Ven­tures.
A spin­out of theirs, SutroVax, is pur­su­ing a clin­i­cal quest aimed at con­quer­ing the pneu­mo­coc­cal con­ju­gate vac­cine busi­ness.