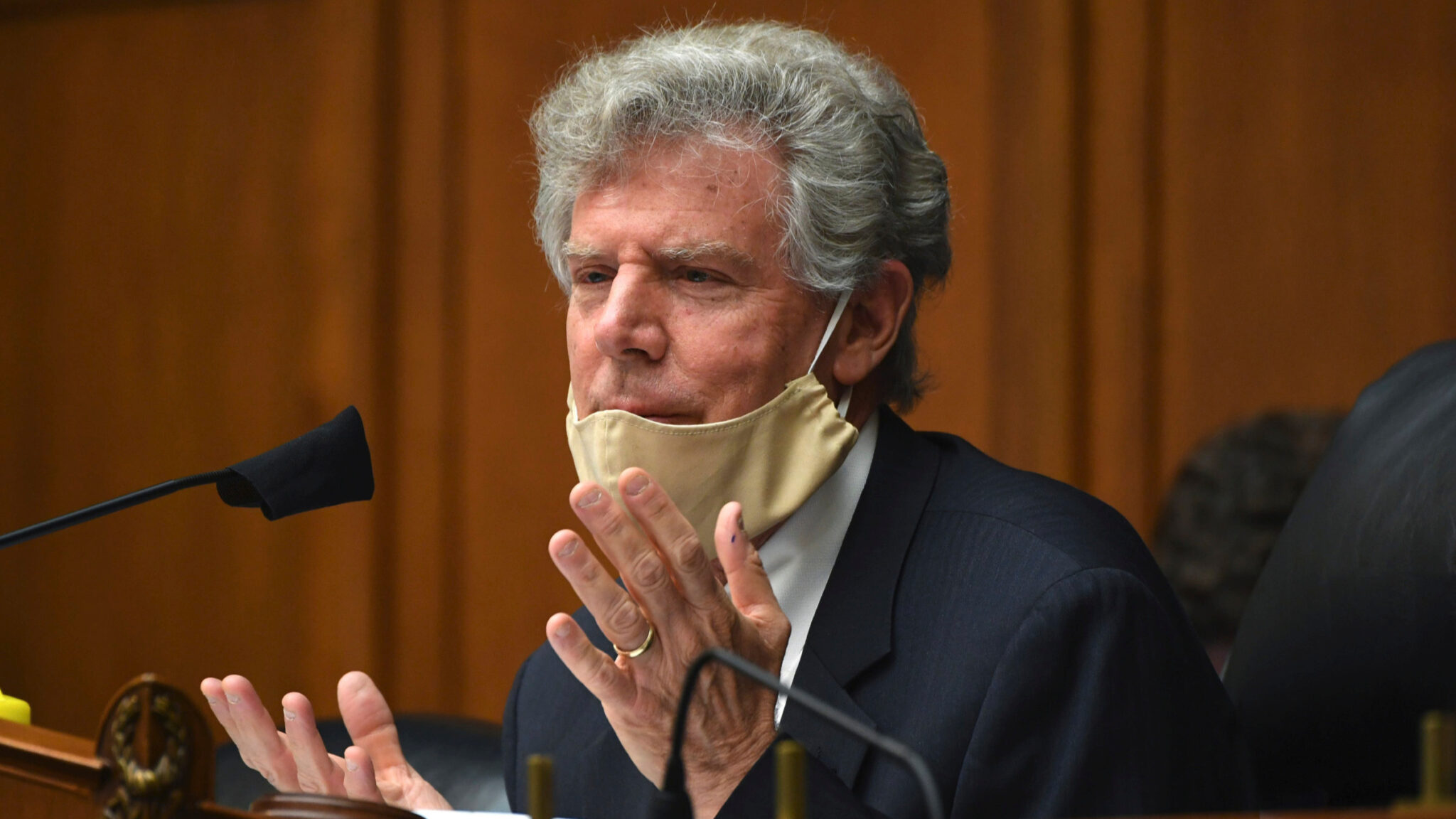 House Energy & Commerce committee chair Frank Pallone (D-NJ) (Kevin Dietsch/Pool via AP Images)
Com­plete­ly clean FDA-in­dus­try user fee deal at­tached to a must-pass gov­ern­ment spend­ing bill
With four days left in the fis­cal year, FDA-re­lat­ed pol­i­cy rid­ers ap­proved in both House and Sen­ate com­mit­tees, at least for now, ap­pear dead, ac­cord­ing to the text of a short-term gov­ern­ment spend­ing bill un­veiled late last night to keep fed­er­al agen­cies open un­til Dec. 16.
But the ab­sence of rid­ers (both sides pre­vi­ous­ly an­nounced a "prac­ti­cal­ly clean" deal last week) doesn't mean De­moc­rats are done fight­ing to add these ac­cel­er­at­ed ap­provals and oth­er reg­u­la­to­ry re­forms for cos­met­ics, nu­tri­tion­al prod­ucts and di­ag­nos­tic tests.
As part of the agree­ment for a clean CR and user fee deal, De­moc­rats are look­ing to on­ly au­tho­rize cer­tain mea­sures that are tan­gen­tial to the ac­tu­al in­dus­try-FDA agree­ments un­til Dec. 16, which in­cludes all of Ti­tle V in the bill text.
Those par­tial reau­tho­riza­tions set up a like­ly bat­tle in mid-De­cem­ber over pro­grams like the Best Phar­ma­ceu­ti­cals for Chil­dren Pro­gram, which al­lows the NIH to fund stud­ies of off-patent drugs in chil­dren, the or­phan drug grants that de­fray the cost of de­vel­op­ing rare dis­ease drugs, and cer­tain re­port­ing re­quire­ments on pend­ing gener­ic drug ap­pli­ca­tions.
"All four cor­ners [ma­jor­i­ty and mi­nor­i­ty lead­ers in House and Sen­ate] com­mit­ted to re­turn­ing to the ne­go­ti­at­ing ta­ble ahead of the De­cem­ber gov­ern­ment fund­ing dead­line to re­vis­it these key pri­or­i­ties," House En­er­gy & Com­merce com­mit­tee chair Frank Pal­lone (D-NJ) said in a state­ment last night. "I'm go­ing to con­tin­ue push­ing to ad­vance as much of the House-passed leg­is­la­tion as pos­si­ble."
But out­side of these de­layed items (and it's still un­clear who's op­posed to reau­tho­riz­ing some or all of these mea­sures), De­moc­rats en­tire­ly caved to their Re­pub­li­can peers af­ter much dis­cus­sion and vot­ing on sev­er­al dif­fer­ent re­forms, some of which the FDA even seemed al­most ready to en­dorse. The shift came in late Ju­ly, af­ter Sen. Richard Burr, re­tir­ing mi­nor­i­ty leader on the Sen­ate HELP com­mit­tee, took a stand on a com­plete­ly clean user fee bill.
A clo­ture vote in the Sen­ate, which is like­ly the first step in get­ting the con­tin­u­ing res­o­lu­tion to Pres­i­dent Biden's desk, is ex­pect­ed this evening. It's still un­clear which Re­pub­li­cans will join sides with De­moc­rats and pass the spend­ing bill, which needs 60 votes to pass, al­though in­sid­ers don't ex­pect a gov­ern­ment shut­down ahead of the midterm elec­tions.
Burr and Sen­ate HELP com­mit­tee chair Pat­ty Mur­ray (D-WA) said in a state­ment on the deal that
there is more work ahead this Con­gress to de­liv­er the kinds of re­forms fam­i­lies need to see from FDA, from in­dus­try, and from our men­tal health and pan­dem­ic pre­pared­ness ef­forts. As part of our agree­ment, we and our House coun­ter­parts are com­mit­ted to con­tin­u­ing that work, and in­clud­ing strong, bi­par­ti­san leg­is­la­tion in a ro­bust end of year pack­age.