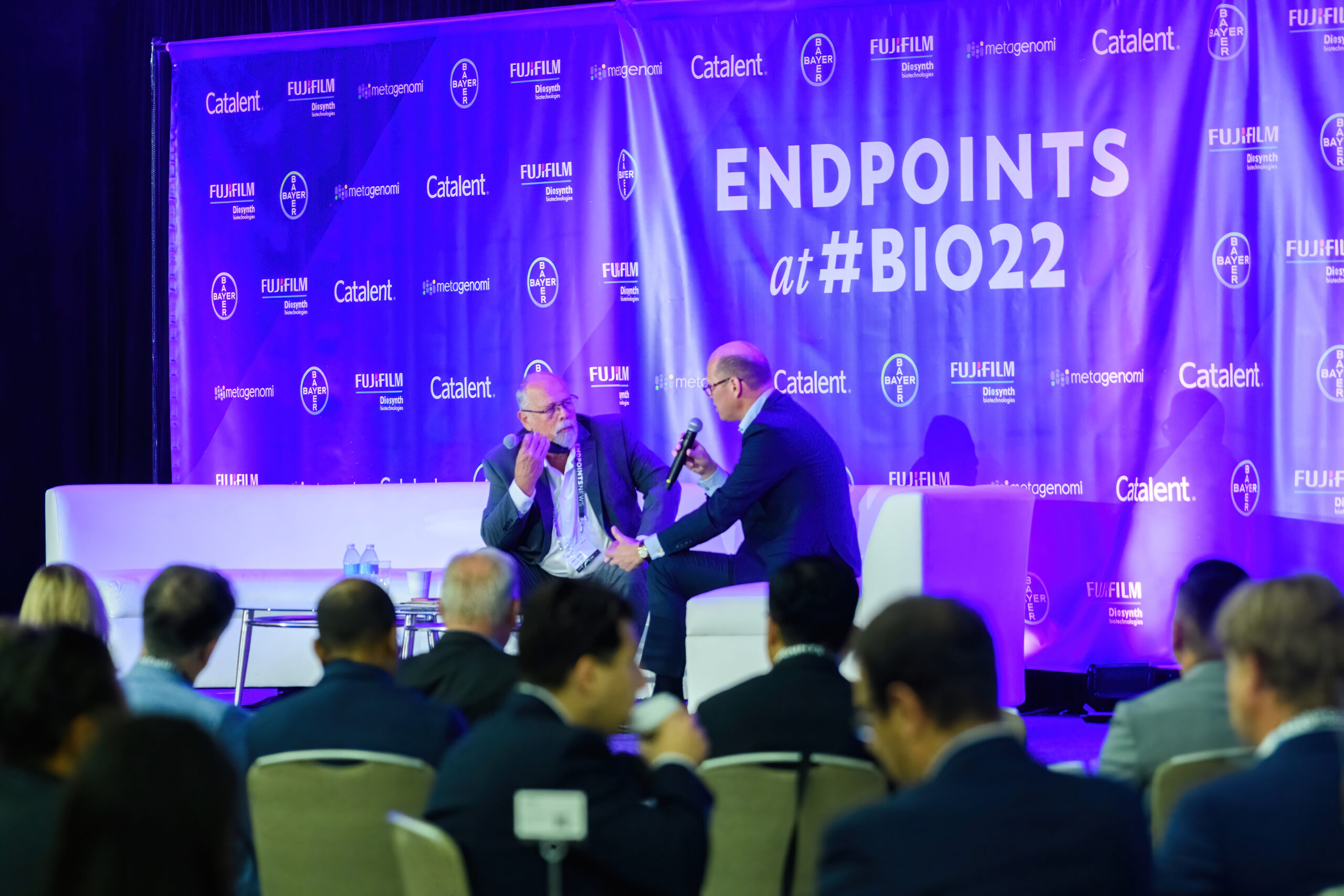 John Carroll, founder and editor of Endpoints News, with Sebastian Guth, Bayer Pharmaceuticals' president for the Americas, at an Endpoints News event in San Diego on June 14, 2022
Con­nect with End­points News — here's our ma­jor event cal­en­dar com­ing up in H2 2022
The room was packed and elec­tric. That's how it felt host­ing an event in per­son for End­points News read­ers last month in San Diego.
It ex­ceed­ed all our ex­pec­ta­tions, which wasn't a giv­en, with the pan­dem­ic chang­ing the na­ture of live events. We hadn't done one in over two years. And End­points grew a lot dur­ing that time. We quick­ly built a se­ri­ous vir­tu­al events plat­form and de­vel­oped big au­di­ences around those on­line chan­nels. But there's noth­ing quite like be­ing with your col­leagues at a live event. End­points has a tra­di­tion of con­ven­ing our au­di­ence of bio­phar­ma pros in ma­jor hubs world­wide since our start in 2016. And we're thrilled to jump right back in.
With a wrap on BIO, AS­CO, Cannes and oth­er crit­i­cal in­dus­try mee­tups, there are sev­er­al key dates ahead on the End­points cal­en­dar to at­tend — both live and in-per­son. And spon­sor­ship op­por­tu­ni­ties re­main for bio­phar­ma mar­keters. Here's what's on deck:
Ma­jor End­points events
The End­points 11 (Sep­tem­ber 22, Boston) — Big dreams dom­i­nate among next-gen biotech play­ers. Our an­nu­al E11 se­ries is back to hon­or the up­starts most poised for im­pact — an event that al­so marks John Car­roll's 20th year spot­light­ing pri­vate biotechs. Join us vir­tu­al­ly or in per­son at an ex­clu­sive event in Boston. Past events: 2021, 2020 | Cov­er­age: 2021, 2020
#EU­BIO22 (Oc­to­ber 12, Lon­don) — The bio­phar­ma view from the con­ti­nent. Read­ers can sign up to stream the full line­up — or pur­chase a tick­et to join us in Lon­don that af­ter­noon — as John Car­roll and Sil­i­con Val­ley Bank's Nooman Haque host a se­ries of pan­els and fire­side chats as­sess­ing the lat­est M&A, R&D and reg­u­la­to­ry trends fac­ing Eu­rope's bio­phar­ma in­dus­try.
Women in Bio­phar­ma (De­cem­ber 7, vir­tu­al) — Tak­ing the lead in R&D. You won't want to miss one of our most pop­u­lar an­nu­al re­ports pro­fil­ing 20 of the in­dus­try's most in­flu­en­tial women ex­ec­u­tives. Our ed­i­tors will host a spe­cial pre­sen­ta­tion high­light­ing this year's hon­orees and sub­se­quent pan­el dis­cus­sion prob­ing what's ahead for di­ver­si­ty and in­clu­sion ini­tia­tives.
Con­fer­ence cov­er­age and events
#ES­MO22 (Sep­tem­ber 12, vir­tu­al) — What's new in on­col­o­gy in R&D? Our jour­nal­ists will re­port live from Paris with break­ing news and read­outs from the show and re­lease a spe­cial ES­MO re­port on Sep­tem­ber 12. You can al­so tune in live for EIC John Car­roll's vir­tu­al fire­side with a lead­ing news­mak­er at ES­MO and his sub­se­quent pan­el analy­sis of the con­fer­ence's biggest wins and loss­es.
#ASH22 (De­cem­ber 12, vir­tu­al) — Cell and gene ther­a­pies are head­ed to crit­i­cal mile­stones. Our glob­al au­di­ence can livestream John Car­roll's fire­side chat and pan­el re­view un­pack­ing the in­dus­try's most close­ly watched cell and gene ther­a­pies. If you miss the livestream, you'll find this year's spe­cial ASH re­port in your in­box on De­cem­ber 12.
#CPHI (Oc­to­ber 27, spe­cial re­port) — End­points Man­u­fac­tur­ing will have a spe­cial edi­tion cov­er­ing the lat­est in­no­va­tions in phar­ma man­u­fac­tur­ing and de­vel­op­ment in ad­vance of the big CPHI event in Frank­furt.
And, as al­ways, our sum­mer sights are set square­ly in San Fran­cis­co this Jan­u­ary for JP Mor­gan. More to come as we pre­pare for wall-to-wall cov­er­age at the in­dus­try's pre­mier kick­off event.
For all event ad­ver­tis­ing, sched­ul­ing and pric­ing re­quests, con­tact our sales team di­rec­tors Melis­sa Naz­zaro (melis­sa@end­pointsnews.com) and Julie No­tario (jno­tario@end­pointsnews.com).
For our full me­dia kit, vis­it End­points Stu­dio — our in-house mar­ket­ing agency led by Kari Abit­bol that con­nects bio­phar­ma mar­keters with their tar­get au­di­ences di­rect­ly on the End­points plat­form.
If you want to reach out to the ed­i­to­r­i­al team with sug­ges­tions, email ed­i­tor@end­pointsnews.com.